Why Chris Hemsworth Felt 'A Huge Amount of Anxiety' After His 'Star Trek' Run Ended
Our view of celebrities can often be distorted by the confidence they have to put on as they tackle challenging roles and appear in the public eye day after day. It can be hard to imagine them having issues with self-confidence or anxiety, but the truth is that these struggles are quite common for celebrities.
After all, they're trying to navigate demanding work schedules, constant scrutiny, and the pressure to succeed at the highest level among elite competition.
Recently, Chris Hemsworth opened up about his own feelings of anxiety when his career seemed to stall out after his run on Star Trek.
Chris Hemsworth is among Hollywood's leading men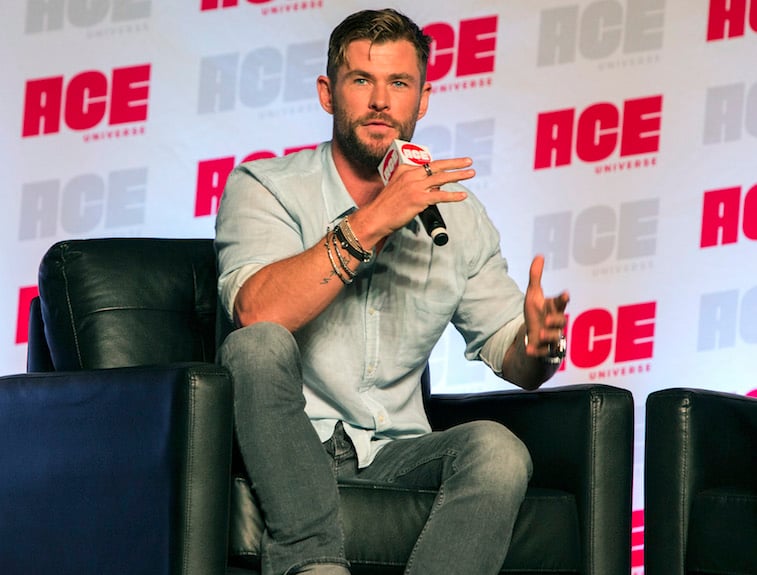 RELATED: Chris Hemsworth Will Never Part With Thor's Original Hammer And His Wife Might Be Jealous
These days, Hemsworth is definitely a household name. His time spent in the Marvel Cinematic Universe portraying Thor, the God of Thunder, has provided him with an unforgettable platform that has ensured he will remain firmly cemented in film history. He's even a contender for "best Chris," an internet battle that can't decide which leading man deserves the title: Hemsworth, Chris Pratt, Chris Pine, or Chris Evans.
Even before he shored up his legacy by tackling the role of Thor, however, Hemsworth was well on his way to Hollywood fame. Born in Australia, Hemsworth focused on entertainment early — as did his famous brothers — and he found a spot in the action world early on.
His first role was in a 2002 television series called Guinevere Jones, and he portrayed King Arthur. A series of other mostly small television appearances would follow until he landed the role of George Kirk in the 2009 Star Trek film. 
Doubts surfaced for Chris Hemsworth after 'Star Trek'
RELATED: Chris Hemsworth's Kids Aren't Impressed That He's Thor: 'I Couldn't Be Less Cool In Their Eyes'
His part on Star Trek was an important but small one. At first, Hemsworth was excited to have gotten his foot in the door to Hollywood films, but things stalled out after the Star Trek appearance.
According to Cinema Blend, he began to wonder if he had made a mistake in his career choice. "I got a job pretty quick when I got to Hollywood, so I was very fortunate in that sense," Hemsworth explained. "Then I didn't work for a while and I started to think it might not work out."
The pressure of trying to land the next role and failing to find his footing caused a lot of anxiety for Hemsworth. He stumbled through a few more roles. In 2009, he played in A Perfect Getaway, which starred Steve Zahn and Milla Jovovich but got lackluster reviews. He landed a starring role in the 2010 thriller Ca$h, but according to Rotten Tomatoes, the film was widely panned and did not do Hemsworth any favors.  
Playing Thor revived Chris Hemsworth's career
In 2011, Hemsworth was cast as the titular character in Marvel's Thor. At the time, the film was seen as a real risk for Marvel. It can be hard to remember now that the MCU has been so insanely successful, but superhero movies had a strict formula for success, and Thor was not part of the equation. There were plenty of ups and downs with getting the project lined up and staffed, and then it came time to choose a lead actor. 
Daniel Craig was offered the role of Thor and turned it down to focus on James Bond. Tom Hiddleston, who ended up being cast as Loki, auditioned for the part as well. Others who were in consideration included Alexander Skarsgard and even the WWE star Triple-H. Hemsworth's brother Liam even took a stab at the spot. Chris Hemsworth, meanwhile, was struggling to find an agent and didn't even get an initial screen test for the film.
Once Hemsworth partnered with agent Kevin Feige, he was able to get another chance at the part. He received tips from Joss Whedon (who had written and produced The Cabin in the Woods and worked with Hemsworth then) as he prepared for the audition. Whedon would later go on to land the director position for Avengers. 
Apparently, the tips and assistance worked out, and Hemsworth landed the iconic role that launched him into superstar status.