Why Did Anastasia Surmava From 'Below Deck Med' Walk Away From Yachting Forever?
It was a blind date that set Anastasia Surmava's life on an entirely new course. No, the third stew from Below Deck Mediterranean isn't the next alum to get married. But the romantic interlude turned into a business meeting, which became a springboard for Surmava's thrilling new endeavor.
She told Showbiz Cheat Sheet she is about to open an eco cafe and yoga studio in her new home of Sri Lanka. The man she connected with during the date had property he wanted to develop in Sri Lanka and had a vision for a piece of land. "[The area] has a huge like surfer and yogi kind of vibe and he's like 'I need somebody who can create this for me and kind of spearhead this entire operation,'" Surmava recalled. "So basically he wanted to invest in me."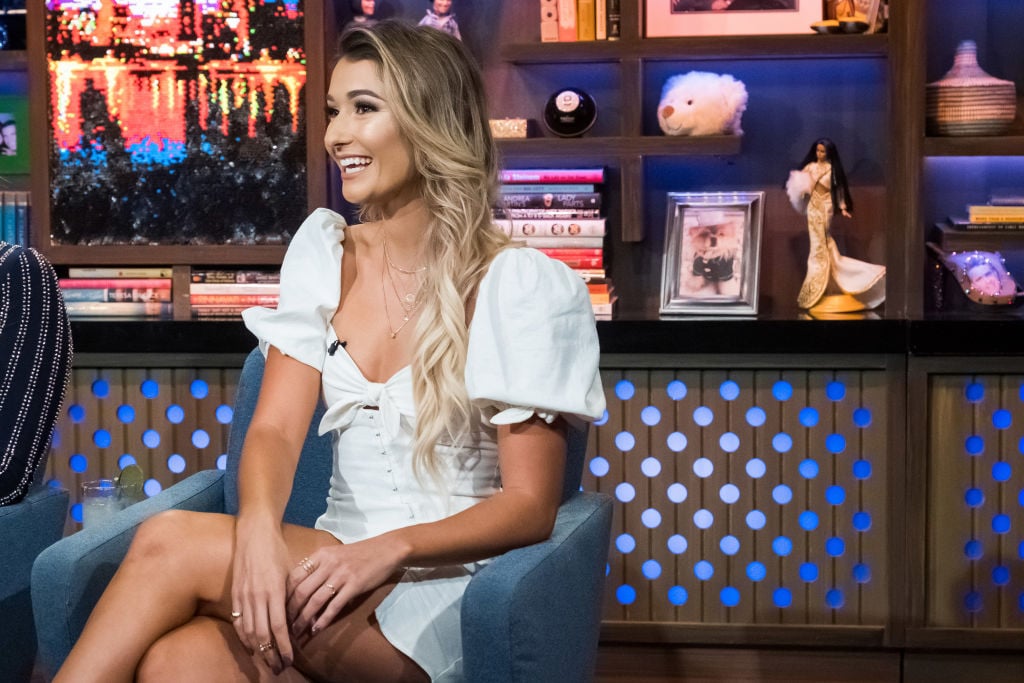 As a result, her season on Below Deck Med was her last in yachting. She reflected on the season, which featured the women on the show being extremely supportive of each other. She also shared what female empowerment means to her, plus offered details about her new venture, Ajna.
This is where Surmava gets her strength
Surmava moved from third stew to chef for a few charters during the season. This was the first time the show made a move like this. Although she is not a classically trained chef, Surmava took on the role with gusto. She shared that her mother is truly her role model and shows her day after day what it means to be a strong woman.
"The first thing that comes into my mind is my mom," she said. "She is just the epitome of female empowerment to me. She became the head pastry chef when she was like 24 years old for the president of Georgia. I mean, this woman is an absolute boss."
Surmava's mother moved to the United States when she was 36 years old and Surmava was only two. She was married but, "Unfortunately her marriage didn't work out," Surmava recalled. "Instead of going back home to where she's comfortable and she had a good job and a nice house and nice clothes she stayed here and went through a lot of hardship in order to give me a better life."
Surmava remembers her mother working two jobs to ensure her daughter was cared for while at the same time facing anti-immigrant prejudice. "Just having that super-strong female presence in my life has really helped me get to where I am," she adds.
This season was a great example of women supporting women
Although the deck crew seemed to roll their eyes at all the bonding amongst the women, Surmava says the support system showed that women can support each other to reach their goals. "Being able to work with some badass females like Captain Sandy, Hannah, Aesha, and me and June. We just had such a strong female team."
She adds that typical "girl fights" seen on Below Deck just weren't there. "And the fact that we had no cattiness," she recalls. "There is not one episode where any of us girls get into a fight. And I absolutely love that for reality television because that was not what is seen often."
Surmava adds she doesn't think production anticipated the bond to go this way either. "They probably thought all of our personalities would clash but we ended up being like, 'Yeah, you're a stronger b**ch and you do your job and you have respect.' And why would there be a problem?"
Yachting wasn't always the endgame for Surmava
She also offered her viewpoint of what happened with Travis Michalzik after he drunkenly slapped her during a night out. "That day was the day that I stepped down as a chef and I didn't know if I was going to have a job or not … I didn't know really," she says. She was emotionally and physically exhausted so when he playfully smacked her, she lost it.
"So I mean that night I was just like over it and just everything that had accumulated made me so upset," she remarked. "And to be honest you know he came up and apologized the next day and I was ready to just brush [it] off." But she later decided to talk with Michalzik because she wanted him to know the behavior may not blow over when it comes to other women. "What I was upset about was just like constantly getting so drunk that you didn't understand what you were doing. That was the whole point of that conversation. And he was really receptive. At first, he wasn't but after he was super receptive and he understood what I was saying."
Surmava has a fondness for Michalzik but says the drinking and wild partying culture in yachting just wasn't for her. Instead of drinking on their days off, she would have rather explored the area. "And you know he is a great guy and he didn't mean anything by it, but sometimes you know you just get to this point where alcohol is just the easiest place to turn. And in the yachting industry, unfortunately, alcoholism is rampant and everybody drinks."
Welcome to zen
Surmava's exciting new yoga studio and cafe opens in November. She'd been working on the project since her season wrapped and is ready to add those finishing touches. "So I took a summer off and now I'm back and just finishing up building, finishing training my head chef, my sous chef on my menu and getting all my yoga teachers organized," she shares. It's been a lot of work but I'm hoping to open by November 10."
She's also partnered with Below Deck Med alum Julia d'Albert-Pusey's company Girl Alliance. As part of the Below Deck Babes, Surmava is featured wearing the Girl Alliance swimwear. She plans to take photos of a new suit at the yoga studio featuring the gorgeous Indian Ocean as a backdrop.
"I'd love to have like a little pop-up shop or something for her at my cafe," Surmava exclaims. "You'll get so many yoga principles and stuff and I think that they would really resonate with her brand and you know their whole ethos and I think that's very cool."