Why Did Brad Pitt and Jennifer Aniston Get Divorced?
They used to be Hollywood's favorite couple. So why did Brad Pitt and Jennifer Aniston ever get divorced?
Remember Brad and Jen? Hollywood does. And now that Brad Pitt is single again and has very little chance of reconciling with his ex, Angelina Jolie, people can't help but remincice over his other high-profile romance with America's favorite girl-next-door, Jennifer Aniston.
It makes sense that people might want to see Brad Pitt and Jennifer Aniston rekindle their romance. This power couple dominated headlines for years thanks to their obvious chemistry and love for each other. Fans were devastated when Brad moved on, but now they're feeling hopeful all over again. He was spotted at her birthday party! She kept all his old love notes for all these years!
However, before anyone can assume they'll get back together, it's vital to take a look at why they split up in the first place.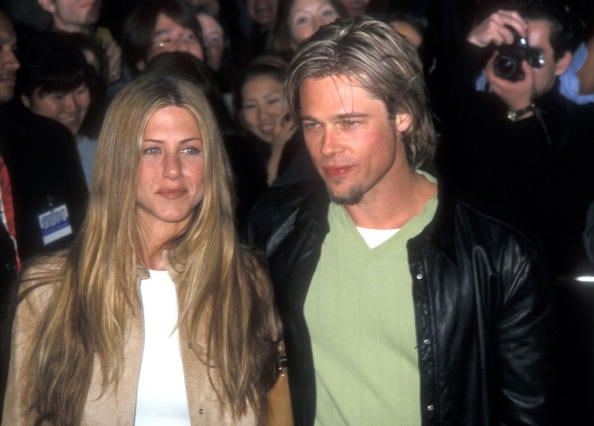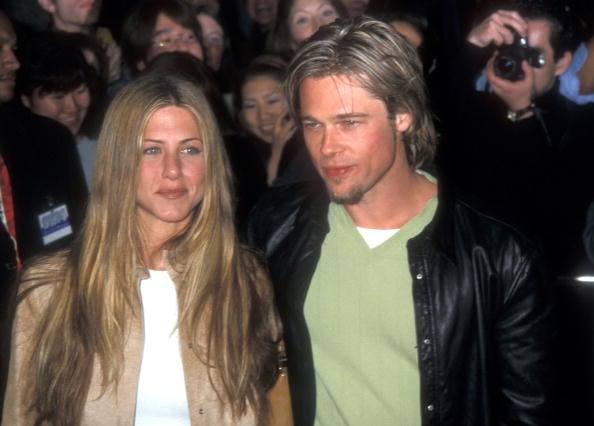 How did Brad Pitt and Jennifer Aniston meet?
It seems like just yesterday when Brad and Jen were over-the-top in love. But check yourself – it was more than 20 years ago when the pair had their first date! They got set up by their agent (just like a Hollywood romance) and after that first date, sparks were flying. Brad and Jen tried to keep their romance quiet at first, but it proved impossible.
Brad Pitt and Jennifer Aniston made their first formal appearance as a couple on the red carpet at the Emmy Awards in 1999. Sigh – young love.
The couple wed in a romantic Malibu wedding ceremony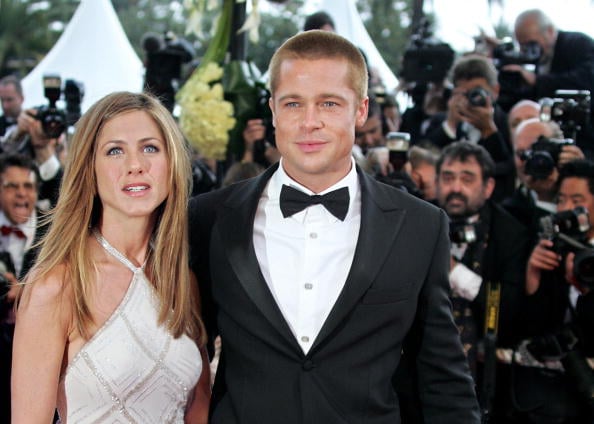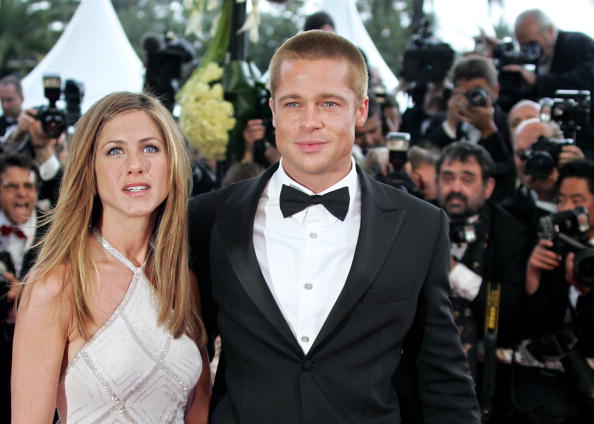 On November 21, 1999, Brad Pitt and Jennifer Aniston announced their engagement onstage at a Sting concert. Remember, this was before Instagram and Twitter with people obsessively following a celebrity's every move. A rock concert was their best bet for reaching a wide audience. And it worked – people were so happy for the A-list couple.
Fast forward to July 29, 2000 – Brad Pitt and Jennifer Aniston tied the knot in an upscale, super sweet Malibu ceremony complete with fireworks at the end. It was picture perfect, just like their romance.
Relationship trouble started brewing a few years later
Maybe is was the 2003 interview in W magazine that first tipped people off to trouble in paradise. When the interviewer calls Brad the love of her life, Aniston has a fairly shocking response.
"Is he the love of my life? I think you're always sort of wondering, 'Are you the love of my life?' I mean, I don't know, I've never been someone who says, 'He's the love of my life.' He's certainly a big love in my life…And I know that we have something special, especially in all this chaos. In this nutty, brilliant, wonderful, hard business that we have, it's nice to have somebody who's anchored and knows you, really knows all of you."
Then there's the constant barrage of baby rumors. The public was so eager to see the couple have kids that every photo of Jennifer Aniston was scrutinized for hints of a pregnancy. Tabloids speculated on the state of Jen's uterus on a weekly basis. No doubt the pressure didn't help what happened next.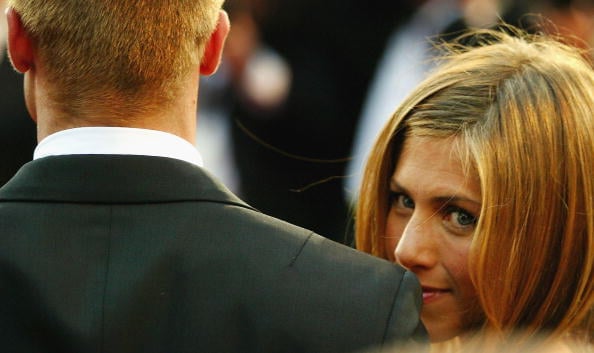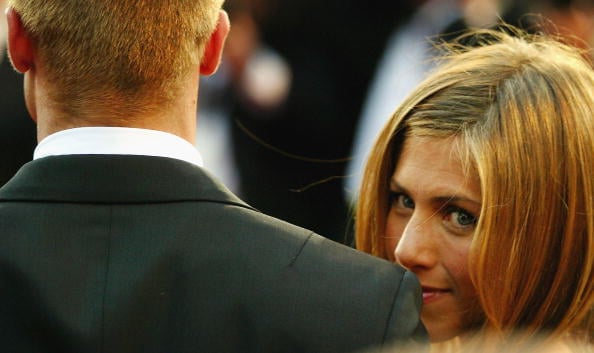 Brad meets Angelina Jolie and everything fell apart
As fate would have it, Hollywood was the catalyst for bringing Brad and Jen together and also the reason they split apart. Brad Pitt met Angelina Jolie while the two were starring in the film Mr. & Mrs. Smith. At the time they insisted their onscreen chemistry was simply great acting – but later they admitted sparks were really flying.
Jolie explained it this way in a later interview with Vogue:
"Because of the film we ended up being brought together to do all these crazy things, and I think we found this strange friendship and partnership that kind of just suddenly happened. I think a few months in I realized, 'God, I can't wait to get to work.'"
"Whether it was shooting a scene or arguing about a scene or gun practice or dance class or doing stunts—anything we had to do with each other, we just found a lot of joy in it together and a lot of real teamwork. We just became kind of a pair."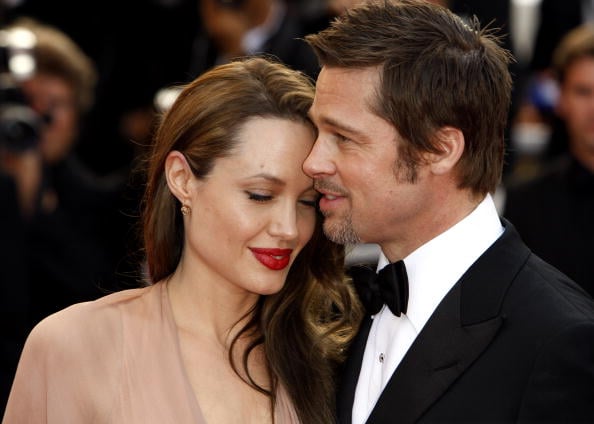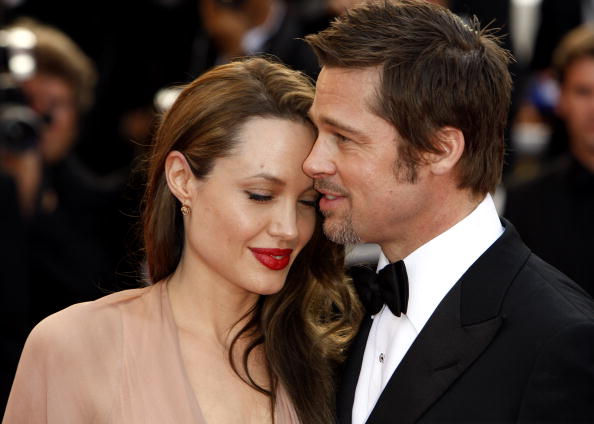 Brad and Jen officially called it quits
Did Brad leave Jen for Angelina? Pretty much. They announced their split in January 2005 and it wasn't long after that the world moved on to focusing on the epic romance between Pitt and Jolie. But a lot of people still felt terrible for Jennifer Aniston.
Who can forget the time Jolie and Pitt were featured in a W magazine spread and Jennifer Aniston accused him of "missing a sensitivity chip?"
Brad Pitt and Angelina Jolie get married in 2014, but by that point, they were already heavily invested. Meanwhile, Jennifer Aniston went through a string of romances and eventually married Justin Theroux in 2015. One year later in 2016, Jolie and Pitt file for divorce. Aniston and Theroux split up in February 2018.
Would Brad Pitt and Jennifer Aniston ever get back together?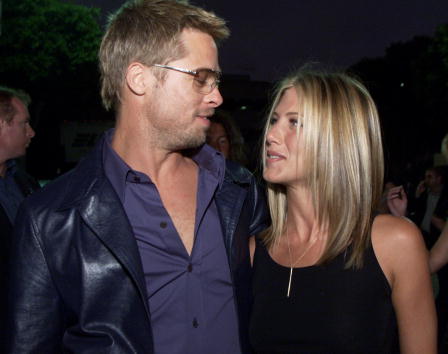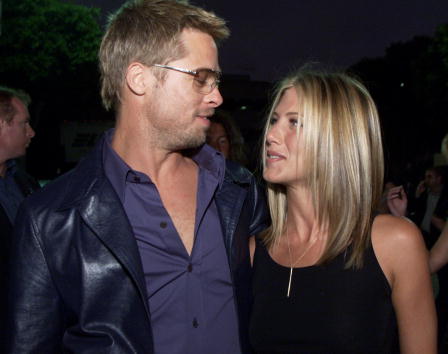 Hollywood is a weird place. Fans are clamboring for a Brad Pitt/Jennifer Aniston reconciliation, and now that Pitt was spotted at Jen's 50th birthday party, there might be some validity to those claims. It would take a massive amount of trust building for the two to get back together. Or maybe they'll just start a "We Hate Angelina Jolie" club together.
Hey, anything is possible.