Why did BTS Change Their Name?
They're one of the biggest boy bands in the world. However, BTS wasn't always known as "Beyond the Scene" and member Kim Namjoon wasn't always known as "RM." Why did BTS change the meaning behind their group's name? Here's what we know about the K-pop idols.
What does 'BTS' stand for?
They were the first K-pop group to present an award at the Grammys. They performed at the Billboard Music Awards and at talk shows hosted by Stephen Colbert, Jimmy Fallon, and Ellen DeGeneres. Their music videos broke records within the music industry. Together, this group of seven boys became one of the biggest boy bands in the world.
When BTS first started, their name "Bangtan Sonyeondan," roughly translates to "Bulletproof Boy Scouts" in English. It's this translation that gave BTS' fanbase their name: ARMY. Additionally, this fanbase name stands for "Adorable Representative MC for Youth." When BTS rebranded in 2017 and changed their logo, the fanbase created their own logo similar to that of their K-pop idols.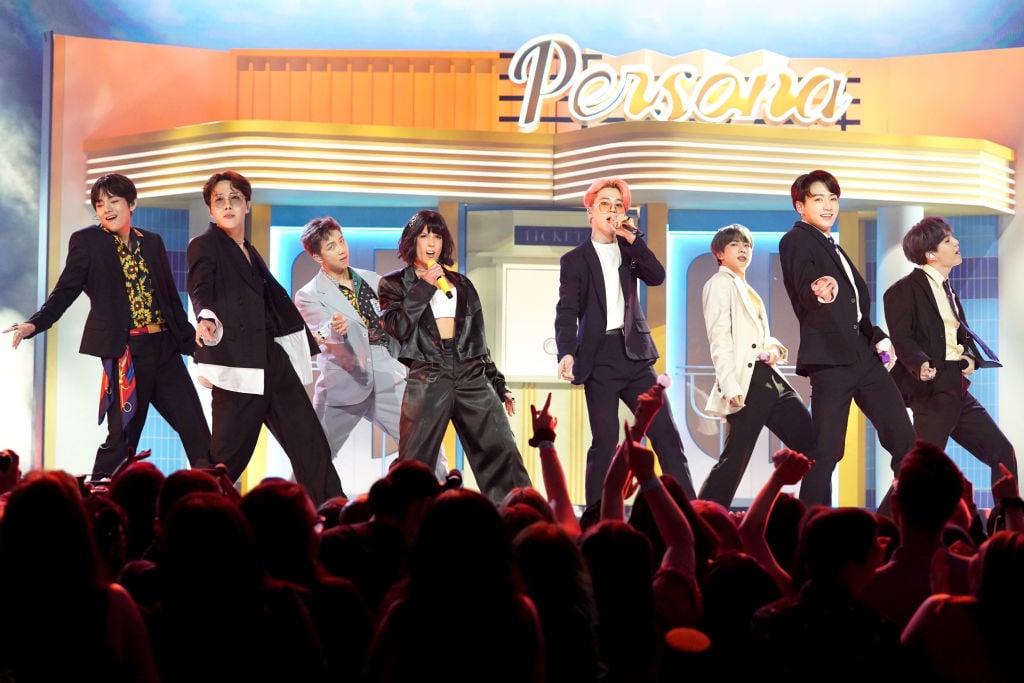 The K-pop group changed the meaning behind 'BTS'
As BTS grew in popularity, the boy band changed the meaning behind their name. While it originally meant "Bulletproof Boy Scouts," the group changed their name in 2017 to mean "Beyond the Scene." This came with a complete rebranding of the group in 2017, following their tours in the United States. Some members even took to Twitter, spreading the love for their fanbase.
"We tour all over the world, but the shows in the U.S. really opened our eyes to so many new things in the States," RM said during an interview with Time Magazine. And when we won the Billboard Music Award, we were so honored and got to meet so many artists that we love and admire that we can't wait to return to the States."
Kim Namjoon changed his name from "Rap Monster" to "RM" in 2017
Collectively they're known as BTS. Individually, however, the members of BTS often go by their stage names. Kim Seokjin is known by his stage name, Jin. Jung Hoseok is known by his stage name, J-Hope. Min Yoongi is known by his stage name, Suga. Park Jimin is known mononymously as Jimin. Kim Taehyung is known by his stage name, V, and Jeon Jeongguk is known by his stage name, Jungkook.
The leader of the group, RM's real name is Kim Namjoon. During an interview with Entertainment Tonight, Kim Namjoon elaborated on his stage name and why he chose it in the first place.
"[Rap Monster] came from a song that I made from like, 2012, there was some phrase like Rap Monster, and I just, I thought it was so cool," the BTS member said. "But as I grow up, and as I came to America, I think it felt like too much. So I just abbreviated it to RM, and it could symbolize many things. It could have more spectrums to it."
When asked what "RM" means to him now, the performer responded, "I don't know, like, 'Real Me' or something."
Music by BTS, including Map of the Soul: Persona, is available on Spotify, Apple Music, and most streaming platforms.