Why Did It Take So Long For 'Zombieland: Double Tap' To Get Made?
The sequel to 'Zombieland' is now out. But why did it take so many years for 'Zombieland: Double Tap' to go into production?
The new film, Zombieland: Double Tap, was a long time coming. It's the sequel to the 2009 film Zombieland, and has just been released in theaters a decade later. So why did it take so long for the movie to get made? Here's what we recently learned.
'Zombieland' was released in 2009
When Zombieland came out in 2009, the zombie craze was really just kicking off. The Walking Dead hadn't even begun yet. But the film was unique in the sense that it was truly a comedy about a makeshift family just trying to survive, as opposed to the usual horror in which people are killed off one by one.
The film stars Jesse Eisenberg as Columbus, who teams up with Tallahassee (Woody Harrelson) in the wake of the zombie apocalypse. They then meet two young women, Witchita (Emma Stone) and Little Rock (Abigail Breslin), and together, the four of them defeat zombies in their path.
Who from the cast has worked together since?
Most of the cast haven't worked together in the years since Zombieland came out, though all have done very well for themselves in the years since. However, Eisenberg and Harrelson are exceptions. The two actors starred in Now You See Me and Now You See Me 2 together.
Additionally, director Ruben Fleischer worked with three of the four main cast members on other projects. He directed Eisenberg in his next film, 30 Minutes or Less, Stone in Gangster Squad (2013), and then Harrelson in his latest film, Venom.
The sequel 'Zombieland: Double Tap' is out now
Now, there's a sequel to the film out. That's right, it took a decade, but the Zombieland crew is back for more. Witchita, Columbus, Tallahassee, and Little Rock have made a life together, living at the White House. But, naturally, there's trouble afoot.
Little Rock and Witchita take off once again, and Columbus and Tallahassee are determined to reunite this family. And there are quite a few new characters, including Zoey Deutch's Madison, Avan Jogia's Berkeley, and Rosario Dawson's Nevada, who they meet along the way.
Why did it take 10 years to get made?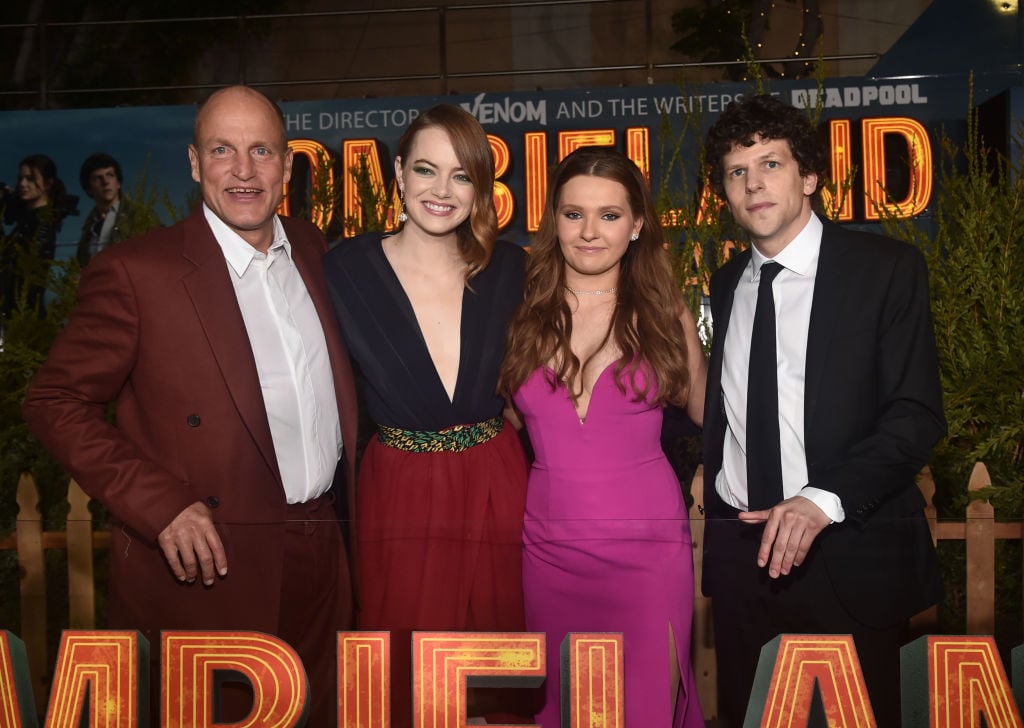 "We've been working on this for a long time," said Fleischer to Entertainment Weekly. "It took a while to get going. There was an original draft immediately after the movie came out but it just wasn't the right kind of follow-up. So we put that on the shelf." They then revisited the process about five years ago. But it took the efforts of the stars involved, as well.
"I think everyone was very excited about the idea to all be together again because we had such a great time on the first one," added Stone. "But the script had to really come together in a way that made a lot of sense…So [writers] Paul [Wernick] and Rhett [Reese] were really great because we were able to, I think, collaborate and really talk with them a lot about what we were trying to achieve with the second movie."