Why Did Jay-Z and Beyoncé Skip Out on Kim Kardashian and Kanye West's Wedding?
Kim Kardashian West and Kanye West's destination wedding may have been the biggest star-studded event of 2014, but not everyone on their exclusive guest list made the trip to watch them tie the knot.
In addition to Rob Kardashian, Beyoncé and Jay-Z also skipped out on attending Kimye's lavish ceremony in Italy. So why were the A-listers a no-show to the biggest celebrity wedding of the year? Read on to find out.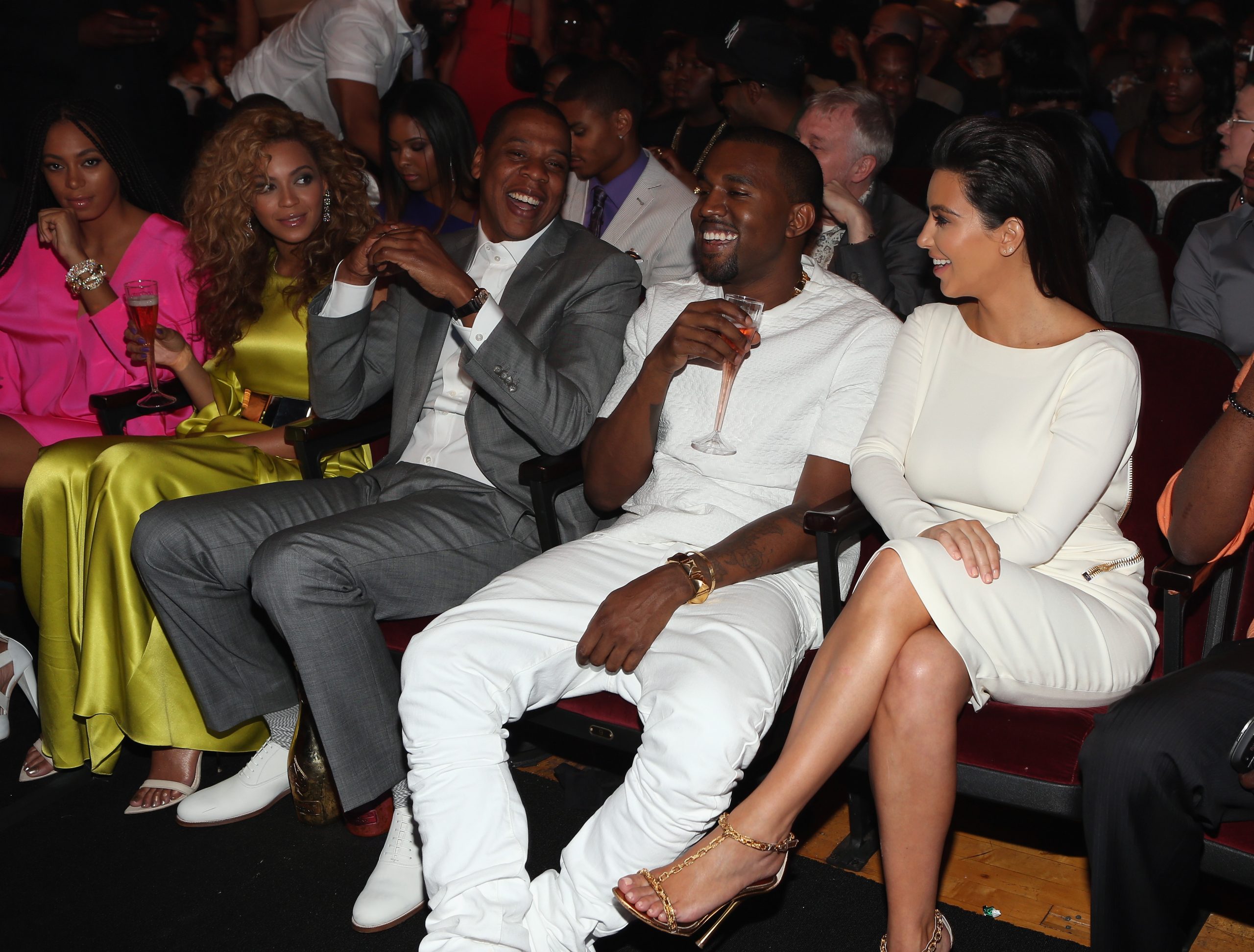 Kim Kardashian and Kanye West tied the knot in 2014
On Kardashian's 33rd birthday in 2013, West got down on one knee and asked her to be his wife during an over-the-top, rom-com-worthy proposal.
The following year, Kardashian and West tied the knot in a lavish wedding ceremony at Fort di Belvedere in Florence, Italy.
The ceremony was the A-list event of the year with celebrities such as Chrissy Teigen and John Legend, Steve McQueen, André Leon Talley, Rachel Roy, and Lena Dunham in attendance.
Though many of the couple's famous friends watched them exchange nuptials in a breathtakingly beautiful location, a few of their closest pals were missing from the event. Most conspicuously, the couple's BFFs Jay-Z and Beyoncé.
At that time, Beyoncé and Jay-Z were going through a rough patch
When it was revealed that Bey and Jay didn't attend Kimye's wedding, many people hypothesized various reasons why music's power couple would skip out on their friends' special day.
While some assumed it was because the singer didn't get along with the reality star, others speculated that the musicians didn't want to be filmed for the KarJenner family's reality TV show.
Though many had gone with the latter, Beyoncé did send her support to the happy couple after they said "I Do" by Instagramming a shot of Kimye's Vogue shoot with the caption, "Wishing you a lifetime of unconditional love. God bless your beautiful family."
So, why exactly did Beyoncé and Jay-Z skip out on Kimye's wedding?
It turns out that the couple's marital issues had a lot to do with their decision not to attend.
Just weeks before Kardashian and West exchanged nuptials, Bey's sister Solange attacked Jay-Z inside an elevator following the 2014 Met Gala.
Although nothing has been confirmed, sources told E! News that the fight was a result of the "99 Problems" rapper allegedly cheating on Beyoncé.
With the elevator drama having been heavily covered by media outlets, the couple opted to maintain a low profile and ultimately "didn't feel up to mingling" at Kimye's wedding.
Jay-Z seemingly implied to this in the song "FRIENDS" off his and Beyonce's joint album, Everything is Love. On the track, he raps, "I ain't going to nobody for nothin' when me and my wife beefin. I don't care if the house on fire, I'm dyin', n***a, I ain't leavin'."
How Kardashian and West really felt about Bey and Jay skipping their wedding
Though Beyoncé and Jay-Z were experiencing marital issues when Kimye tied the knot, West believes that the couple should have put their differences aside and attended his wedding instead of skipping out.
The rapper's even convinced that his feud with the power couple stemmed from them being a no-show on his wedding day.
While speaking with Charlamagne Tha God in May 2018, the rapper shared, "I was hurt about them not coming to the wedding. I understand they were going through some things, but if it's family, you're not going to miss a wedding. I gotta state my truth."