Why Did Kendall Jenner Officially Confirm Her Romance With Devin Booker, but Never With Any of Her Exes?
Love is definitely in the air for Kendall Jenner! After spending months fueling romance rumors with NBA player Devin Booker, the supermodel has officially confirmed their romance, which just so happens to be a first for her.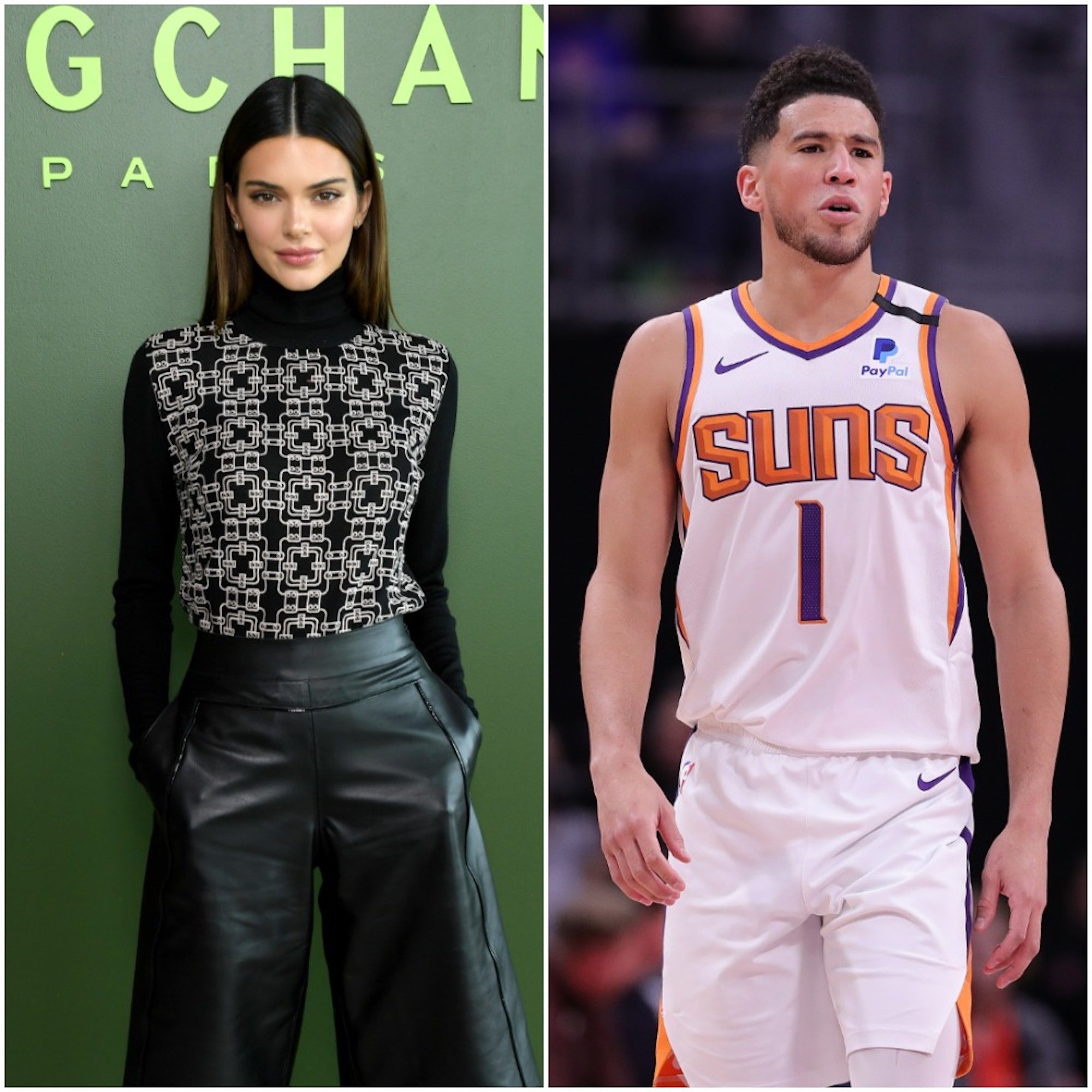 Kendall Jenner made her relationship with Devin Booker Instagram official on Valentine's Day
On Feb. 14, Jenner and Booker posted about each other on social media for the first time ever in honor of Valentine's Day, per People.
In a photo shared to her Instagram Story, the Keeping Up With the Kardashians star and the athlete can be seen lying on top of what appears to be a kitchen counter while she has a big smile on her face. Jenner captioned the adorable post with a single white heart emoji and also tagged Booker's Instagram handle.
On Booker's Instagram Story, he shared a photo of the two of them spending time outdoors with a black dog. He also posted a snapshot of him and the supermodel cozied up together on a blanket as they took a nap in the grass.
All of the photos seemingly confirmed that Jenner and Booker are an official couple, which many fans have speculated ever since the pair first sparked romance rumors.
The supermodel and the NBA player were first spotted together in April 2020 when they took a road trip from Los Angeles to Arizona. Since then, the pair have frequently been seen spending time together.
RELATED: Kendall Jenner's First Kiss Took Place in a Shower
Though neither publicly confirmed their relationship until now, insiders previously reported that Jenner and Booker really liked each other and have been enjoying their time spent together.
"She's excited to have him out in L.A. so they can spend some in person time together," a source told E! News in August 2020. "They have been staying together and hanging out in Malibu with friends and family."
The insider added, "She definitely prefers to keep her relationships on the down low, but she likes him, and she's happy to be with him right now."
This is the first time Kendall Jenner has publicly confirmed a romance
Though she's been linked to many high-profile men in the past, Jenner's recent Instagram post marks the first time she's publicly confirmed a romance.
Although media outlets have verified her past relationships with fellow celebrities, Jenner has never been open about her love life. She even revealed why she keeps her relationships to herself while speaking with Vogue Australia in 2019.
"I got a glimpse of how my sisters dealt with [the attention] and it's cool to learn from that," Jenner told the outlet. "For me, a lot of things are very special and very sacred, like my friends and relationships, and I personally think that bringing things into the public makes everything so much messier."
In the past, Jenner has kept her romances out of the spotlight because she's wanted to see how they developed away from prying eyes.
"I'm very young and right now I feel like relationships aren't always super-certain and I don't want to bring too much attention to something if you don't really know long term [what it's going to be]," the model explained to Vogue Australia.
"A relationship is only meant to be between two people, and the second you make it the world's business is when it starts messing with the two people mentally," she continued. "Like once everyone is let in, you're letting all these opinions into your relationships, and I don't think that's fair."
Why did Kendall Jenner make her romance with Devin Booker public?
Though Jenner has been romantically linked to several famous men over the years, it sounds like Booker is the first man she sees a future with.
RELATED: How Many NBA Players Has Kendall Jenner Dated?
Since he is the first boyfriend she's ever shared a photo of on social media, we can assume that the reality star is confident in where their relationship is going and doesn't see this romance being a temporary thing.
While no one knows what the future holds for Jenner's love life, it definitely seems like she's happy in her relationship, and we wish her and Booker nothing but the best moving forward!