Why Did Patrick Mahomes Choose Football Over Baseball?
When Patrick Mahomes was given the chance to follow in the footsteps of his father and play baseball for the Arizona Diamondbacks or blaze his own trail with a team in the NFL, he ultimately decided to go with football over baseball. With the guidance of a baseball great, why did Mahomes decide to go with football? And how did he make his way to being a potential NFL MVP?
Who is Patrick Mahomes?
23-year-old Patrick Mahomes was born and raised in Tyler, Texas, and went to high school at Whitehouse High School in Whitehouse, Texas. While there, Mahomes showed interest and ability in football, baseball, and basketball. Of the three, he especially excelled in football and baseball, leading to a commitment to Texas Tech University where he spent two of three years playing both football and baseball before ultimately foregoing his final year of college to enter the NFL draft in 2017.
He had decisions to make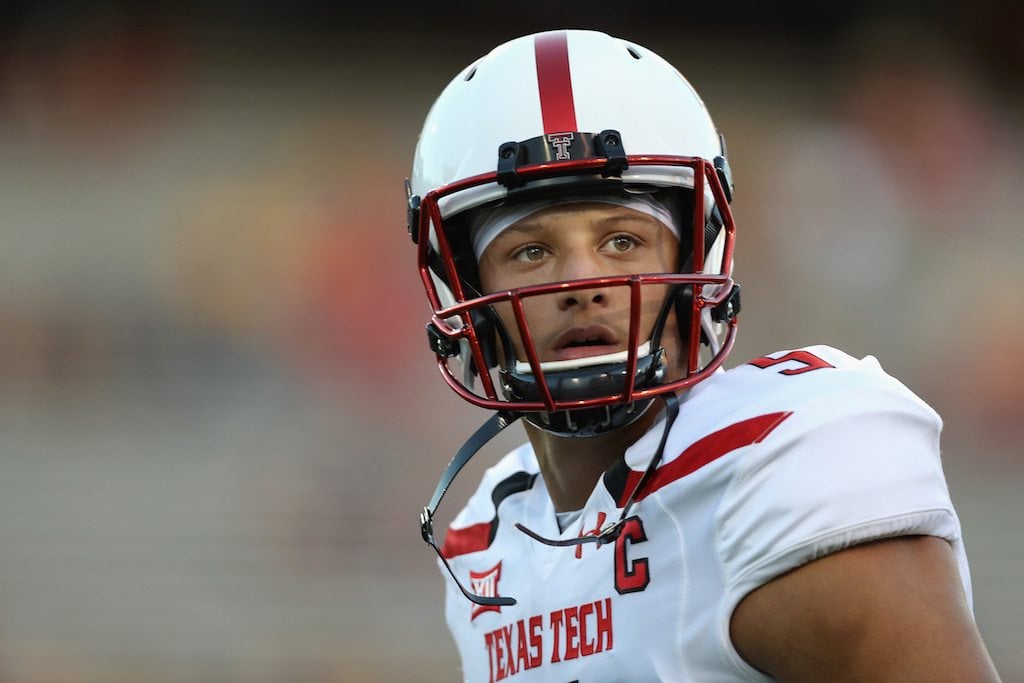 One might think that with a famous major league pitcher as a father, Mahomes might choose the baseball route after playing both baseball and football throughout high school and most of college. Alas, Pat Mahomes pulled no weight on his son's decision to ultimately be a quarterback for the Kansas City Chiefs when the opportunity came, giving him his official start in the NFL.
He was selected by the Chiefs in the first round of the draft (10th overall) and signed to a four-year, $16.42 million contract. In the 2017 season, Mahomes finally got his chance to play in Week 17 against the Denver Broncos, and in 2018 became the Chiefs' starting quarterback.
Why did Mahomes choose the NFL over the MLB?
Mahomes "fell in love with football," according to his father. Though his father fully would have expected him to choose the baseball route, he wasn't surprised that the young quarterback ultimately didn't. "Thousands of people in the stands, being the man who could dictate and change the game. He's a student of whatever game he's playing. He had played baseball for so long he knew every situation. He thought it was way through it. There was so much for him to learn in football and that's what he loved."
Mahomes had an outstanding season
Taking a look at some of his stats from 16 games in 2018, we can see how Mahomes has really shined in his first year as a starting quarterback:
66% completion rate
5,097 passing yards
318.6 passing yards per game
50 touchdowns passing and another two rushing
272 rushing yards
These kind of stats are fairly unmatched, with Cam Newton coming closest to matching anything like this. Though the young quarterback would have excelled in the MLB as well, he's made a name for himself as one of the greatest quarterbacks in the NFL this year.
According to Celebrity Net Worth, a low estimate of Mahomes' net worth is $10 million. This seems low, as his rookie contract includes $16.4 million in guaranteed money, and an endorsement with Hunt's Ketchup is certain to be bringing in more money for the young starting quarterback.
What's next for Mahomes and the Chiefs?
Mahomes and the Chiefs play in the AFC Divisional playoff game against the Indianapolis Colts on Saturday. A win there would be a huge step toward making it to the Super Bowl, which hasn't happened for the Chiefs since their championship win in 1970.
When it comes to his father's hopes for the future, he's stated that "I don't know what's going to happen (when the Chiefs host the Colts in the AFC Divisional playoff game), I just know prepare to see something you've never seen before."