Why Did Princess Diana Have a Big Feud With Elton John?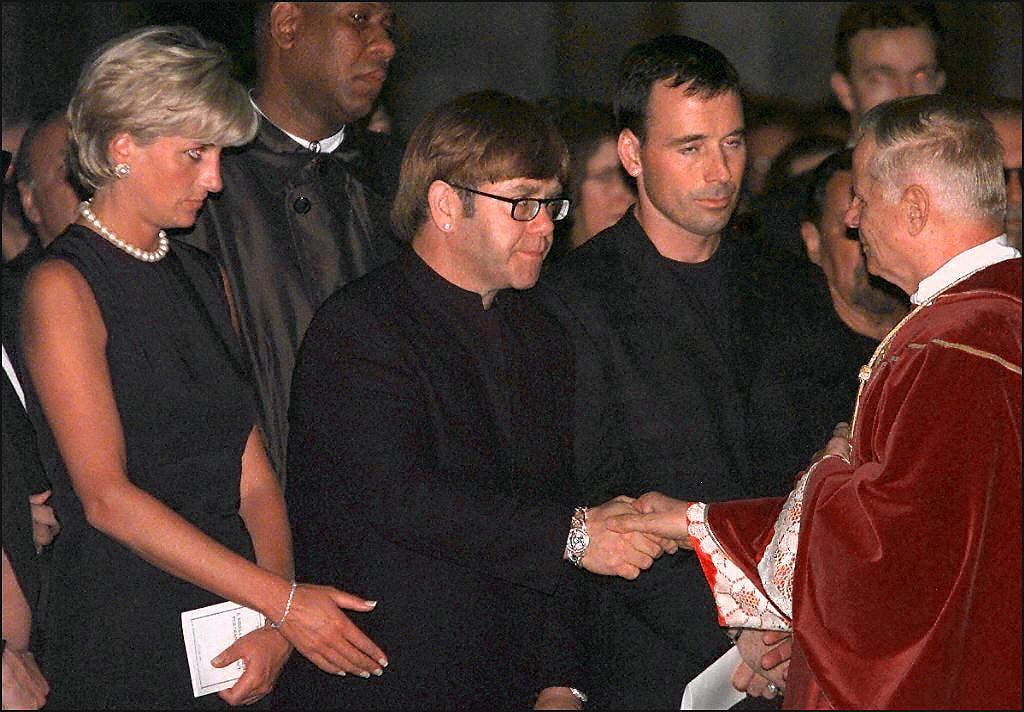 If you aren't a big royal fan, two names you wouldn't expect to hear together are Princess Diana and Elton John. Princess Diana, the Princess of Wales, spent a good deal of her adult life at Kensington Palace with her royal hubby, Prince Charles. John was best known for his infectious singing and songwriting skills. The man is one of THE best selling music artists in the world!
Surprisingly enough, these two unlikely friends crossed paths and ended up having one strange falling out. Read on to learn more about the peculiar relationship between the late Princess and Sir Elton Hercules John.
How did Princess Diana meet Elton John?
As it turns out, John's connection to the royal family dates back to the 1970s. The family has always been a fan of his music, so he's gotten more than his fair share of invites to royal events. He's attended events where both Her Majesty and Princess Margaret were present. Even more impressive, he danced with both Princess Anne and Queen Elizabeth at Prince Andrew's 21st birthday party. That's not something most people can brag about!
"[I was] playing for Prince Andrew's 21st birthday party at Windsor Castle. When I arrived, there was no one there but the dance band and Princess Diana. We danced the Charleston alone on the floor for 20 minutes." – Elton John
Funnily enough, he met Princess Di on that same surreal day back in 1981. The royals hired John to play a gig at the party. He showed up early, and when he arrived the only people he came across was the band and Princess Di. The two got down on the dance floor to the Charleston, a bonding moment that made them instantaneous best buds.
What were Princess Diana and Elton John feuding over?
John and Gianni Versace published a book together. That's what started the quarrel. Why? The book featured pictures of royals alongside images of nude models. The visual comparison, purposeful or not, really irked Princess Diana. Once she became aware of the piece, she had growing concerns over the impact it would have or the message it might send. She was especially worried that the salacious nature of the book would offend Queen Elizabeth II, a result she would've rather avoided.
The book was titled Rock and Royalty: The Ever-Changing Look of Versace's Couture As See–and Modeled–by the Kings, Queens, and Jokers of Rock & Roll. While the coffee table book may have been controversial, it did have quite a big silver lining — the royalties all went to John's AIDS foundation.
"Pictures of members of the royal family, including one of the Princess and the boys, appeared amid a portfolio of semi-nude male models, and Diana feared that would upset the Queen." – Tina Brown / Vanity Fair
Did Elton John and Princess Diana ever clear the air?
Thankfully they did, but the events surrounding them rekindling their friendship were beyond tragic. When Versace was shot and killed outside of his Miami home, Princess Diana let the entire feud go. She picked up the phone and immediately contacted John to see how he was doing. After all, they were mutual friends of the late designer.
"She was very much loved. She was a controversial figure in some respects, but not to me. I loved her because she did so much for AIDS and she was a great friend to me. We had our fallings out, but we reconciled in the end. It was an extraordinary summer. Gianni Versace was murdered [on July 15, 1997], and then Diana rang me up and we reconciled. And six weeks later, I'm in the same house, and she's dead. It was an extraordinary and mesmerizing summer, and I just couldn't believe what was going on." – Elton John
Unfortunately, the two reconciled just a month a half before Princess Diana got into the car crash that took her life. At her funeral, John performed a beautiful rendition of Candle in the Wind — a moment that will go down in both British and rock history.