Why Did Princess Diana Marry Prince Charles?
Find out why Princess Diana married Prince Charles.
The wedding of Prince Charles and Princess Diana in 1981,  marked the first royal wedding people of a certain generation can remember. People in the United States got up at very odd hours to witness the marriage of the Prince of Wales and Lady Diana Spencer.
It seems hard to believe now that some 15 years later it all came crashing down, as the gossip-obsessed British tabloids reported on the royal separation arguably more breathlessly than they did the wedding. And just a  short time after that, Diana was suddenly gone.
It all happened in a relatively short span of time, and perhaps that's why their split was sadly inevitable.
Prince Charles was ordered to marry Princess Diana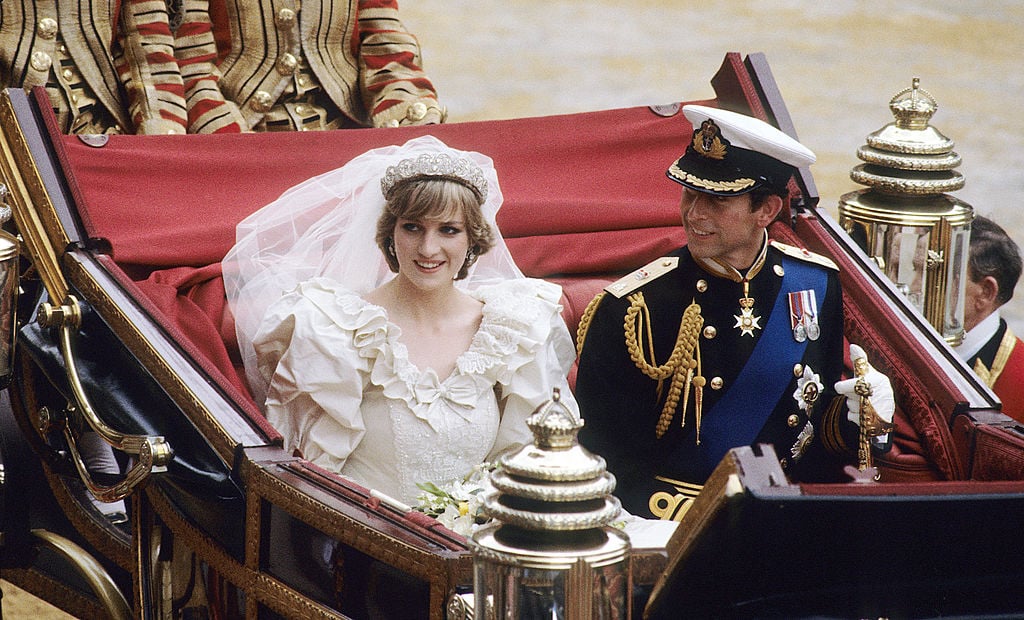 The public didn't hear about Camilla Shand, later known as Camilla Parker-Bowles, until the Diana-Charles split starting happening. But Camilla was in the picture long before Diana was. Charles wanted to marry Camilla, but she wasn't of the right stripe for the rest of the royal family. Specifically, her bearing wasn't aristocratic enough for the man who would be King of England. Bound to traditional customs, the royals reportedly wanted Charles to marry a virgin.
So while Charles went to the Royal Navy, Camilla married Andrew Parker Bowles. After Charles returned, he was introduced to Diana, who was 19 years old when he was 32.  The union was a surprise to Diana's camp too. It was thought by some that Diana would end up with the younger Prince Andrew, who would later marry (and divorce) Sarah Ferguson.
After Charles and Diana had met only a handful of times, and Charles had not proposed, it was thought that he was prevaricating. Prince Phillip tersely told his son via letter that he must either propose to her or release her.
The world knows what happened after that. During the actual wedding, Diana misstated her betrothed's name, calling him Philip Charles Arthur George, instead of the correct Charles Philip. It was a small slip, probably down to a simple case of nerves that most every bride has. Looking back, some took it as an omen of things to come.
Prince Charles and Princess Diana's marriage fell apart
For a while, all seemed rosy. People delighted in seeing Charles and Diana dancing to rock music all-star Prince's Trust concerts. The couple paid a visit to the set of the 1987 James Bond movie The Living Daylights, where Diana playfully broke a prop glass over Charles' head. And of course, there were the princes: William was born in 1982 and Harry was born in 1984.
In a number of ways, their union resembled another royal wedding that took place in 1956, when Prince Rainier of Monaco took a younger, but vivacious and beautiful, bride: the movie star Grace Kelly. Depending on which books you read, the love there may or may not have been genuine. But unlike Charles and Diana, Rainier and Grace never divorced.
Tragically, their marriage ended with Grace's untimely death in 1982, not long after Grace and Diana briefly met. Grace's death was eerily similar to Diana's. Grace also perished in a car accident, after she suffered a stroke behind the wheel and crashed down the side of a mountain. Diana attended the funeral, sitting next to Nancy Reagan as both wiped away tears.
The end of Prince Charles and Princess Diana
After both had extramarital affairs, Charles and Diana divorced in 1996 amid a media frenzy — many believe that media frenzy contributed to Diana's own untimely end in Paris on August 31, 1997. Flowers flooded London and British embassies the world over. Just as millions tuned in to watch the royal wedding, millions tuned in to watch Diana's funeral, with Elton John singing "Candle in the Wind." It's a sad irony that song was originally about another famous blonde who died too young, Marilyn Monroe.
Charles and Camilla were seeing one another but kept their relationship quiet in the aftermath of Diana's death. The two finally married in 2005, although it's safe to say the marriages of Charles and Diana's sons attracted more attention.