Why Did Rick Ross Name His Record Label Maybach Music?
Rick Ross is not just a rapper, but he's also the head of a big record label. He's the founder of Maybach Music Group, a label which has launched the careers of celebrity rappers like Meek Mill and French Montana.
Like many things in hip hop, the name of his label has a lot of symbolism and meaning behind it. Maybach is a German luxury car brand that is well-known for making some really high-end, and expensive, cars. Unsurprisingly, that's exactly the type of imagery that Rick Ross wants Maybach Music to convey.
A quick look at Rick Ross' career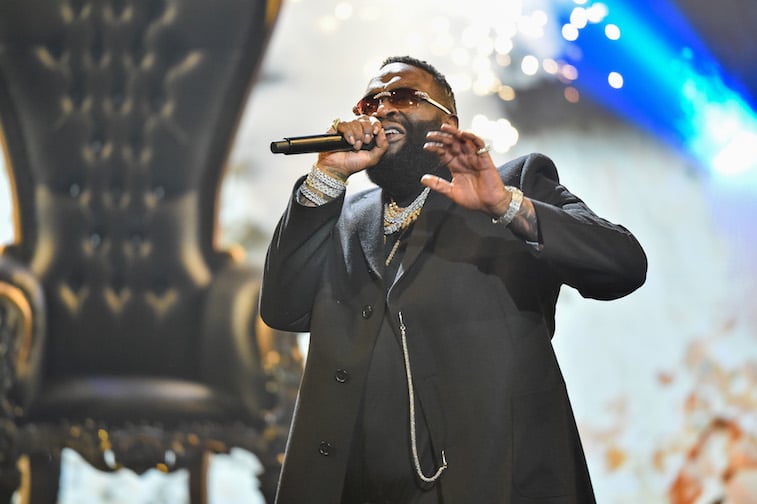 Unlike many rappers, Ross' rap career didn't start that early. In fact, he worked as a corrections officer long before he started his music career. His career only took off when he released a single in 2006 called 'Hustlin'.' He was 30 years old by that time, which is significantly older than what many rappers are when they start out in the industry.
Despite his age, his career took off pretty quickly. He signed with Def Jam Records and he released two successful albums with them. Then, in 2009, he started Maybach Music Group, or MMG, and he started releasing his songs through MMG. Eventually, his deal with Def Jam ended, and he got other distributors to work with MMG. 
Through making successful albums, growing his record label, as well as working in other business ventures, Ross is now worth about $40 million. With this level of money, he's been able to live a life that he once dreamed of. 
Why Rick Ross named his label Maybach Music
As Ross said to MTV, that's why he named MMG after Maybach. Maybach, as a brand, is a high-end luxury brand that sells cars worth hundreds of thousands of dollars, if not millions of dollars. That type of luxury is, as Ross told MTV, something that he and others like him dreamed about. "That level of luxury is just inspiration for people who started, like myself, who just looked and fantasized," he said to MTV.
Fans of Ross or any other artist signed to MMG will know that they will shout Maybach during live performances of their songs. Like Ross told MTV, they don't do that to tell people to buy Maybach cars. Rather, it's a way to link the high quality that's found in Maybachs with the high-quality that's found in MMG's music. 
"When we say Maybach Music, it's not about the car, it's just about the level of quality and the time that we put into the sound and that was just a way to express it where people could really understand it," Ross told MTV. That said, Ross was mourning the death of Maybach when he said those things to MTV. Maybach, since then, has been revived. 
The death and revival of Maybach
In 2011, the high prices and the ridiculous luxury of Maybach cars led to its downfall. People were still feeling the pinch of the Great Recession, so even fewer people could afford to pay the $1 million asking price of certain Maybach models. And so, like any other car brand, the lack of sales led to Daimler, which owns Maybach, to shut down the brand. 
But, a few years later, Daimler decided to revive Maybach, this time with a new strategy. Maybach would still be a luxury brand, but it would work with Mercedes to make cars that people would actually buy. The most recent Maybach is the Mercedes-Maybach S-class, though Mercedes-Maybach is also making some SUVs, too. 
Like the Maybachs of old, these new Maybachs are still luxurious and expensive. For example, a Mercedes-Maybach S-class can start at about $200,000.