Why Do 'Modern Family' Stars Sarah Hyland and Ariel Winter Get So Much Body Criticism?
The criticisms of women's bodies has become one of the biggest social problems in the digital age. Many actresses who choose to weather the storm of social media often have to face these comments for being too skinny or weighing more than what critics dictate.
Two notable actresses from Modern Family, Sarah Hyland and Ariel Winter, are facing some backlash lately for being more transparent about their bodies on their social accounts.
Is this the unfortunate embodiment of what's wrong with social media culture? It's worth a minute to look at the backgrounds of Hyland and Winter to give you an idea of what's continually wrong with public views on the physicality of famous women.
The realities of body struggles
It's a shame the acting community has developed such a perfectionist vision of what a woman's body is supposed to look like. This changed dramatically over the decades when you consider an ideal woman's shape was considered not quite so skinny back in the golden age of Hollywood (1940s and '50s).
As the decades wore on, the vision of a razor thin actress became a standard. It was eventually recognized as madness, but we still see too many actresses who take on an avalanche of criticism if they're open about showing their natural bodies.
Case in point is Ariel Winter from Modern Family, who've we've seen grow up on the show. Her Instagram posts have been honest about showcasing her body shape while receiving unfounded criticism for the way she looks.
For years, it seems she could never win, no matter what she posted.
Winter showed off her real body weight and surgery
Take a look at Winter's Instagram posts, and you'll see how she was never afraid to show off her full figure. For Hollywood's standards, she was considered too curvy, which just invites a barrage of anonymous bile from social media denizens.
In our book, she looked great and wasn't afraid to show off her body. However, we found out later she had breast reduction surgery due to the health issues.
She also did this surgery to help her self-esteem since many criticized her for having overly large breasts in her Instagram pics. All the surgery did was bring on more criticisms from others about conforming to the critics.
Sarah Hyland has gone through the same social media criticism
Winter's co-star, Sarah Hyland, has also been very transparent about how she presents herself on Instagram. Plus, she hasn't been afraid to reveal things about herself most other actresses would keep to themselves.
Many find it refreshing she wasn't afraid to admit she was wearing two pairs of spanx on the red carpet during the Vanity Fair Oscar afterparty.
Look back to Hyland's history and you'll see why she did this: She had a kidney transplant. The latter was actually her second kidney transplant in her lifetime. Of course, it made all the caustic comments on her Instagram painful to read.
Why do people do this without more careful research about the character and health of these and other stars?
You can't change people, but you can change how you react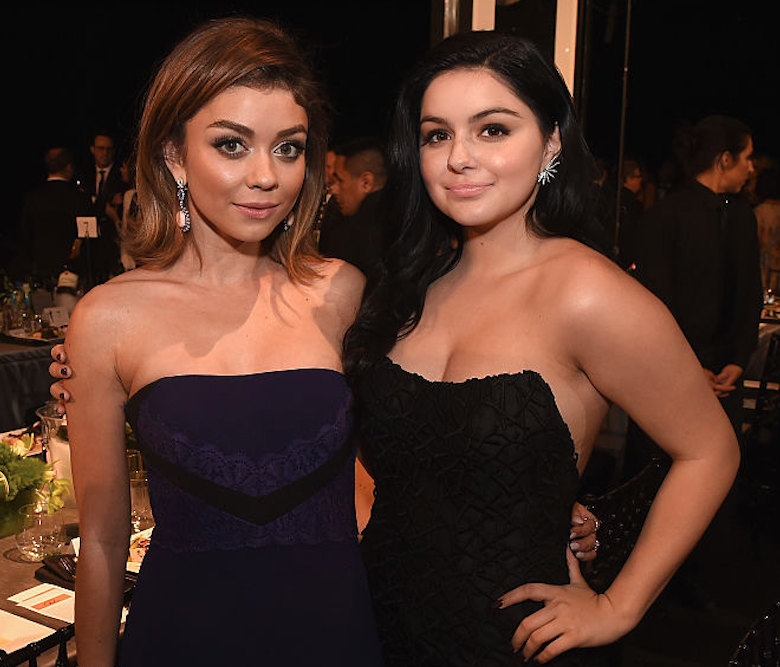 Fortunately, Hyland and Winter don't let the criticisms from supposed fans get them down. Winter is a master at the witty comeback against those who've accused her of using drugs for losing weight or even Photoshopping herself. Hyland does the same thing, though she ended up deleting her above Instagram shot because of the controversy.
Using a defense mechanism like this can help trolls eat their words. Or perhaps it's a waste of time in ever changing how social media works nowadays.
The views on famous women's bodies probably won't change completely, even if we're starting to see a lot more acceptance of body reality after Hollywood woke up from unrealistic fantasies.