Why Do So Many People Hate Jimmy Fallon on 'The Tonight Show'?
Jimmy Fallon took his everyday guy-next-door personality to the late night scene beginning in 2009 on Late Night with Jimmy Fallon before moving into his The Tonight Show hosting gig in 2014. Not everyone is a fan of Fallon and his talk show, however.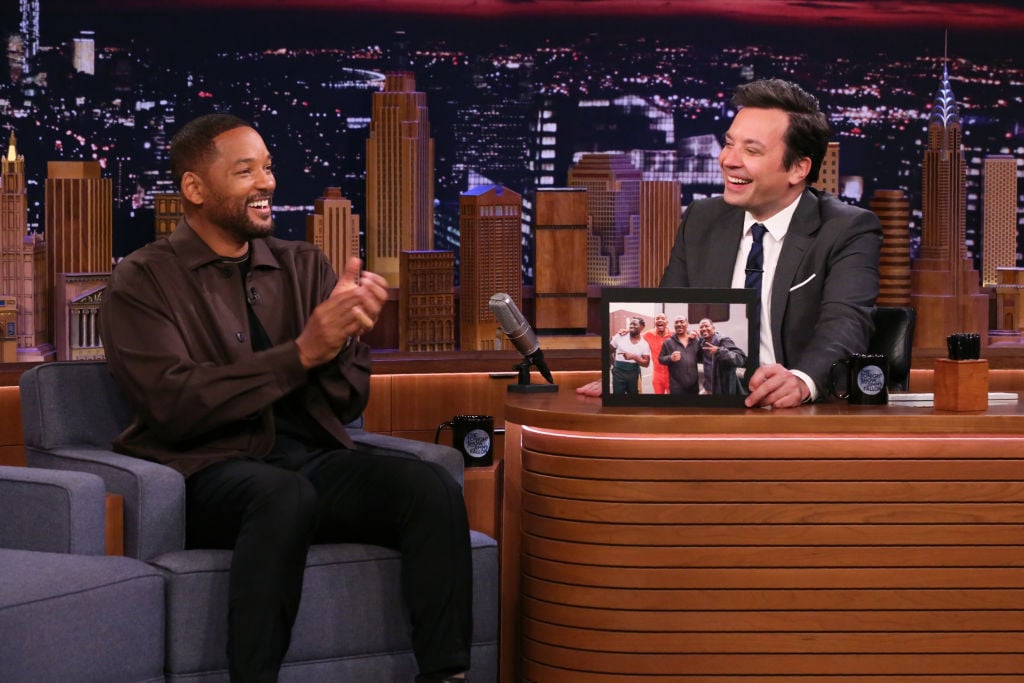 Fallon got his start on 'SNL'
Fallon got his TV start on Saturday Night Live as a featured player beginning in 1998 and became a household name with his impressions of Adam Sandler and Jerry Seinfeld, among others, in addition to appearing in sketches. He also co-hosted the "Weekend Update" desk with Tina Fey from 2000 – 2004.
Fallon had appeared in some movies over the years, starring in Taxi and Fever Pitch, but his acting career flatlined. He returned to TV after the movies fizzled; Late Night with Jimmy Fallon premiered in 2009 and he later became the host of The Tonight Show after Jay Leno left.
Some people hate Fallon on 'The Tonight Show'
Though Fallon carved out a place in the late night landscape with a unique blend of interviews, sketches, and games with his guests, not everyone is a fan of the TV host.
All you have to do is visit the comments section of clips from The Tonight Show Starring Jimmy Fallon on YouTube to see that not everyone loves how fake he appears during interviews.
Discussions about Fallon's interview style are all over Reddit, with one user's thread asking "Is Jimmy Fallon aware of how people don't like his fake/forced laughing during celebrity interviews?"
Many Redditors agreed, with one noting, "I stopped watching long ago because of this" and another sharing, "I don't know how fake it is, but sure is awkward."
Not everyone finds him fake, however
There are plenty of Fallon fans too, as Redditors seemed to agree that his laugh is the real deal. One Reddit user noted, "Have you seen him on SNL? He doesn't fake laugh, he just laughs at everything."
"Yeah, hate the laugh all you want, but it's not fake," another Redditor noted. "Jimmy Fallon is the friend you want nearby when you tell a story of questionable funnyness."
Others defended Fallon as being "light hearted and happy" and making sure that he's a "welcoming host to every guest."
"I have attended the show live twice, in person it doesn't seem fake like it does when watching it on tv," one Reddit user shared. "He genuinely has a good time and is cracking jokes with the audience during commercial breaks."
Another Reddit user pointed out that Fallon's personality came shining through when he was on Seinfeld's interview show. "I had the same opinion as you that it was a forced/fake laugh, until I watched him on Comedians in Cars Getting Coffee and realized that's just Jimmy's natural personality and now I enjoy the show so much more," they explained.
Fallon addressed the criticism
You can't make everyone happy and Fallon fully understands that, even addressing the criticism that he's a "kiss ass" to his guests during a 2015 SiriusXM interview with Bill Carter,
He said he genuinely loves his guests and isn't striving for a serious interview show where things get deep. "That's not my job," Fallon explained at the time. "My job is, again, is to make everyone look good, no matter who it is, if you're a politician or whatever it is. We have people on that people don't like. I know that. But that's not my job. You make your own opinion. I can just show you the best person that they are and try to bring out their more personal side and play with them."