Why Does Kate Middleton Have a Different Title Than Her Children?
Kate Middleton was granted the title of the Duchess of Cambridge when she married Prince William in 2011, but she did not become a princess when she joined the royal family. Royals who are born into the family are usually given the title of Prince or Princess, which is why William and Kate's children have those titles. That rule, however, did not apply to Princess Diana, who married into the family when she tied the knot with Prince Charles in 1981. Here we break down the rules behind royal titles.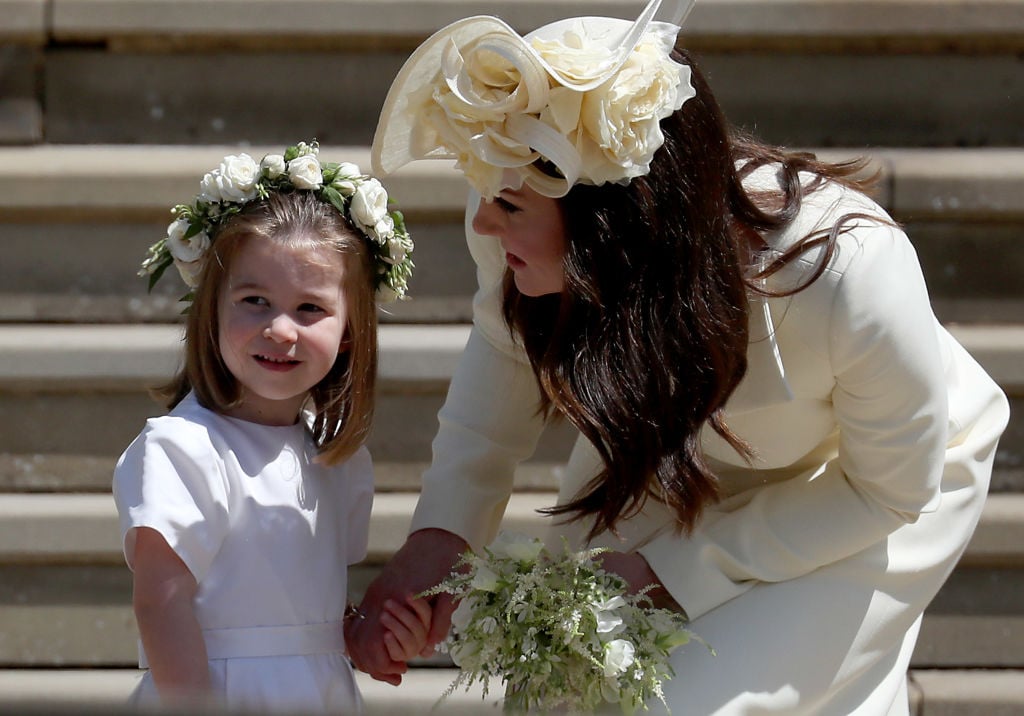 Why is Kate Middleton not a Princess?
Since Kate was not born into the royal family, she will actually never receive the title of Princess. Technically speaking, only those born a royal are called prince or princess. More specifically, only those in the direct line are referred to as such.
After marrying William, Kate took on the title of the Duchess of Cambridge. She is also known as the Countess of Strathearn in Scotland and the Baroness of Carrickfergus in Ireland.
Kate will likely receive other titles once Charles takes the throne and William becomes the next Prince of Wales. It is unknown, however, if Kate will accept the title of the Princess of Wales.
Like Camilla Parker Bowles, it is possible that Kate Middleton rejects the title out of respect for Princess Diana.
A look at royal titles
In 1960, Queen Elizabeth passed a rule that only children and grandchildren of the monarch would receive Prince and Princess titles. The rule also only applies to sons of the sovereign, which is why Princess Anne's children do not have royal titles.
Kate Middleton and Prince William's children – Prince George, Princess Charlotte, and Prince Louis – all have royal titles. But Prince Harry and Meghan Markle, who are furthered removed from the line of succession, decided not to give their first-born son, Archie Harrison, a title.
There are also a few royals who have not been given the titles of Duke or Duchess. This includes Prince Edward's wife, Sophie, who is also known as the Countess of Wessex.
To make things even more confusing, royal titles often change hands, especially when someone new takes the throne.
Clearing up Princess Diana's title
According to Express, Diana was never actually supposed to be called a princess. Her official title was Her Royal Highness The Princess of Wales. But the media always referred to her as Princess Diana so the nickname stuck.
Although the title has the word princess in it, it is not supposed to be used before Diana's first name. This would be the same as calling Kate, Duchess Catherine.
Even after Diana and Charles got divorced, she was still referred to as a princess. But in all reality, only royals who are born into the family should be called prince or princess.
In fact, when she was still alive, Diana mentioned how the public gave her the title of Princess and that it was not completely accurate.
Will Kate Middleton ever be Queen?
There has been a lot of speculation about which title Kate will receive once William inherits the crown. Although many people would gladly accept Kate as Queen, her official title will likely be Queen Consort.
As Queen Consort, Kate Middleton will perform many of the same duties as William and will be on the same level as him in social circles. In the event that she outlives William and sees Prince George take the throne, she will be named Queen Mother.
George's wife will then take on the title as the new Queen Consort, as he is the next in line to the throne following William. As it currently stands, Princess Charlotte is fourth in line followed by her younger brother, Prince Louis.
That said, a lot can change between now and whenever William is the King of the United Kingdom. But unless something truly drastic happens, the chances that Kate will ever be referred to as a princess are slim.
Kate Middleton and Prince William have not commented on the reports surrounding their royal titles.