Why Dolly Parton Mentioned Adele in One of Her Songs
Dolly Parton has songs in multiple genres including country, pop, and inspirational. The multi-Grammy winner has her own list of favorite singers, including one that she decided to include in one of her hits.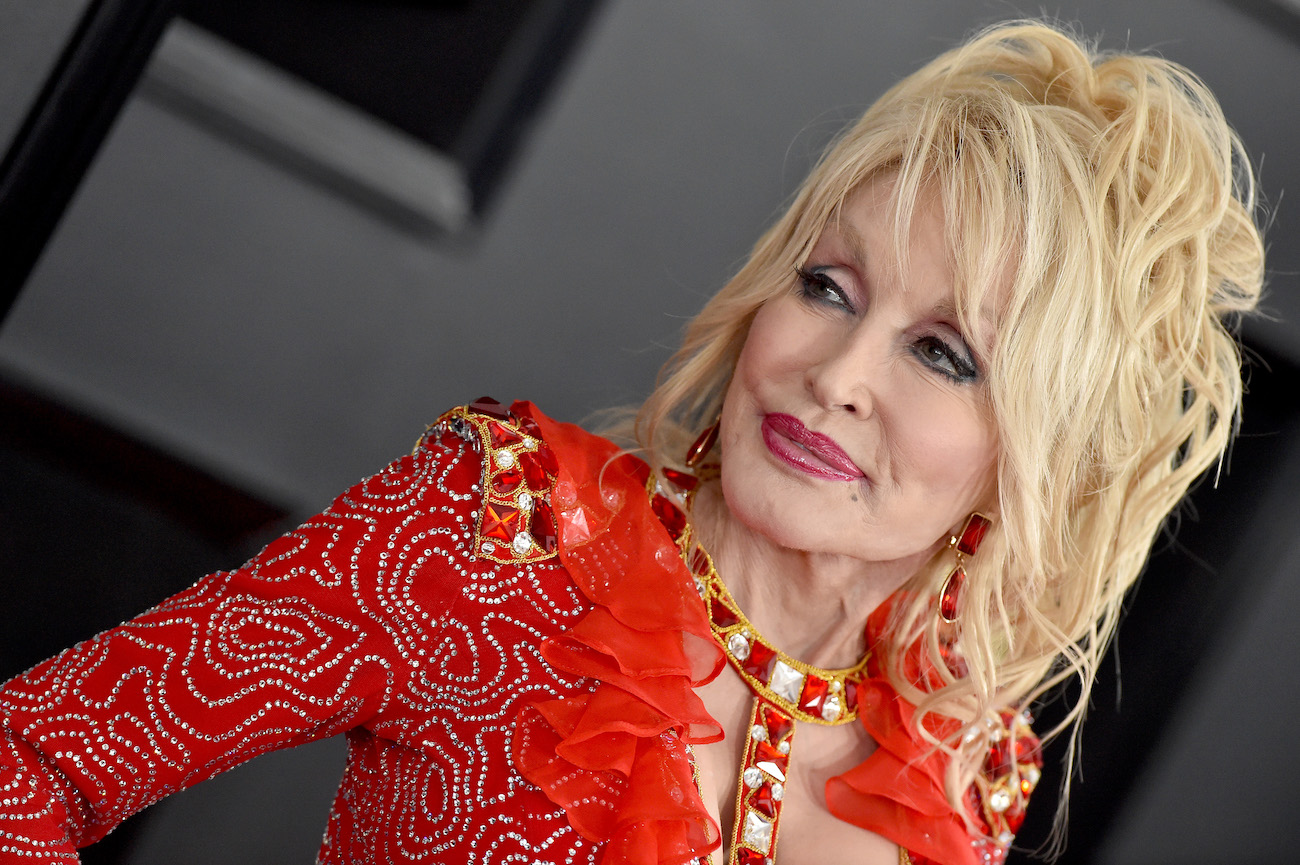 Dolly Parton gave Adele a shout out in 'Head Over High Heels'
The lyrics for Parton's song "Head Over High Heels" notes Adele's expert use of eye makeup.
"Put on my tight dress
Hair teased on my head
I painted my lips red
And my eyes like Adele
I step in my high shoes
Cheeks blushed in rose rouge
I'm lookin' too cool
But you never can tell"

– DollyParton.com
Parton shared her fondness for Adele, as well as her appreciation for her makeup artistry skills.
"Everyone loves Adele," Parton told the BBC in 2016. "With all my little nieces, it's all 'Adele this' and 'Adele that!' And I love how she does her make-up. So I'm always saying to my little nieces, 'can you fix my eyes like Adele?'"
The music legend spontaneously added the nod to the "Someone Like You" singer, where Adele seemed to perfectly fit the context of the lyrics.
RELATED: What Dolly Parton's Husband Carl Dean Told Her After Attending His First Show Business Event
"When I started that song, I had not planned to write that line," Parton explained. "I was just thinking, 'This needs to be about a girl dressing up sexy, so she's got to have some make-up, and she's got to paint her eyes.' And all of a sudden it's like, 'And my eyes like Adele!'"
Dolly Parton wrote 'Head Over High Heels' for girls
Though Parton hadn't received any feedback on the song from Adele, she hoped she found the shout out flattering.
"I think she'll have to be complimented, just like I'm always complimented when people write songs about me!" the 9 to 5 singer remarked. "I just meant I wanted to look like Adele. I hope she thinks it's cute."
Parton enjoyed writing the lyrics for "Head Over High Heels" since she always wears the title shoes. The premise of the song took on a life of its own once Parton started writing.
"You've always heard people say, I'm head over heels in love with somebody," Parton said, according to her website. "So I thought, well, that'd be a cute song to write for girls. And I pictured myself with a whole bunch of other big star girls, that wear their high heels like I do. Maybe if I ever do a video, I can at least get them… if I can't get them to sing with me, I can get them to walk down the street and get their high heels. But I just thought it was a cute idea."
Dolly Parton wears high heels 'most of the time'
Always wowing her fans with her fashion, Parton revealed that her high heels are a daily staple.
"I actually do wear high heels most of the time," she told Marie Claire in December 2020. "They're not always as high as the ones I wear for show. But I'm little. I'm short. And I have to wear heels in order to reach my cabinets. But I always enjoy wearing the shoes too, and I just feel more like me."
RELATED: How Dolly Parton Got Into the Guinness Book of World Records … Twice
Parton often keeps herself "street ready" with full makeup as well, but doesn't dress up for to please anyone other than herself.
"I'm comfortable in my own skin," she said. "I'm comfortable with my image. I dress for myself more than I do for somebody else."