Why Everyone Thinks Prince William Was Ignoring Meghan Markle in This Video
It wasn't long ago that Prince William, Kate Middleton, Prince Harry, and Meghan Markle were all smiles every time they were seen together and even dubbed the "Fab Four" or the "Core Four" of the royal family. But then came rumors of a rift between them.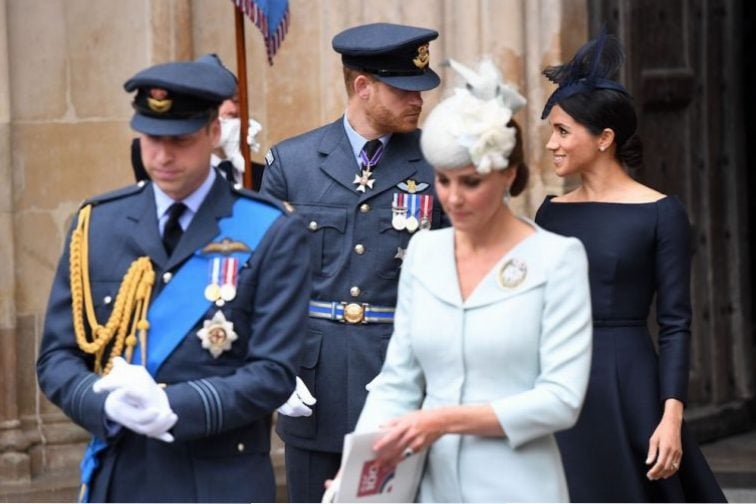 First, there were reports that the Duchess of Cambridge and the Duchess of Sussex were at odds, which the Palace denied. Then, there were claims that the relationship between the princes had turned rocky and that's the reason they will have separate courts and not a joint office as they have in the past. Now, a video that emerged of the family on Christmas morning hasn't helped quiet those reports. Instead, it has many convinced that there is certainly some tension as it appears to show Prince William completely ignoring his sister-in-law.
Here's more on the video that has everyone talking and whether the future king of England really did snub his brother's wife.
The video seen around the world
The internet was buzzing after a video of the family outside of church on Christmas Day showed what some think was Prince William intentionally snubbing Markle.
At the very beginning of the clip, William is adjusting his scarf and looking right at the Duchess of Sussex who appears to try and speak to him. However, he doesn't offer any reaction or acknowledgment that she is about to say something. Markle did look a bit stunned after that, leading many to believe he was ignoring her.
https://www.instagram.com/p/Br0AN6uh65E/?utm_source=ig_embed
What's really going on?
While royal fans have continued to draw conclusions from the video, body language expert Judi James told The Express that there may be more to the story.
"This sense of distancing could be caused by tensions but it could also primarily be prompted by William's aversion to royal 'soap operas,'" James explained. "After the tragic dramas of his parent's marriage William has always appeared keen to avoid any public emotional displays that might draw too much ongoing attention from the press and it could easily be this, rather than Meghan herself, that he's keen to avoid."
The hell William is doing ??? pic.twitter.com/PRN7L2w0ws

— Aïsha (@TheSussexes) December 26, 2018
James also noted that Markle may not have even been trying to talk to the Duke of Cambridge.
"The 'moment' between William and Meghan did depend on their proximity and her eye gaze," James said, adding, "On the surface it looked as though she turned around to smile at William while he kept himself busy tucking his scarf into his coat and her face did appear to have dropped as she turned back. But she could have been smiling at Kate rather than William, meaning he might genuinely have been out of the conversational loop at that particular point."
Of course, there's always the other possibility that the prince may not have heard her which certainly isn't an intentional snub.
Read more: How Meghan Markle's Life Will Change Once Prince William Becomes King?
Check out The Cheat Sheet on Facebook!