Why Fans Are Hating on Aaron Carter's Recent Instagram Post
Aaron Carter has been in and out of the news in the last few months. His Instagram has become more than a little popular with fans and critics. He recently posted another image that has fans talking and a lot of them are hating. Read on to find out why.
Aaron Carter shares an image with a woman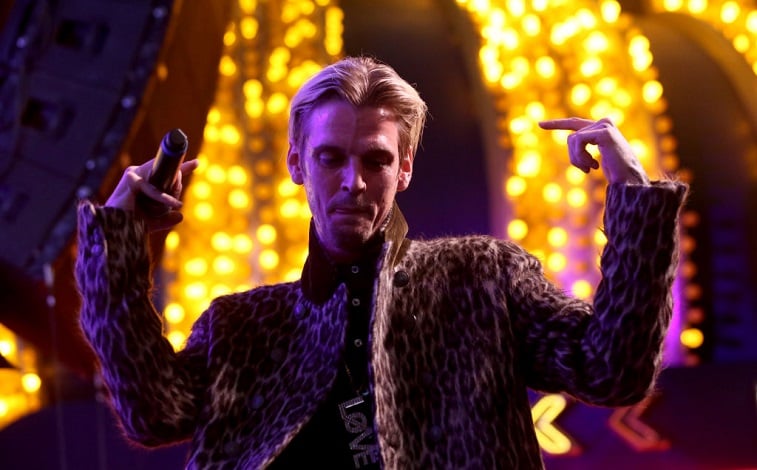 Carter's most recent image upload has fans talking and doing quite a bit of hating. In the post, Carter is holding a woman who appears to be kissing him on the cheek. Missmelaniemartin is tagged as the woman in question. "She loves me she loves me not, she woke me up from napping but I'm not complaining 🦁," Carter captioned the post.
Fans were quick to respond and let Carter know their opinion on the situation. "Yeah this relationship Is not gonna last long like the other one," an Instagram user chimed in.
Numerous people asked how much he paid. "How much did you pay this one?" another user asked.
"Are we meant to believe this isn't a paid transaction my guy?" another user inquired.
However, there are a number of people who are happy for Carter and give him a pat on the back. "I'm trying to get a fine woman like this congrats Aaron 🔥🔥," another user wrote.
Other users had some questions about the woman. "Wonder how much money she's spent on her body 🧐," someone inquired.
Aaron Carter responds to some fans
Carter did take the time to respond to a few comments calling him out. "We all know she's paid for and temporary. This ur NOT how u find love Aaron," an Instagram user wrote to Carter.
"You actually don't know Jack **** how the **** could you. Who are you?" Aaron asked the hater.
People are hating more than supporting
It seems people don't have a lot of good things to say about the situation. "This makes me sick.🙈🤢🤮🤮🤮," an Instagram user explained.
"How does plastic taste btw," another user inquired of Carter.
One Instagram user compared Aaron to Donald Trump with his hair in the photo. "Aaron has the Donald trump hair while she looks like Melania," an Instagram user wrote.
Not many people seem to think this is going to last for Carter. "Hmm I wonder how long this one will last lol 😂," another user said.
"How long you been together? Imma say loves you not. Clouts you, yes. She looks hella older than you. Truth hurts," another user explained.
This isn't the only post with the woman
Carter also posted a video with the woman tagged. "She wasn't ready @missmelaniemartin 🦁I'm her lion watch the **** out grrrrrr," Carter captioned the post.
"Oh my God I'm gonna kill you right now," she says in the video at one point. The two appear to be off-roading at the time of the post.
Of course, people couldn't help but let Carter know how they feel about the situation. "Old ladies with bad botox=type," an Instagram user wrote.
"She's playin you bro," an Instagram user also responded. "You're giving her free clout… you can clearly tell she doesn't like you foreal.. gotta smarten up brother."
People can't seem to stop hating on Aaron Carter. Although he has supporters in the comments, people are overwhelmingly negative about the situation.