Why Fans Are Loving John Mayer's Instagram Show 'Current Mood with John Mayer'
John Mayer launched a talk show, Current Mood with John Mayer, using Instagram's live feature last year. Mayer broadcasts (almost) every Sunday night at 11 p.m. where he does comedic bits complete with note cards, interviews guests, and typically rounds out the show with a musical performance by a guest.
The show has a very intimate, personal feel as Mayer broadcasts from his iPhone in his living room with a homemade backdrop complete with stuffed animals hot-glue-gunned to a poster board. Keep reading to learn why fans love Current Mood and look forward to the show every week.

Guests

Mayer has had a number of guests on his show. Typically, guests are musicians who play a song with Mayer at the end of the show. Some of the guests have included Khalid, Andy Cohen, David Spade, Cazzie David, Halsey, Maggie Rogers, Thundercat and Leon Bridges.

Why Mayer started the show

"The show started as a way to fight my own loneliness, and maybe help some other people fight theirs," Mayer said in an Instagram Story, according to Variety.

"Part of me wanting to do this show is to bring people back to a more human tradition of hearing someone talk, believing what they're saying, being put at ease, [and] made to feel okay," Mayer said at the end of Episode 1 on Sept. 30, 2018.
"So set aside some time to be truthful and kind. The world around you is beautiful. The world that is downloaded from the big mother brain in the sky as contributed by millions of people…that's tiring. We all have to live in there, but let's live outside the Matrix as well," he said. "God bless you, I love you, have a good week."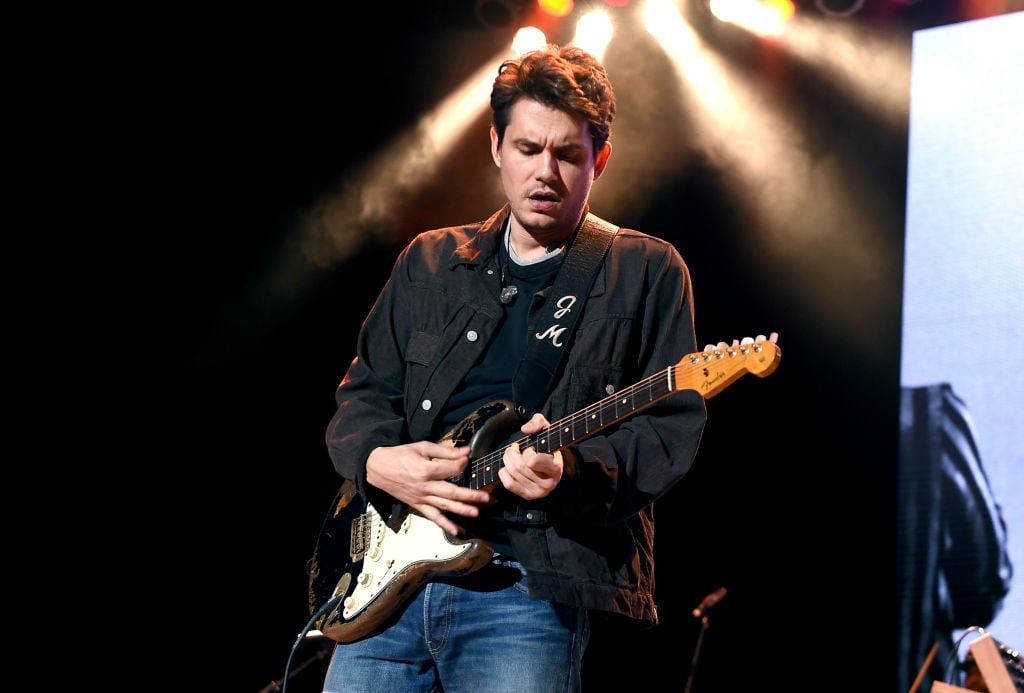 Mayer's had experience with his own talk show in the past. In 2004, he created a two-part special called John Mayer Has a TV Show. Mayer dressed in a bear costume and walked around a parking lot before one of his shows and interviewed fans who had no idea they were being interviewed by the person they came to see perform.

And in 2015, Mayer guest hosted The Late Late Show three times. One particularly memorable moment of his guest hosting gig was when he and his fellow musician Ed Sheeran gave each other tattoos.

Lisa Frank made the show's logo

Remember the vibrant and fun stationary and stickers by Lisa Frank from the '90s? Well, Lisa Frank made John Mayer a new logo for his show.
Mayer's previously shared his love for Lisa Frank on Twitter in 2017 when he tweeted about a pair of sneakers with a Lisa Frank design on them. He revealed the new logo in an earlier episode. True to Frank's style, the logo featured a rainbow and a bear.

Fan reactions
On a Reddit thread about Mayer's show, fans are quick to share their feelings. "Not gonna lie, I think these Sunday night "shows" are really really entertaining. He brings interesting people on to talk about interesting things, and he has live music which is always dope," user u/abfazi0 wrote.

Another user commented on the laid back nature of the show.
"Love it. I like that it's not polished, that he runs off on his tangents and that it's just whatever happens, happens," Reddit user Lissay said.

And another user liked how Mayer addressed general topics.
"The main things I find interesting are his general conversational topics and responses, and the way he shares his opinions and stories about things to frame other things. For example, he touched on rejection and how being 40 and not the biggest name in the media anymore has changed the way he thinks about how he enjoys himself in social settings […]," Reddit user abfazi0 wrote.
Fans have sent Mayer Instagram messages about the show. Some Mayer has shared on his Instagram Story. One, in particular, made Mayer's day.
A fan of the show sent Mayer a message that read, "I know u won't read this but I just wanted to say I feel really alone at this time of night and current mood helps me to forget all about the things, and I just wanted to thank you for that."