Why Fans Are Offering Aaron Carter Encouraging Words and Advice
Aaron Carter has been in the news a lot lately. There are numerous haters out there that are eager to let Carter know how they feel about him or anything he chooses to post about. However, there are still a lot of loyal fans out there just trying to stick by their favorite artist. Read on to learn what they are saying.
Aaron Carter posts a selfie
Carter isn't afraid to post a selfie or two for his followers on Instagram. The latest image features Carter wearing a black shirt posing in a mirror. He captioned the post: "It is hard to know what you are feeling, to be definite but knowing when it started is harder. Love is but another confusing thing that we are all trapped in, the webs you cannot get out."
Fans respond in full force
A number of fans responded with what could be described as encouraging worse and advice when there are so many haters out there.
One of them spoke about how long they're been fans of Carter's and how much people still care about him.
"You always feel like people are judging your or leaving you hateful comments, but the reason why most of us are here is because we care about you, I have been a fan of yours since I was less than 10 years old," an Instagram user expressed. "You were a much better person, and I believe one day you can pull all it together, there will be one day❤️❤️."
Some users seem to understand what Carter is getting at. "Sometimes the webs are all you have to move forward in life ❤️," another user explained.
Fans give Carter relationship advice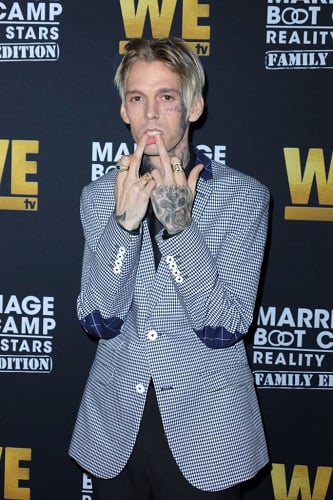 Many people offered Carter relationship advice in their own ways. One person told Carter to "reach for the stars" and that honesty is the hardest part of being in love.
"Don't think you're never good enough for the skies when you think the skies are too much but in reality strike better than the skies and reach for the stars," another Instagram user wrote
Others just wanted to remind Carter that he can always start over if he wants or needs to. "The human being always has the opportunity to start from scratch😉😉😉😘," an Instagram user said.
People have started wishing Carter the best in the situation without knowing the circumstances. "Yep, very true. Hope you get through it soon," someone said.
The love advice just keeps rolling in for Carter. "To seek love outside of self is always bitter. Especially when you seek love that is greater than the love you have for yourself," someone also wrote to Carter.
Fans are clearly here for Carter's recent image upload to Instagram. "You r always the king 👑 you know," someone else said.
"Wise beyond your years," another noted.
Aaron Carter has his fair share of haters, but he also has a lot of people who support him and offer him encouraging words and advice.