Why Fans Think Cardi B Is Feuding With Rapper CupcakKe
Is there a new celebrity feud on the horizon? Social media users are currently speculating that a possible beef is brewing between rappers Cardi B and CupcakKe.
It all began during the week of June 21 when CupcakKe dropped Cardi B's name in a new song. As feud rumors started to swirl, Cardi B posted a tweet that fans have interpreted as a response to the "Quiz" rapper. Here's a closer look.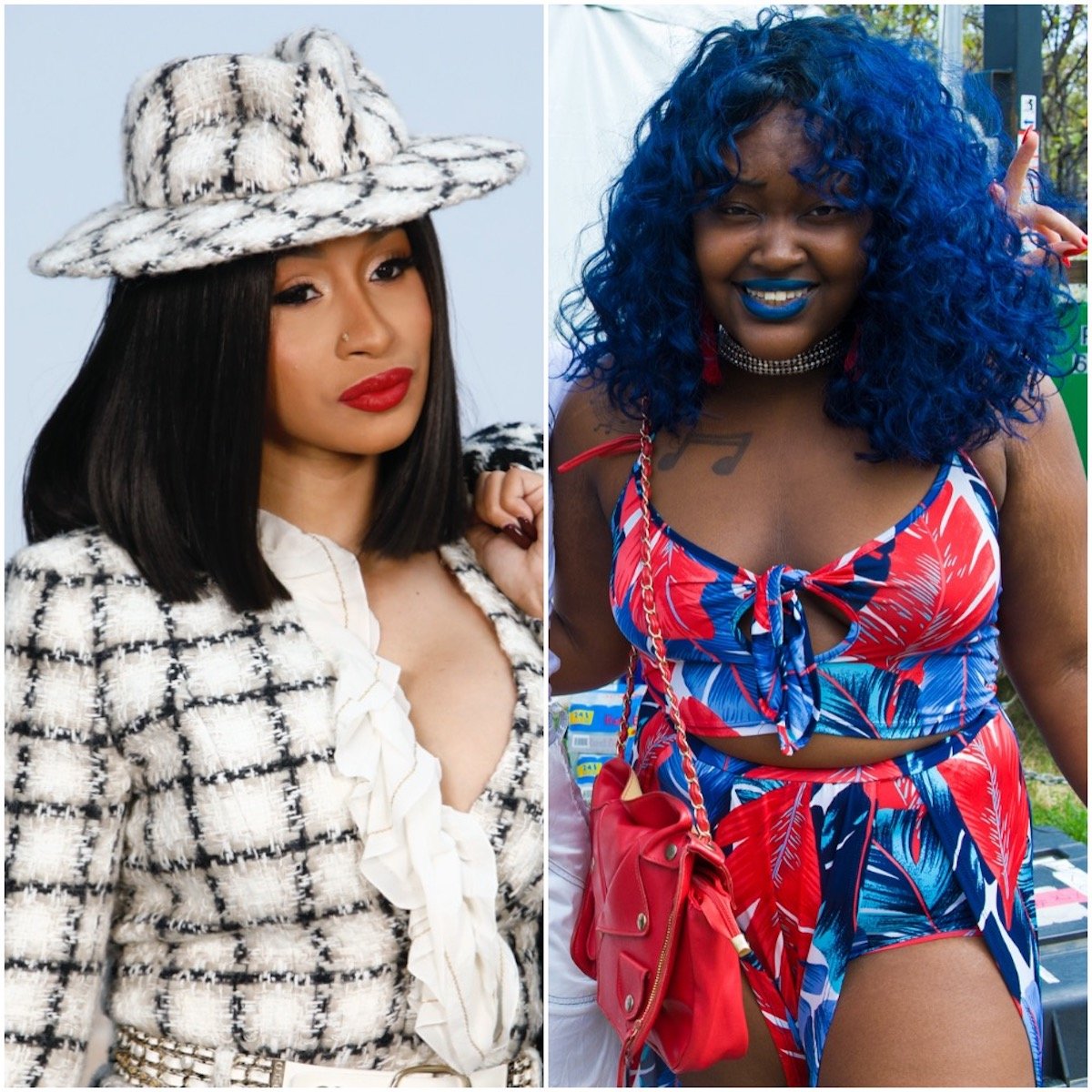 Who is CupcakKe and what did she say about Cardi B?
CupcakKe is a 23-year-old rapper from Chicago who is known for her sexually empowered lyrics and comical persona. Born Elizabeth Eden Harris, she went viral on YouTube in 2012 after releasing a song called "Gold Digger." She has since released four albums and has gained recognition from big-name outlets such as Complex, Pitchfork, and The Fader.
Her latest musical release is a song called "Discounts," where she mentions Cardi B. Around the 0:45 mark, she raps: "N***a thought he was gettin' a**/If you show cash, just throw bread/ But I think the f*ck not like Cardi forehead." The line references the head injury Cardi B sustained in 2018 after getting into a fight with Nicki Minaj during New York Fashion Week.
Cardi B later posted a tweet that fans think is a response to CupcakKe
Days after the release of "Discounts," Cardi B went on Twitter and retweeted lyrics to "Clout," Offset's 2019 song on which she's featured.
She reposted the lines, "so f*ck being tame, I'd rather be wild. b*tches is Brandy, they wanna be down. soon as these b*tches got something to sell— they say my name, say my name— Destiny Child." She also noted: "This verse is facts till this day."
Does this mean Cardi B and CupcakKe are on the verge of a feud?
In a tweet that has seemingly been deleted, CupcakKe downplayed rumors that she had shaded Cardi B. The message read, "It's a song. I already made a tweet before I dropped it that it's not a diss it's just RAP – don't get on Twitter shading be direct. I'm from Chicago we say what we mean & mean what we say. It's not that deep my love."
But many fans don't believe that CupcakKe's lyrics were just a punchline, arguing that she was intentionally throwing a shot at Cardi B.
One person tweeted, "Cupcakke is really trying to force this beef with Cardi, and for what?" A second fan chimed in, tweeting, "Cupcakke is so desperate to beef with Cardi. I hate a b*tch who just can't live in harmony and peace," while someone else added, "It's weird honestly. I wanted to support till I heard the Cardi Line… like why can't you just be great without trynna drag another woman in the rap game?"
But others swept to CupcakKe's defense, with one person saying, "if cupcakke actually wanted to diss cardi she could have gone 1000x harder. that knot line was nothing." Echoing that, another fan wrote, "Some of y'all taking that Cardi line on Cupcakke's track too seriously. It wasn't even a diss."
With that, it's hard to tell what's really going on here. But if there is something simmering between them, it would be a pretty sad update, as the rappers used to be friendly towards one another. CupcakKe suggested that Cardi B was one of her influences in a 2017 tweet and Cardi B listed the rising rapper as one of her favorite artists the following year.
CupcakKe was also invited to perform at Cardi B's Fashion Nova concert in November 2018, though she wound up dropping out at the last minute. Explaining the decision on Twitter, she wrote: "Sooooooooo fashion nova decided to cut some of my time off my performance and raise other people times up which is very unfair to me so I came to a conclusion I don't want to perform at the fashion nova party but I thank cardi for the opportunity."
CupcakKe faced a lot of backlash for backing out, but it doesn't appear that Cardi B ever acknowledged her decision.
Read more: Producer Reveals Why Cardi B and Beyoncé's Collaboration Never Came Out