Why Former 'The Bachelor' Star, Sean Lowe Doesn't Watch the Show Anymore
Sean Lowe was on 'The Bachelor' and picked Catherine Giudici. Find out why he doesn't watch it anymore and what the couple is doing today.
Some stars of The Bachelor return to the franchise in multiple ways like Ben Higgins. However, when they find love, you don't really hear from them as often.
That's the case for Sean Lowe and Catherine Giudici. They got married and had a family so we don't hear from them as much. He also doesn't watch the show anymore. Find out why and what they're up to now.
Sean and Catherine Giudici Lowe are still married after Season 7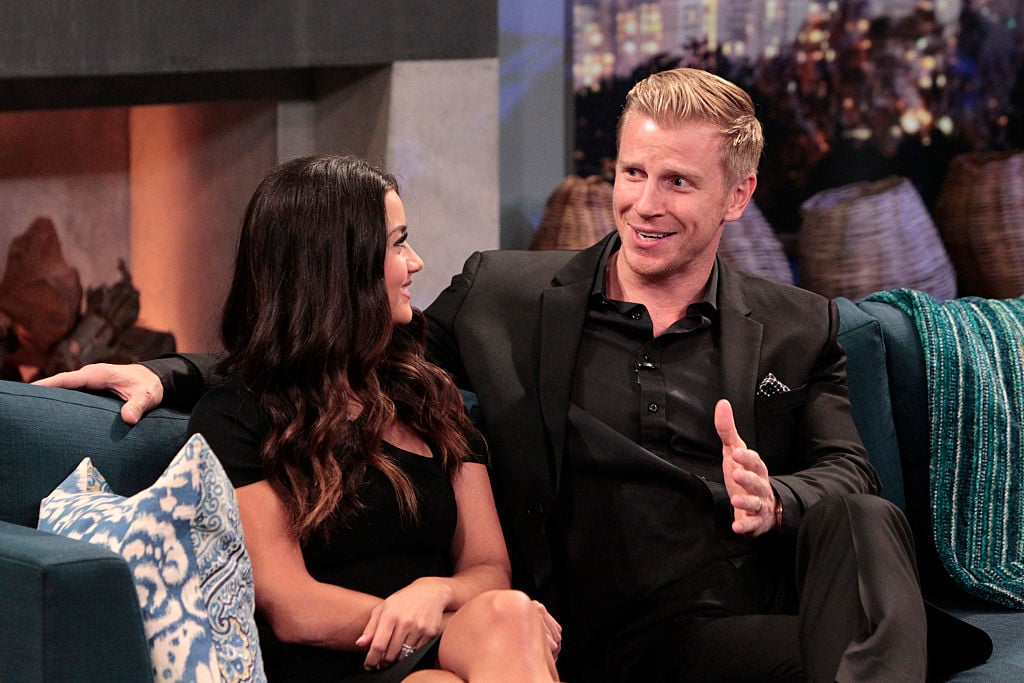 Sean Lowe was looking for love on Season 7 of The Bachelor. He was successful by proposing to Catherine Giudici at the end of the season. They later got married on Jan. 26, 2014.
"Part of our success comes from the fact that we're not the typical Bachelor couple," he told Entertainment Tonight. "We don't do a lot of the Bachelor reunions and go and meet up — that's just not us. We live our own life and do our own thing, so we don't really feel that pressure and that's the way we like it."
Giudici believes the show could lead to real love through its format. "Hard conversations that you would have with a significant other after six or nine months, you have on your first date," she said. "'Do you want kids? Where do you want to live? Do you want to work after this?' Whatever things don't match, you can be like, 'OK, I'm going to send her home this week because it doesn't make sense.'"
They are expecting their third child
The married couple already has two sons named Samuel and Isaiah. That has probably been keeping them too busy to go to reunions and meetups. Now they are expecting their third child.
"It was a complete surprise and I stared at the wall for a good 24 hours," the mother told People. She said she was "so emotional" when she found out she was pregnant.
That shock might have had to do with timing. "I was like, 'I just had one of these!'" she said. Their son Isaiah was 11 months when she found out.
Lowe said he's an old man so he doesn't watch
The former star might always be part of Bachelor Nation because he was on the show. However, he doesn't watch the new seasons anymore.
"Catherine does [watch it], I don't really anymore. It's like, I'm an old man now," Lowe admitted to Us Weekly. " Catherine will be watching The Bachelorette and I'll be upstairs watching something lame. Like, I just got done watching the Ken Burns Roosevelt documentary!"
He said that his wife doesn't think very highly of his decision. He said she "makes fun of me all the time, but I like being a boring dad, I'm fine with it."
This has been a big year for the reality show couple. They're not only expecting another child, but they celebrated their fifth wedding anniversary. She shared a picture from their date with the caption, "The theme for five years is wood, so I decided to take Sean Lowe to throw some axes at some wood."
It sounds like Lowe is totally moved on from his bachelor past. His wife, on the other hand, likes to catch up with the new stars.