Why George Harrison's Guitar Technique Slipped by 1968's 'White Album'
Every Beatles fan can hum a classic George Harrison guitar part. Whether it's the jangling solo from "A Hard Day's Night" (1964) or the gorgeous closing moments of "The End" (1969), George had so many standout moments with the Fab Four.
However, it didn't always come easy. During the sessions for Revolver (1966), Beatles engineer Geoff Emerick described how George drove everyone in the studio nuts trying to record a backwards guitar solo for "I'm Only Sleeping."
"At the best of times, George had trouble playing solos all the way through forwards," Emerick quipped in Here, There and Everywhere. With Paul McCartney ready, willing, and able to take a solo off George's hands at any moment, George had some rough days in the studio over the years.
George's fascination with Indian music didn't help matters. From the time he played sitar on "Norwegian Wood" (1965) all the way up to The White Album (1968), George admittedly let his guitar technique slip.
George put down his guitar for the sitar for nearly 3 years.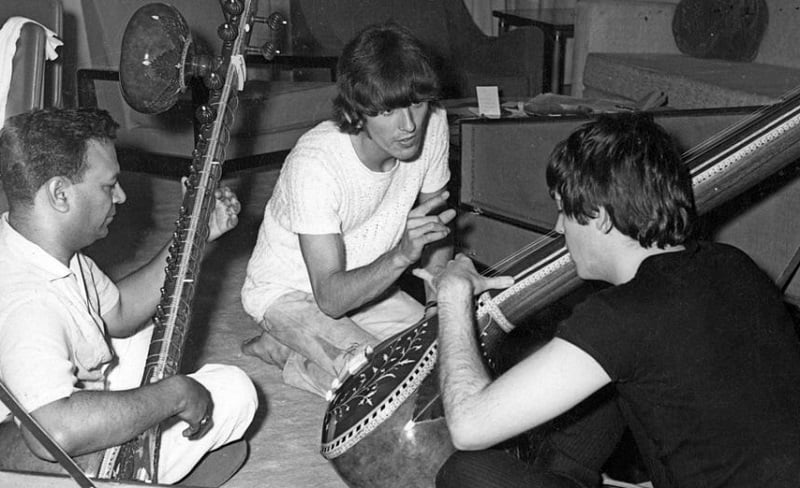 As George's explorations into Indian music intensified, he devoted his energies to the sitar (and his improving songwriting craft). Naturally, that took the guitar out of his hands in moments when he would have been on his 12-string Rickenbacker or another preferred ax.
"I'd been through this sitar thing [for] three years," George explained in a 1977 interview. "I just listened to classical Indian music and practiced sitar, except for when we played studio dates."
In fact, George was only picking up his guitar when the Beatles went into the studio to work on an album. "I'd get the guitar out and just play, you know, [to] learn a part for the record. But I'd really lost a lot of interest in the guitar."
While George was getting into the sitar (circa 1965-68), some of rock's greatest guitar players were honing their chops and starting to emerge on the scene. The list included Jimi Hendrix and George's friend Eric Clapton.
Paul and Eric Clapton played solos on George's compositions during this time.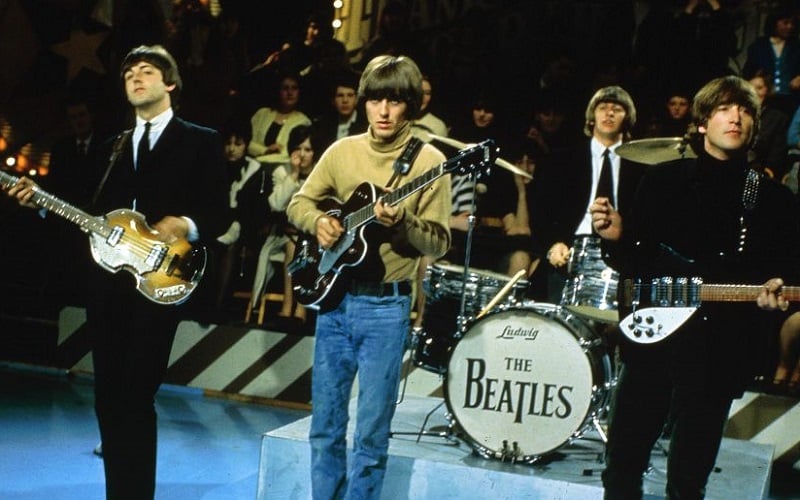 In short, George step back from the guitar made his technique suffer. So it's not difficult to understand why he trouble nailing down the solo on Revolver's "Taxman" (which George wrote). That opened the door for Paul to take that memorable solo.
A few years later, while recording The White Album, George had really come into his own as a songwriter. However, he still didn't think his guitar chops were up to speed. That's one of the reasons he brought in Clapton to play the solo on "While My Guitar Gently Weeps."
But that was the end of the line for George's sitar work. After Clapton gave him a Les Paul — which Clapton promptly borrowed back to play the "While My Gently Weeps" solo — George returned to the guitar. But he took it in a different direction than Hendrix, Clapton, and other guitar kings of the day.
"That was one of the reasons I started playing slide, you know," George said in 1977. "Because I felt so far behind in playing hot licks. With slide I didn't have any instruction, I just got one and started playing."
Also see: Why Eric Clapton Was So Nervous About Playing on the Beatles' 'White Album'