Why 'Grey's Anatomy' Fans Believe the Series Finale Will Pay Tribute to Meredith and Derek
For fans of Grey's Anatomy, the couple known as MerDer (a portmanteau of the names Meredith and Derek) are the pinnacle of romance. And though Meredith has moved on with Andrew DeLuca and — possibly, in the near future — the doctor known as McWidow, no pairing can hold a candle to the original in devotees' eyes. Here's why some feel MerDer will get the ultimate finale sendoff.
Meredith Grey and Derek Shepherd were the central couple in 'Grey's Anatomy' for many seasons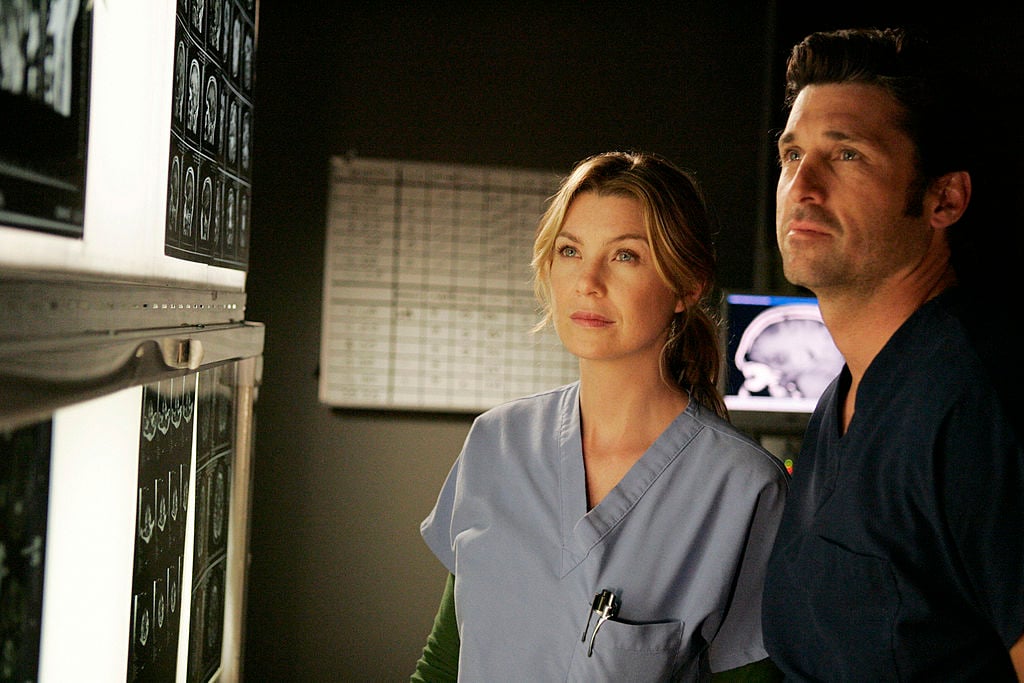 The pilot of Grey's Anatomy begins with a woman, Meredith Grey, about to begin the intern year of her surgical residency. She meets a man at a bar, and they sleep together. The next day, she learns that he's Derek Shepherd (nickname McDreamy), an attending physician at the same Seattle hospital — and so, in a way, her boss. Thus begins an on-again, off-again romance for the ages.
The dynamic between Ellen Pompeo and Patrick Dempsey's characters was a fixture of the show. Just as they start to make things work, another obstacle will enter the picture — his ex-wife, her mother's Alzheimer's, a gunman on the loose, or even a natural disaster. Someway or another, they're repeatedly kept apart — until they're not.
Patrick Dempsey's character was killed off in Season 11
Meredith and Derek were married (first by Post-it Note, then legally) with two children by Season 11. They made it through their latest rough patch, with Derek giving up a dream job in D.C. to stay in Seattle with Meredith and the kids. Then, Derek tragically dies as the result of injuries from a car accident.
It has never been confirmed that Dempsey was feuding with creator Shonda Rhimes, but many believe that is the reason the actor left the show. Rhimes later told E! News that it was important to kill off the character because it "was the only way to make Meredith and Derek's magic remain true and forever frozen in time."
Many other characters have left along the way, including Alex Karev
Plenty of major characters have come and gone throughout Grey's Anatomy's run. And Dempsey is far from the first of the original main cast to leave the show. Proceeding him were Isaiah Washington (Preston Burke), T.R. Knight (George O'Malley), Katherine Heigl (Izzie Stevens), and Sandra Oh (Cristina Yang).
In 2020, one more joined them. Justin Chambers (Alex Karev) announced he had exited the show, much to fan's disappointment. After a few episodes aired in which his character's location was a mystery, his storyline was wrapped up. In the season 16 episode "Leave the Light On," it's revealed that Alex left to be with his ex, Izzie, and their two kids.
Ellen Pompeo on the Alex Karev's exit
The fan response to the character's sendoff wasn't positive, to say the least. However, Pompeo herself praised it. She shared the above video on Instagram, writing that having Alex return to his first love from the show "was the best possible storyline," adding that "it pays homage to those incredible first years and the incredible cast."
Pompeo addressed this at another time, reaffirming her comments about Alex and Izzie and the original cast. This was shared by Twitter account @greyspostit, who wrote, "I'm taking this statement as a sign that Ellen also wants MerDer to be honored at the end as [an] homage to the original story she loves and no one can judge me."
When will 'Grey's Anatomy' end?
The question now is — when will that end come? In 2019, Grey's Anatomy was renewed for two 25 episode seasons, seasons 16 and 17. Due to the coronavirus (COVID-19) pandemic, the first was cut short by four episodes.
Will those be tacked on to season 17? And will season 17 be the last, ever? We don't have any answers just yet, but when the time comes, we certainly hope there's a tribute to the relationship between Meredith and Derek.