Why Gwen Stefani Called Blake Shelton 'One of the Greatest Gifts'
All is good with Gwen Stefani and Blake Shelton. 
The couple met as coaches on Season 9 of The Voice in 2015. Both were newly divorced — Shelton from fellow country music singer, Miranda Lambert, after four years of marriage and Stefani from musician Gavin Rossdale after 13 years of marriage — and fell in love on TV in front of millions of people. Stefani left The Voice after Season 9 but later returned for Season 12 and is now back on the show for Season 17 alongside Shelton. 
In a recent episode of the show's blind auditions, Stefani showed viewers that Shelton's coaching style has been rubbing off on her. She used the 43-year-old's signature move, the finger point, in an attempt to get a contestant to join Team Gwen.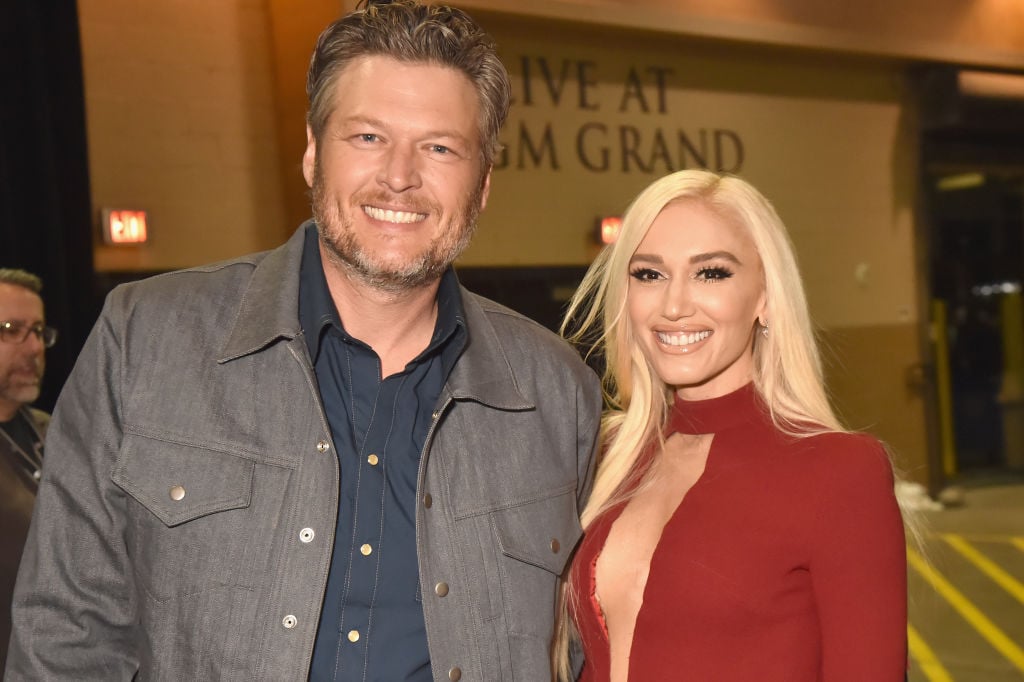 In the years since they started dating, they've commented on their relationship in interviews and showed some PDA at red carpet events together. Earlier this year, Stefani said she didn't even know who the "Sure Be Cool If You Did" singer was before joining The Voice. But today he's a big part of her life and the lives of her three kids: Kingston, Zuma, and Apollo.
Why Gwen Stefani called Blake Shelton 'one of the greatest gifts'
While they're competing on The Voice as coaches, their home-life is different from what viewers see on TV. Appearing on the cover of Shape magazine's November 2019 issue, Stefani discussed her life with Shelton in an accompanying cover story. 
She talked about her style (at the time of the interview she had just received designer clothing she bought on sale), being a mom ("The kids have taught me is how to be more organized."), and, of course, her home life with Shelton. Stefani has a home in Los Angeles but also spends time in Oklahoma (Shelton's home state) relaxing at his ranch. 
During the interview at her L.A. residence, Stefani explained where a box of chocolates came from that were sitting on her nightstand. They were from Shelton.
"He's a feeder. He'll go, 'Here, I bought you some candy,'" the No Doubt frontwoman said of Shelton.
She continued, saying she spent the last four years rebuilding her life with Shelton by her side.
"I feel as if I spent the last four years healing—you know, trying to build my life again," the 50-year-old said.
"Having a best friend like Blake to help me do that has been one of the greatest gifts," she added. 
o moonlighting on Wednesdays and weekends at her maximum-glam Just a Girl concert residency in Las Vegas. 
She compared romance with Shelton to 'storybook of love'
In another recent interview, Stefani gushed about life with Shelton. While on Today Show Radio, she didn't have enough kind words for her boyfriend and their romance.
"This is the most what I thought love was supposed to be," she said on the show, according to Taste of Country.
"And it's the most pure in the sense that it's all the storybook of love," she continued before adding, "The giving and the receiving, it all feels very even. It's pretty magical and I feel really blessed. I feel like I'm bragging when I talk about it, and I am, because I'm so lucky, and it was so unexpected."
See the couple on The Voice every Monday and Tuesday night on NBC at 8 p.m. EST.