'Why Her?' and 7 June K-Dramas to Watch Out For
June will be another month jam-packed with riveting K-dramas in multiple genres to keep an eye on. Fans have been getting teasers and trailers of Seo Yea-ji's return to the small-screen with the Eve and Hwang In-youp's leading role in Why Her? Fans are in for an extreme month of storylines from deceit, revenge, romance, and a remake of a Spanish series.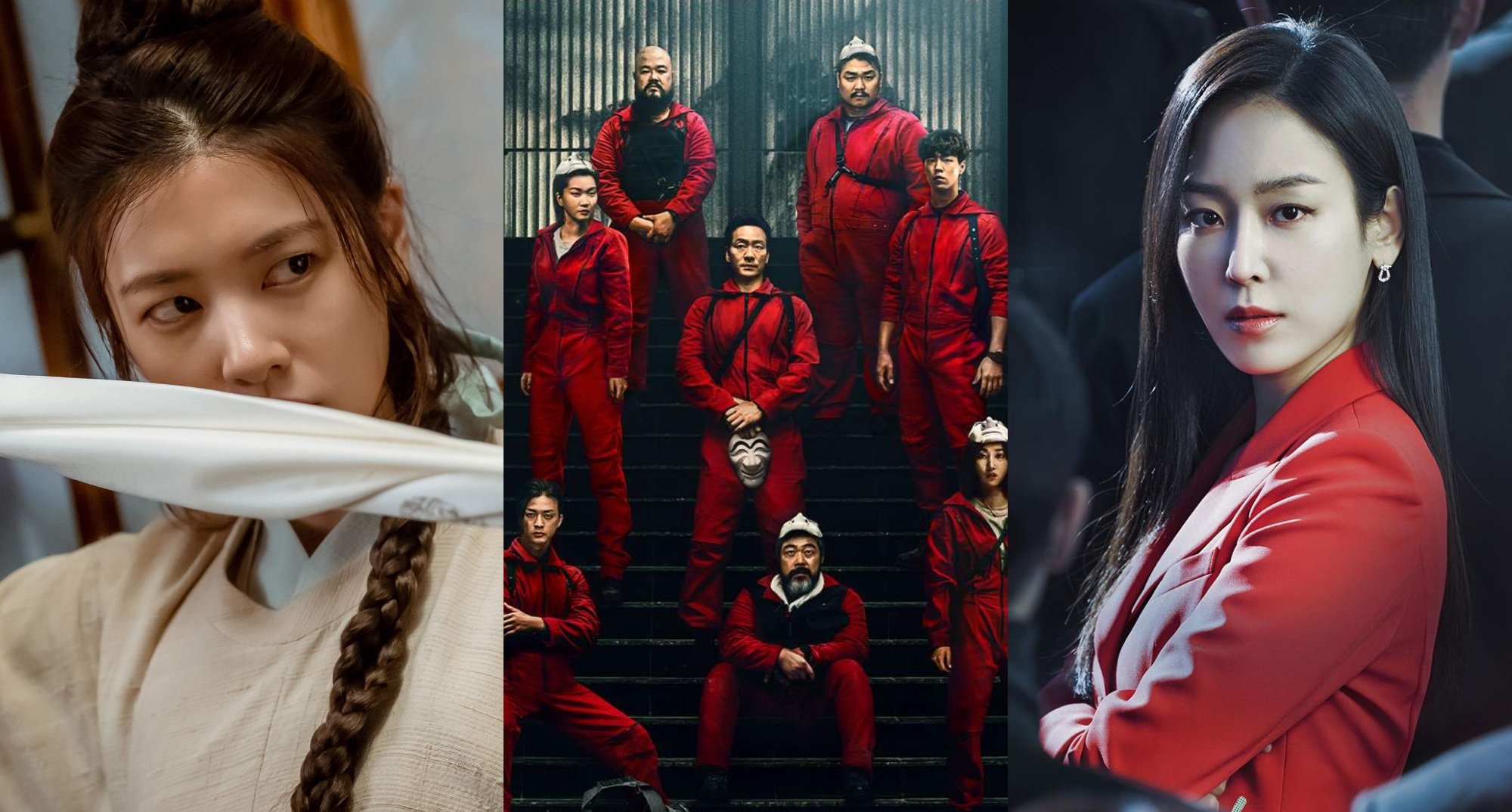 'Link: Eat, Love, Kill' stars 'True Beauty' actor Moon Ga-young in a supernatural twist of fate
The two leading actors in Link: Eat, Love, Kill helm from two widely popular K-dramas. Actor Yeo Jin-goo played the leading role alongside IU in Hotel Del Luna. In the 2022 June K-drama, the actor stars as Eun Gye-hoon, a sous chef who opens a restaurant in the location where his twin sister went missing.
One day, he starts to experience a bizarre range of emotions that are not his own. It just so happens that he has become supernaturally linked to a woman named Noh Da-hyun, a probationary employee. Gye-hoon can feel all of her emotions. Da-hyun tries to live with a good mindset but receives bad luck wherever she goes. Intertwined in their romance is a murder mystery.
Link: Eat, Love, Kill will air on tvN on June 6, every Monday and Tuesday.
'Insider' is a June K-drama of a man tricked to live out his days in prison after going udnercover
RELATED: 'Strong Woman Do Bong Soon' Season 2 Confirmed With Lead Cast and Storyline
Actor Kang Ha-neul stars in JTBC's upcoming drama Insider. Fans will find the plot intriguing as a judicial trainee loses his life and battles to regain it. Kim Yo-han is known for his poker-face, cold demeanor but cunning mind to think ahead. But when he gets involved in a case, he finds himself going undercover at a prison. His goal? To root out an evil prosecutor.
But Yo-han's life takes a turn when he realizes he has been tricked into remaining in prison. As a result, he becomes a feared individual plotting his revenge.
Insider will air every Wednesday and Thursday on JTBC starting June 8.
'Jinxed at First' is unsuspecting love between two polar opposite characters
RELATED: 'The Murderer and The Toy': Fans Excited to See Seon Seok-koo and Choi Woo-shik 'Slay' in a Complex Murder K-Drama
Everyone has a bad day every once and a while, but for Gong Soo-gwang (Na In-woo), every day is full of bad luck. In the June K-drama Jinxed at First, Soo-gwang sells fish at a local market but is well known for harboring bad luck. His streak of dismay occurred years ago when he met Lee Seul-bi (Seohyun).
Now years later, he meets her again. But Seul-bi has a secret and special ability. While she is bubbly, kind, and a chaebol, she can see a person's future with a touch. She inherited the ability from her mother. Both are held captive by a CEO, but Seul-bi manages to escape and meets Soo-gwang again.
Jinxed at First will air on June 15 on KBS2 and be available on iQiyi.
'Alchemy of Souls' is a fantasy June K-drama starring a former Nu'est K-pop idol
RELATED: 'Yumi's Cells' Hinted at Yu-mi's Future Marriage – but Who Does She End up With in the Webtoon?
Written by the Hong Sisters, the June K-drama Alchemy of Souls is a supernatural and fantasy wonder. It revolves around a group of magicians who deal with the turmoil between heaven and Earth. The K-drama is set in a fictional kingdom of Daeho. Fans will find it similar to the Joseon Dynasty.
Jang Wook (Lee Jae-wook) is burdened with the unfortunate fate of his birth but comes from a noble family. He soon meets Mu-Deok (Jung So-min). She is an elite and powerful warrior inhabited with the soul of a master assassin. While her body is weak, she becomes Jang Wook's servant and trains him.
Alchemy of Souls also stars former Nu'est idol turned actor Minhyun as Seo Yool, the heir of the noble Seo family. The fate of these characters are in peril due to "hwanhonsool," the soul of the dead returning to the living.
The K-drama will air on June 18 on tvN and be available on Netflix in select regions.
'Yumi's Cells' Season 2 has fans excited for a new romance
RELATED: 'Yumi's Cells' Explained: Why Did Woong Breakup With Yu-Mi in the K-Drama Finale?
The first season of Yumi's Cells was a smashing success that defied the rules of a K-drama romance. Yu-mi (Kim Go-eun) will return on June 10 after her breakup with the male lead from the first season. While trying to move on, she sees her coworker, Yoo Babi (JinYoung), in a different light. Their budding relationship was teased in the first season.
Yumi's Cells Season 2 promises a new romance for the female lead as she continues the complex journey of self-discovery and love. Based on a webtoon, fans are eager to see if Babi is "the one" or if a new love interest will be introduced.
The second season will stream on tvN and be available on Viki.
'Money Heist: Korea – Joint Economic Area' is the anticipated June K-drama remake of 'Money Heist'
RELATED: 'Money Heist: Korea – Joint Economic Area': Netflix Debuts First Look at Helsinki in the K-Drama Remake — Red Suit and All
With Squid Game gaining global domination, Money Heist: Korea – Joint Economic Area is likely to be the next big success. The June K-drama is a remake of Netflix's Spanish series Money Heist with its original creator on board. Much like the series, the K-drama focuses on a group of thieves brought together by the Professor.
Actor Yoo Ji-tae will play the role with Squid Game actor Park Hae-soo as Berlin. The K-drama remake follows a similar storyline of a dystopian society where the Professor and the characters will pull off the biggest heist in history. The characters will have the same code names, costumes, and mask. Money Heist: Korea – Joint Economic Area is an immense ensemble cast of Korea's top actors.
The K-drama will air on June 24 on Netflix.
'Eve' stars Seo Yea-ji in a sexy, cunning, and rage-filled revenge story
RELATED: 'Eve': K-Drama Teaser Shows Anger, Deceit, and a Scandalous Affai
If there is one June K-drama that has fans on the edge of their seats is tvN's Eve. The drama marks the return of Seo Yea-ji to the small-screen since her Emmy nominated role in It's Okay to Not Be Okay. Seo stars as Lee Ra-el, a beautiful and cunning woman who saw her family's demise at the hands of Korea's elite.
Seeking the ultimate revenge, Ra-el spends over a decade plotting the perfect plan. Her target? Kang Yoon-kyum (Park Byung-eun), the CEO of LY Group. Ra-el becomes the center of his downfall and a public divorce lawsuit worth millions. Ra-el will stop at nothing to make Yoon-kyum feel her rage, even if it means her sanity.
Eve's new premiere date is June 1 on tvN and will be available on Viki.
'Why Her?' tells the story of a befallen lawyer, secrets and romance
RELATED: 'Why Her?': Hwang In-youp Stars Alongside Seo Hyun-ji in a Mystery K-Drama With an Age-Gap Romance
Oh Soo-jae (Seo Hyun-jin) is a cunning lawyer with a brilliant mind who is feared for her ruthless and cold demeanor. In Why Her?, her life goes down the gutters when a case goes terribly wrong. Her years of hard work disappear as she is demoted to become an adjunct professor.
While seeking revenge and harboring her own secrets, she meets law student Gong Chan, played by The Sound of Magic star Hwang In-youp. Gong Chan and Soo-jae's pasts are connected somehow. But for Gong Chan, it is love at first sight and helps Soo-jae open her heart.
Why Her? will premiere on June 3 on SBS and be available on Viki.
RELATED: 'Tale of the Nine-Tailed': What Happened to Lee Rang and How Will He Return for Season 2?