Why Is 'Boycott NBC' Trending on Twitter?
Twitter lit up after NBC announced it planned to televise Donald Trump's town hall on the same day and time as Joe Biden's originally scheduled town hall on ABC. Both events are scheduled for Thursday, Oct. 15 at 8 pm EST.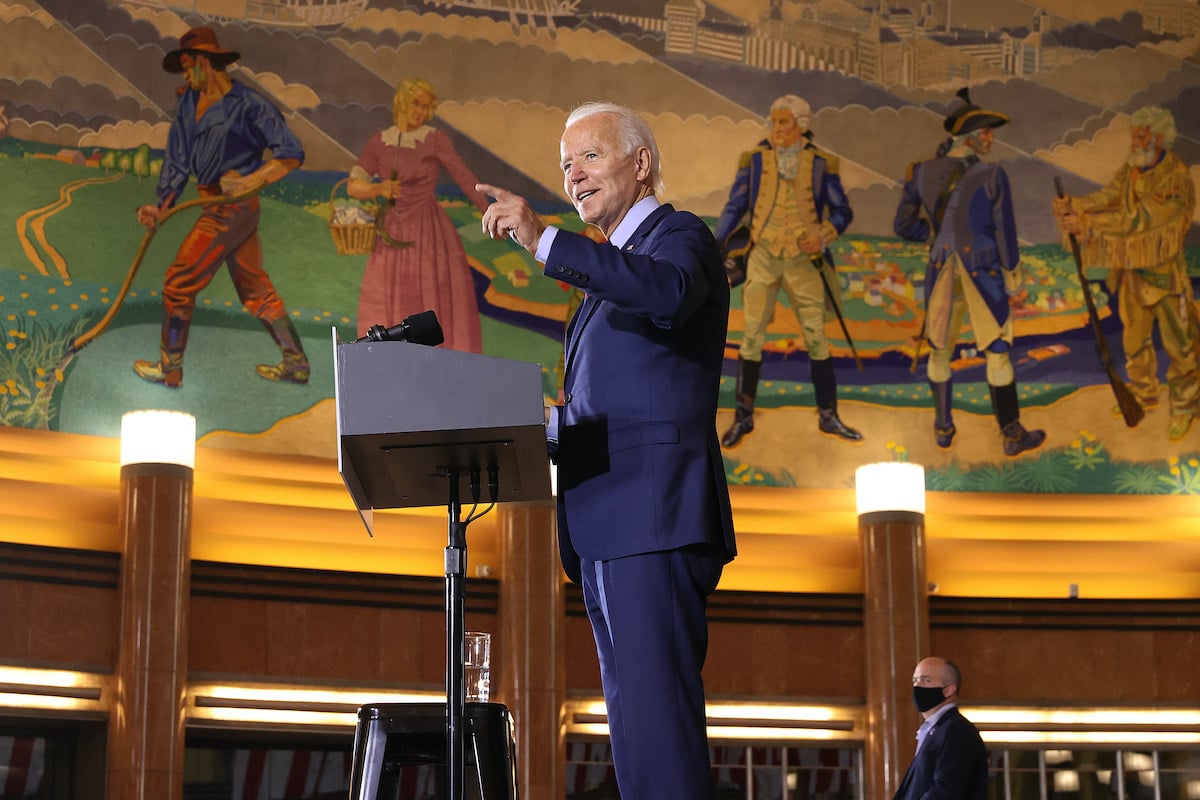 Almost instantaneously, Twitter users pushed back against the newly scheduled programming, calling foul. "Do not watch Trump's town hall event," one person tweeted. "We need EVERYONE watching @JoeBiden's town hall. Do not give Trump the tv ratings. Thursday night is all about Biden on ABC. #boycottnbc."
Today show host, Hoda Kotb offered a few details about Trump's town hall. "The event is set to take place outdoors and in accordance with the guidelines set forth by health officials, also consistent with all government regulations," she said, CNN reports.
Savannah Guthrie from Today is scheduled to moderate Trump's town hall on NBC. George Stephanopoulos from ABC will moderate Biden's.
The Twitterverse is ready to boycott NBC
Scheduling both town halls on the same day and time seemed like a terrible idea to a slew of Twitter users. "#boycottNbc … giving Trump a show at the same time as Biden after Trump cowardly backed away from a group town hall debate is absolutely despicable," one person tweeted. "@SavannahGuthrie is enabling fascism."
Another person wrote, "Why would @NBCNews think it's a good thing to set up competing town halls? Now NBC wants to debate ABC? Must be they think no one interested in one, would bother watching the other. I certainly won't be watching Trump denigrate voters. #boycottNBC."
"I know NBC has the reputation of being the 'Democrat news network', but never forget they A) Are owned by Comcast B) Were the network that launched Trump's reality TV career C) Normalized his behavior in 2016 with SNL & Jimmy Fallon appearances #BoycottNBC," one person pointed out.
Twitter users also compared Trump to former Today anchor Matt Lauer. "Come ON, @NBCnews. Trump [canceled] the debate," one person tweeted. "Don't give him free airtime. As if I thought you [couldn't] sink any lower after you atrocious handling of the Weinstein story, the Matt Lauer corollary, and your treatment of Ronan Farrow. Stop letting idiots [run] your news programs!"
Healthy competition or just bad taste?
News outlets immediately pointed out the events will be in direct competition. Originally both candidates were scheduled to meet for their second debate on that date. However, Trump's coronavirus diagnosis and murky circumstances surrounding his condition made room for the debate to be canceled. As a result, Biden scheduled a town hall meeting instead.
But now Trump was given the green light to participate. Craig Melvin from NBC reported that Dr. Clifford Lane of the National Institutes of Health and Dr. Anthony Fauci examined Trump's recent medical records, Deadline reports. They concluded "with a high degree of confidence" that Trump is "not shedding infectious virus."
However, Trump and Guthrie will be spaced at least 12 feet apart. Plus audience members will be required to wear a mask and be socially distanced.