Why Is Everyone Obsessed With Keanu Reeves Again?
Keanu Reeves has done it again. He's skyrocketed to the top of fan obsession charts all over again. As usual, it isn't for his acting chops, but other reasons entirely. Consider Reeves' existence somewhat of a double-edged sword. On one end, he is one of the most beloved actors in Hollywood. On the other hand, despite acting for over 30 years, he's still barely registering on the renown radar.
Believe it or not, Reeves has only been nominated 34 times throughout his 35-year-career, including several for Worst Actor! With such a lousy track record, what's responsible for keeping fans obsessed with Reeves?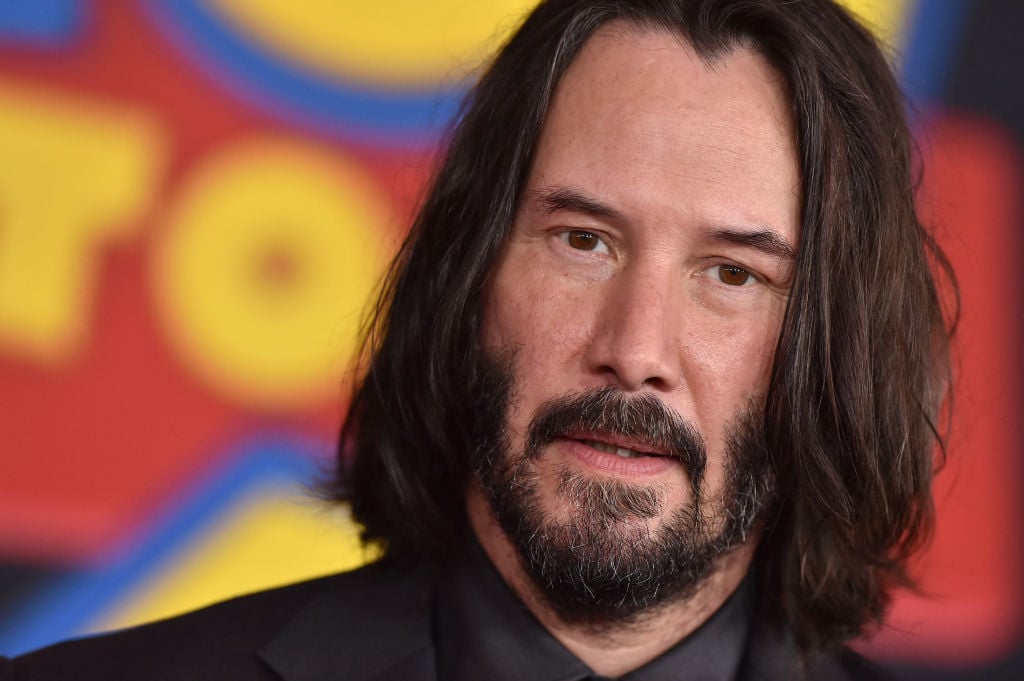 Keanu Reeves most memorable roles
Many of his movies may have been completely overlooked at the award shows and by critics. But, that hasn't stopped the 54-year-old actor from being intrinsically linked to quite a few roles. The first of course is Neo in The Matrix which kicked off in 1999. The movie spawned two sequels, The Matrix Reloaded (2003), and The Matrix Revolutions (2003). While Neo was a rather stoic character and is probably the one responsible for Reeves being pegged as a one-note actor, it is his most well-known part.
One lesser known but still memorable role was that of officer Jack Traven in Speed where he shared the screen with "missed connection," Sandra Bullock. Another significant one was as John Wick in John Wick which came out in 2014. The film also inspired two sequels, one of which came out this year. There are rumors that a fourth installment will be dropping in 2021. With a recent movie under his belt, his name is once again making headlines.
Reeves really is a genuinely nice guy
So, his acting "isn't all that great," but he has a pretty big redeeming quality — his personality. Reeves has always been a bonafide nice guy. As time goes on, he continues racking up karma points that keep fans by his side. What has the Replicas actor done to gain his sweetest actor title? Quite a few things actually.
There's a video of Reeves giving up his seat on the NYC subway. A small act that made big waves. He's careful not to touch female fans in photos. Another small gesture that speaks volumes. It isn't all tiny gestures though. Reeves spent quite a bit of money for his sister's hospitalization while she was struggling with Leukemia. Changed by the experience, he went on to donate tons of money to kids hospitals and cancer research. Hollywood's nicest actor even created his own charity!
But things could have turned out much differently
One of the best things about Reeves persona is that his past could have turned him into a very different person. For one, Reeves had dyslexia suffered from dyslexia growing up. The disorder could have kept him from achieving his Hollywood dreams. Somehow he persevered and navigated the disorder during his formative years with the help of his family and friends.
That was only the tip of the iceberg though. Reeves lost a great deal of family and even his best friend through various means. Instead of these experiences making him bitter, he's turned into one of the sweetest actors around.
Keanu Reeves is no longer just the 'Nicest Actor in Hollywood'
A look on social media will show just how much fans love Reeves. In fact, the obsession has grown to new heights. Recently, Reeves became aware that he's also known as the "internet's boyfriend." Why? Well to put it simply, everyone loves his personality and wants to have the actor as their next beau. When he found out, his reaction was priceless.
"I've been what? That's, uh wacky. Well, the positivity's great." – Keanu Reeves / People
Fans have also started a pretty powerful petition in his name — a request for him to be TIME Magazine's next Person of the Year. If that doesn't say obsessed, then what does! It's clear that all of the excellent Reeves' done throughout his career had left a lasting impact. One that even has "sub-par" acting can't compete with.