Why Is 'NCIS' Actress Pauley Perrette 'Terrified' of Mark Harmon?
Fans begged Cote de Pablo to return to NCIS, and now she has, despite some initial resistance. However, co-star Pauley Perrette has vowed never to return to the show. Her reluctance can be summed up in two words: Mark Harmon.
She tweeted that she is "terrified" of her former co-star "attacking" her. The news stunned NCIS fans, who regard Harmon as one of the truly decent men in show business, where he has successfully worked for decades.
Harmon has declined to comment on the allegations, which haven't yet risen to the kind of furor that ended the careers of once powerful figures like Bill Cosby or Harvey Weinstein.
What Pauley Perrette claims Mark Harmon did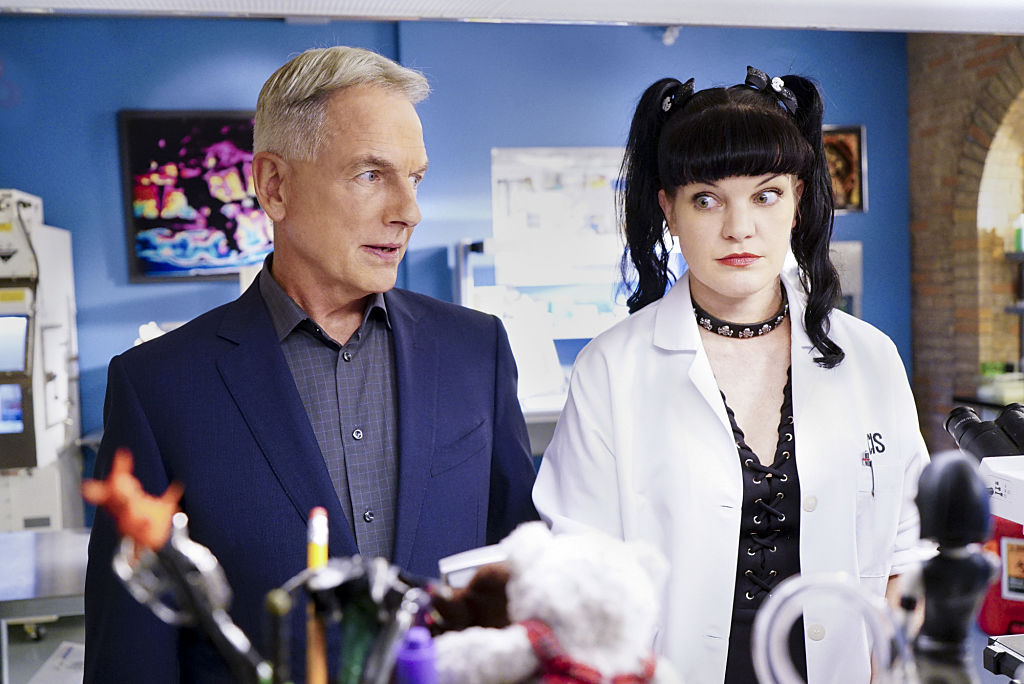 Perrette, who has been best known for playing Abby Sciuto on NCIS until last year, vociferously tweeted earlier this month:
NO I AM NOT COMING BACK! EVER! (Please stop asking?)," "I am terrified of Harmon and him attacking me. I have nightmares about it. I have a new show that is SAFE AND HAPPY! You'll love it! #HappyPlace Love y'all!"
She also tweeted (and later deleted) a photo of a crew member with stitches and said: "You think I didn't expect blow back? You got me wrong. THIS happened To my crew member and I fought like hell to keep it from happening again! To protect my crew! And then I was physically assaulted for saying NO!? and I lost my job."
The actress did not specify other details of the alleged assault, but according to People, Perrette and Harmon's working relationship soured after the actor brought his rescue dog on set. Reports claimed that an unidentified crew member was bitten by the dog, resulting in 15 stitches. So it's unclear whether Harmon himself actually assaulted anyone or if Perrette is referring to his canine companion.
CBS acknowledged that Perrette had brought up "workplace concern" but the network said: "We took the matter seriously and worked with her to find a resolution."
Another 'NCIS' star has faced scrutiny
This is not the first time that the conduct of an NCIS star has been called into question. Michael Weatherly too, faced accusations of impropriety, although his occurred after he had already left.
The actor fronts another CBS series Bull, on which actress Eliza Dushku co-starred for a time. Dushku accused Weatherly of sexual harassment. The New York Times made Dushku's accusations public last year, noting that CBS had settled with the actress for $9.5 million, which is what she would have been paid for four seasons.
In the aftermath, Weatherly deleted his social media accounts, but NCIS co-stars came to his defense, including Perrette. She tweeted: "This man… I love, respect, trust, and I KNOW. TWO decades of friendship and respect. The best. I love you @M_Weatherly Always and forever."
What Pauley Perrette is doing now
Whatever problems Perrette may have had, she was at least able to surmount any difficulties with CBS, because she has returned to the network with a new show called Broke. It's about a trust-fund dependent man (Jaime Camil) who is forced to move in with his family, including his estranged sister-in-law (Perrette), after being cut off by his rich father.
When that new show was reported, Perrette initially seemed at peace with her NCIS exit, tweeting: "I refused to go low, that's why I've never told publicly what happened. But there are tabloid articles out there that are telling total lies about me. If you believe them? Please leave me alone. You clearly don't know me. (Sorry guys, had to be said)."
But only a day later, she seemed to be struggling, tweeting that there was a "machine" keeping her silent. Last month, she finally decided to speak out against the so-called machine, naming Harmon's name. We'll find out what, if anything, comes of these allegations.