Why Isn't EXO as Popular as BTS?
There's no denying the talent of K-pop groups like EXO and BTS. With music videos raking in millions of views and sold-out live performances, it's no surprise these boys are some of the biggest names in K-pop. However, some fans noted that EXO is more popular in South Korea, while BTS is more popular globally. Why is that? Here's our comparison of the two award-winning boy bands.
BTS and EXO are managed by different K-pop companies
One of the main reasons BTS and EXO are such different groups is their respective management companies. Big Hit Entertainment works with the group BTS, while SM Entertainment, South Korea's largest entertainment company, works with EXO.
As a result, the vibes of both boy bands just feel different; it's hard to compare them. To most, BTS is a group of underdogs, created by a relatively small company. On the other hand, EXO feels like a group of good-guys-gone-bad. Their music styles and lyrics reflect their different personalities.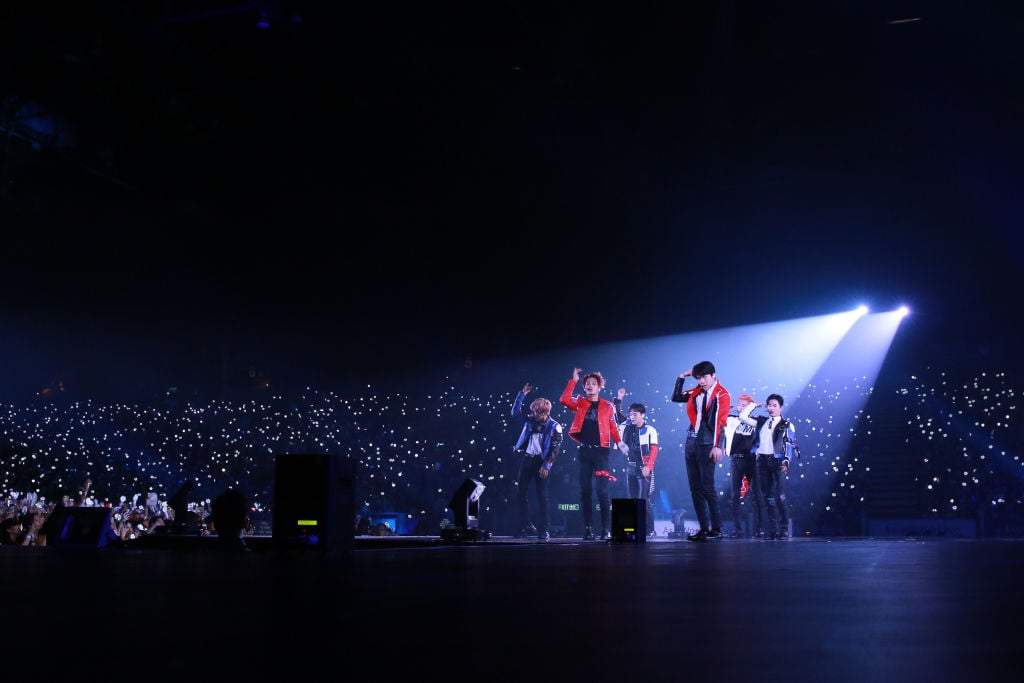 Although both BTS and EXO are K-pop groups, they have very different music styles
In Korea, EXO is generally considered the most popular K-pop group, even earning the title "The Nation's Pick." EXO's Baekhyun sang the National Anthem for the Olympics twice, and EXO represented South Korea in Pyeongchang Olympics 2018. Their music features less western/global sounds, as they initially focused on creating an audience in South Korea and China. That's not to say EXO hasn't tried different concepts — they're sexy, yet cute; angsty, yet kind.
Conversely, the BTS boys have more room to explore in terms of their music styles. Because RM, Suga, and most of the Bangtan Boys work on their own lyrics, listeners can almost feel their personalities and emotions in BTS' music. That's not to say the EXO members don't write music, but they have less freedom under SM Entertainment.
BTS' songs generally appeal to fans globally, as they are often considered one of the biggest boy bands in the world. They've worked with musicians from the United States, drawing in fans of artists like Halsey, Charli XCX, and Steve Aoki. (RM from BTS even collaborated with Lil Nas X for a version of "Old Town Road.")
Both BTS and EXO earned nominations at this year's MTV Video Music Awards
As two of the biggest boy bands in the world, both BTS and EXO earned a handful of awards since their debuts. At this year's MTV Video Music Awards, BTS, BLACKPINK, EXO, Monsta X, TXT and NCT 127 earned nominations in the "Best K-pop" category.
That being said, BTS is known to break records both with their music. This fall, the K-pop group will be the first solo act to hold a solo show at the King Fahd International Stadium in Saudi Arabia. Their music video for "Boy With Luv" broke the YouTube record for "most plays within a 24-hour period," beating music videos by artists like Ariana Grande and Miley Cyrus. They became the first K-pop group to present an award at the Grammys.
Still, in terms of success, both artists soar to the top of the music charts, having their work appear among the top trending YouTube videos. EXO's "Monster" music video has almost 300 million views on YouTube. BTS' "Boy With Luv" has over 500 million views on YouTube.
Music by BTS, including Map of the Soul: Persona, is available on Spotify, Apple Music, and most streaming platforms. Music by EXO, including Don't Mess Up My Tempo, is available on Spotify, Apple Music, and most streaming platforms.