Why Isn't 'Riverdale' On Tonight (And When Will It Return)?
Like a member of the Stonewall Four, Riverdale has disappeared from its regular time slot. But unlike the ill-fated students, the show will return soon. Here's the scoop on why Riverdale took a break, what is on instead, and when it will return to The CW with new episodes.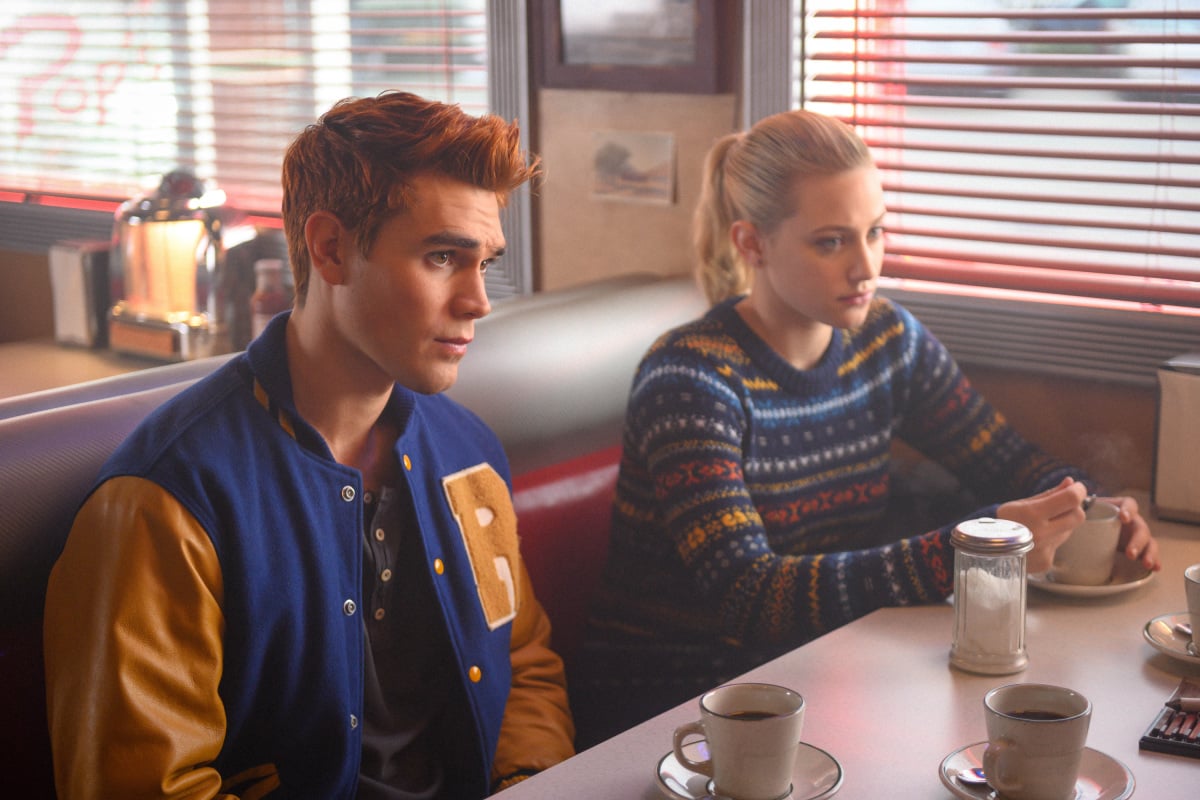 What will replace 'Riverdale on The CW on April 22?
Instead of Wednesday's usual lineup, The CW will broadcast People Presents Harry & Meghan: A Royal Rebellion. The special documentary program will air from 8 p.m. to 10 p.m. on the network. People describes the special as, "a deep dive into the causes, fallout and significance of this unprecedented chapter in British royal history." According to the outlet, the show will "examine the events leading up to the Duke and Duchess of Sussex's announcement to step down from senior royal duties, predictions for their next chapter in North America, and more."
When will 'Riverdale' return with a new episode?
Riverdale will return on April 29 at 8 p.m. with Season 4 Episode 18, "Chapter Seventy-Five: Lynchian." If the title is any indication of what is to come, the show could venture into even more bizarre territory than usual. The episode promo opens on a shot of childhood besties Betty and Archie laying side by side in the underground bunker bed. "Archie, why are we here?" asks Betty. Archie answers and takes her hand. "I don't know. But it's nice, right?"
Is it?
What will happen next?
Season 1 of Riverdale set up Betty and Archie as long-time pals who grew up next door to each other. Betty's feelings for Archie shifted from a platonic place into romantic territory. But the attraction was not mutual. Although Betty felt the sting of disappointment, their bond of true friendship could not be broken.
Eventually, the perky blonde moved on with Archie's bud from the other side of the tracks, Jughead Jones. Meanwhile, Arch fell for socialite, Veronica Lodge. Other than a few romantic bumps in the road and relational detours, both couples have been going strong for the majority of the series run. But there seems to be trouble in paradise for both Bughead and Varchie.
First, Jughead faked his death and Archie and Betty pretended to hook up in order to smoke out the attempted murderers. They only kissed to keep up the ruse, but the chemistry was palpable. After that stunt wrapped up, both couples were seen squabbling, most notably in the musical episode, "Chapter Seventy-Four: Wicked Little Town."
After some particularly heated conversations with their partners, Archie and Betty joined in an impromptu duet, which ended in an impulsive make-out session. The rest of the episode consisted of stolen glances and longing stares in between musical numbers.
It seems that the writers could be setting things up for a potential love triangle – or whatever you call it when a foursome is involved – and viewers aren't happy about it. Alas, fans will have to wait a bit longer to see how it all shakes out and whether or not Barchie will become the hot new couple on Riverdale.
Read more: 'Riverdale': Twitter Erupts Over Tease From the Show's Creator About Archie and Betty