Why It's Impossible To Forget Sarah Marshall
It's been 12 years since Jason Segel's film Forgetting Sarah Marshall was released in theaters. Segel's movie showed us how a painful breakup can result in something beautiful — which, in his case, was a Dracula musical featuring Jim Hensen puppets.
Forgetting Sarah Marshall tells the tale of composer Peter Bretter (Segel), who gets his heart broken by the unattainably hot Sarah Marshall (Kristen Bell). In an effort to salve his wounded soul, Peter takes a trip to Hawaii. Unbeknownst to him, Peter ends up staying at the same resort Sarah and her new boyfriend, Aldous Snow (Russell Brand), are vacationing at. 
These are some of the most unforgettable scenes from Forgetting Sarah Marshall.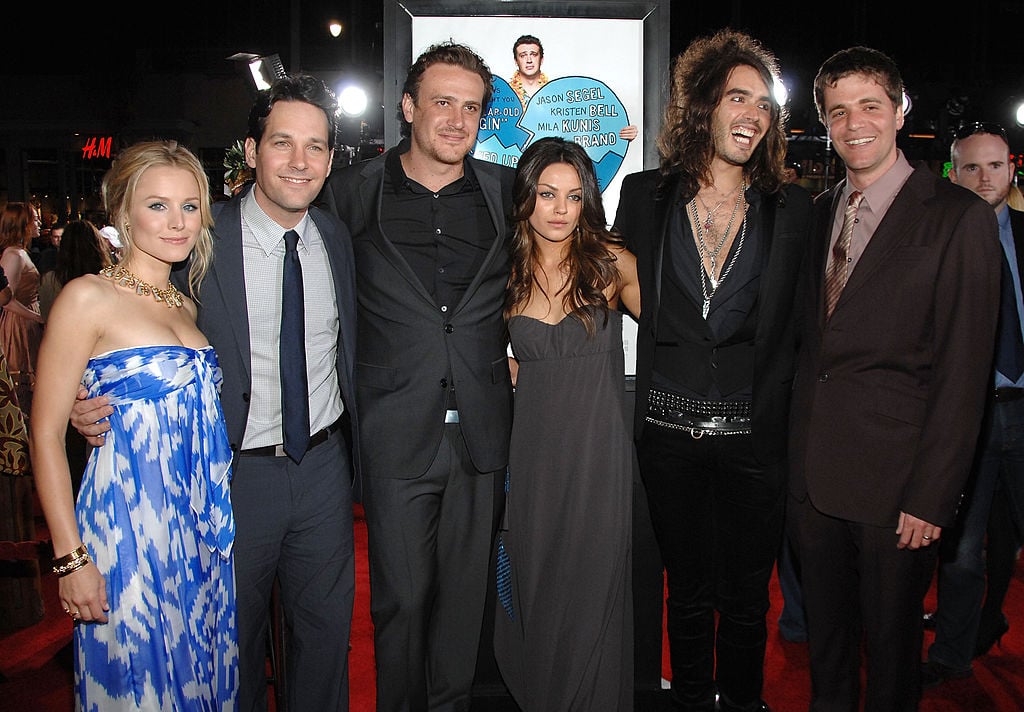 What are the actors from 'Forgetting Sarah Marshall' up to?
Twelve years later, the cast of Forgetting Sarah Marshall have done pretty well for themselves. Segel is still writing and acting. His latest project is the AMC anthology series, Dispatches From Elsewhere. Bell went on to experience global success as Anna in Disney's Frozen and its sequel, Frozen II. In 2019, Bell starred in the fourth season of Veronica Mars, brought back to life by Hulu. 
Mila Kunis, who played customer service representative Rachel, went on to act in movies like Black Swan and Bad Moms, and is still the voice of Meg Griffin on Family Guy. Russell Brand became known as the illustrious Aldous Snow, later reprising the role in Get Him to the Greek. Jonah Hill is another Forgetting Sarah Marshall star who had success with roles in 21 Jumpstreet and The Wolf of Wall Street.
Other comedic geniuses, including Bill Hader, Jack McBrayer, Paul Rudd, and Jason Bateman also made appearances in 2008's Forgetting Sarah Marshall. Hader is the star of the HBO series Barry; Rudd was recently in the Netflix original Living with Yourself; Bateman directed and starred in the HBO series The Outsider.
Jason Segel's breakup became a moment we can't forget
Segel was the movie's writer, producer, and star. As such, much of the story was based on things he experienced in real life. Within the first 10 minutes of the movie, we see the infamous naked breakup — a moment that's impossible to forget — ever.
That really happened to Segel. In an interview with NPR, he recalled how significant that moment was for him: "When that happened, and I'm naked, and the whole time I'm thinking this is really, really funny. I'm going to use this in a movie someday." And use it he did. 
Despite how jarring that scene may have been to witness (Segel's mother cried), it demonstrated the impact of a breakup. In that moment, the world seemed to stop for Peter. Putting clothes on would only push him further into the future — a future without Sarah Marshall.
We almost got the Dracula musical 
The nude break-up isn't the only thing we can't forget about Forgetting Sarah Marshall. Segel actually wrote a Dracula musical. Unlike the one seen in Forgetting Sarah Marshall, Segel's Dracula play was written without a sense of irony. "It was going to be like a slow, labored drama," he said. 
After Segel finished writing the musical, he took it Judd Apatow, who told him to never "play for anyone, ever." Obviously, Segel let his character, Peter, take the musical to new heights.
When writing Forgetting Sarah Marshall, Segel said he had a hard time with coming up with an ending. That's the thing about romantic comedies — it's hard to come up with a conclusion that's original. In discussing the film's conclusion with Apatow, he realized that the Dracula play was the perfect way to wrap his movie up.
Segel stayed true to his writing, his comedic background, and his story throughout the entirety of this movie. Instead of getting discouraged about the piece of work that a colleague once laughed at, Segel held on to it until the timing was right. And that's pretty unforgettable.
'Forgetting Sarah Marshall's impact
Despite the fact that it's 12-years-old today, Forgetting Sarah Marshall is still an unforgettable film.
Yes, Forgetting Sarah Marshall is a comedy that's given us quote-able lines, the artistry that is "Inside of You," and a Dracula-inspired rock opera. But it's also a film that captures the essence of heartbreak — from the sickly stupid parts to the moments of exaggerative hilarity.
On a personal note — Thank you, Jason Segel, for creating the masterpiece that is Forgetting Sarah Marshall. Not a day goes by where I don't quote this movie, and every time it's on I can't help but laugh. 
Now, I'll go back to waiting for this Dracula musical to be showcased live in a theater near me.