Why Jamie Foxx Didn't Enjoy Kissing Beyoncé in "Dreamgirls"
For some, landing the chance to kiss Beyoncé would be a dream come true. But for Jamie Foxx, locking lips with the singer wasn't something he particularly enjoyed taking part in.
Following the release of the celebrities' 2006 film Dreamgirls, Foxx revealed that his on-screen kiss with Beyoncé wasn't something he found himself reeling over. In fact, locking lips with the singer was far from pleasurable for the actor as the thought of her being some else's woman didn't sit well with him.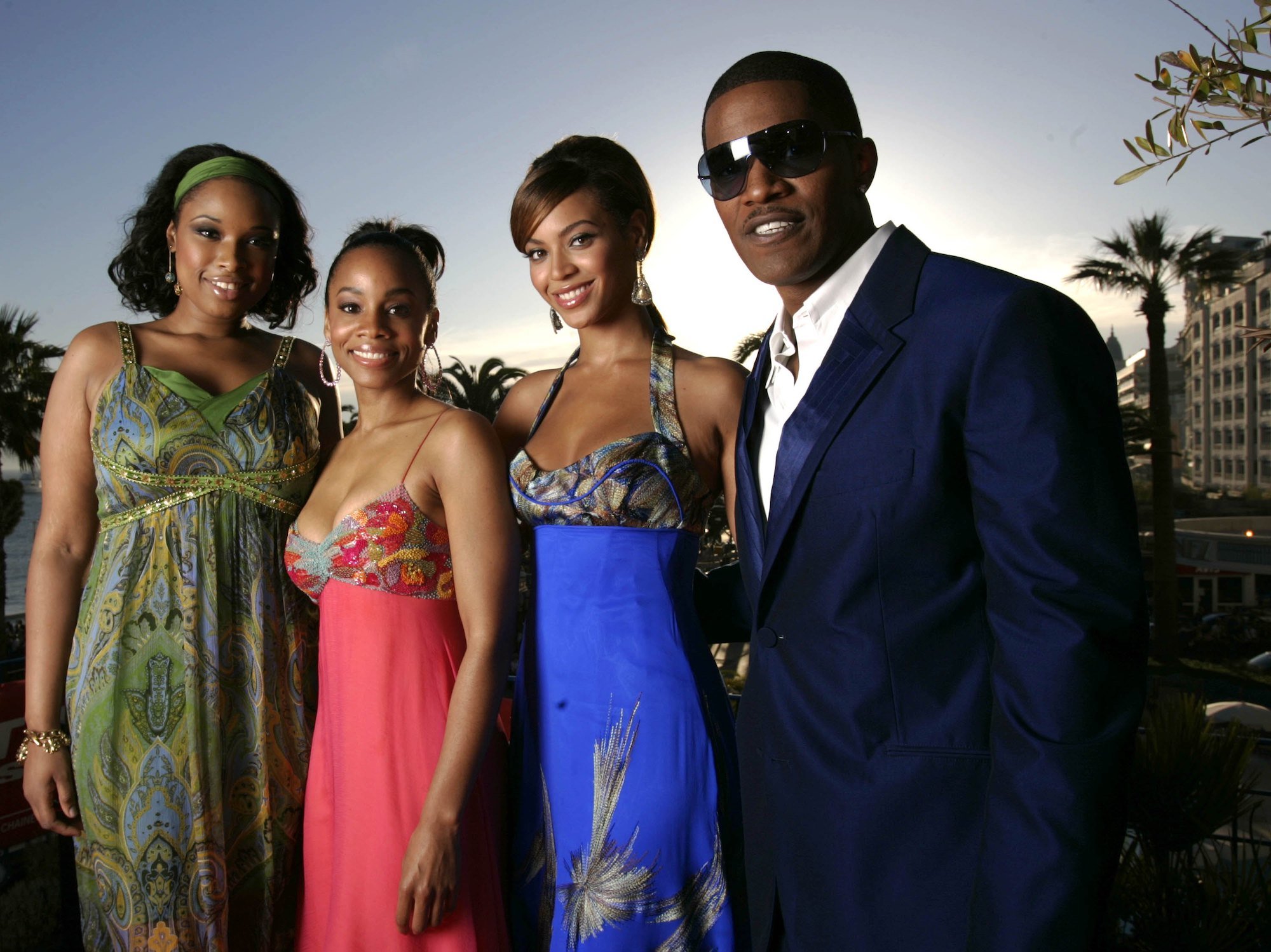 What is 'Dreamgirls' about?
Dreamgirls is a musical drama that is strongly inspired by the history of the Motown record label and one of its most popular acts, The Supremes.
In the film, Foxx plays Curtis Taylor Jr., a Cadillac dealer who launches his own record label, Rainbow Records, to make black artists household names by crossing them over to the pop charts.
While getting his label off the ground, Curtis meets The Dreamettes, a young girl group consisting of lead singer Effie White (Jennifer Hudson) and backup singers Deena Jones (Beyoncé) and Lorrell Robinson (Anika Noni Rose).
RELATED: Beyoncé Would Never Again Prep for a Role the Way She Prepped for 'Dreamgirls'
After becoming the singers' manager, Curtis takes the girls' careers to new heights but finds himself mixed in a love triangle along the way.
While turning the Dreamettes into headliners as the Dreams, Curtis becomes romantically involved with Effie. But after demoting the big-voiced lead singer, and putting the softer-spoken looker, Deena, in front, Curtis and Effie break up. Soon after he fires Effie and sends her into a life of poverty, Curtis takes Deena and the Dreams to the top.
During their rise to fame, Curtis becomes infatuated with Deena, and they two eventually marry. However, after Deena learns that Curtis created a disco version of Effie's comeback single, she divorces the ruthless manager and takes control of her own career.
The film debuted in theaters on December 25, 2006, and performed well at the box office, drawing $155 million from an $80 million budget. It also received several awards and nominations, including three wins at the 64th Golden Globe Awards and two Oscars at the 79th Academy Awards.
Beyoncé was nervous about shooting her kissing scene with Jamie Foxx
Since Dreamgirls is a musical film, there were hardly any romantic scenes throughout its hour-and-a-half-long runtime. But despite it not featuring major love scenes between characters, there was one moment in the film when Deena and Curtis locked lips.
The moment came at the end of the song "That's My Dream." As Curtis is finishing up his performance, he and Deena fall into a passionate embrace before the screen goes black.
RELATED: 'Dreamgirls' Was Not Beyoncé's First Movie
Although the moment came across as believable, it actually took Beyoncé a while to get used to kissing Foxx on-screen. It turns out, the "Crazy In Love" singer was nervous about kissing the actor on film, claiming she was too inexperienced.
"I guess you could say we had a love scene. We kissed. Now, I'm a singer/songwriter, that's what I did first – I didn't start out going to acting classes and people-kissing classes," Beyoncé said, according to Digital Spy. "So that's all still new to me.
The singer went on to explain that though she was nervous about locking lips with Foxx, working with her acting coach on the particulars of making a screen kiss believable helped her get over some of those nerves.
"Working with my acting coach made it easier. I just thought it was necessary for the character, we have to established that they're married," she said.
Bey also noted that Foxx was very respectable and helped make the experience relatively painless. She added, "Jamie was very professional, it was quick, and you know, it is what it is"
Jaime Foxx didn't like kissing Beyoncé
Although many would jump at the chance lock lips with Beyoncé, that wasn't really the case for Foxx.
While performing his 2007 Unpredictable show at Madison Square Garden, the actor did a stand-up segment, during which he talked about Beyoncé and shared why he didn't enjoy kissing her in Dreamgirls.
According to the actor (via MTV News), he didn't enjoy filming that scene with Bey because he had it in the back of his mind that she was "Jay-Z's girl." He said all he heard in his head during the on-screen lip-lock was, "Jiggg-aaah!"
But despite not enjoying the kissing scene with Beyoncé, Foxx and the singer still made their on-screen relationship seem believable, and that's all that really matters.