Why Jennifer Lopez and Shakira Didn't Get Paid for Super Bowl 2020 Performance
As the San Francisco 49ers and Kansas City Chiefs battled it out on the field, all eyes were on Jennifer Lopez and Shakira during the Pepsi halftime show for Super Bowl LIV. The Latin sensations wowed crowds with more backup dancers than ever seen before. Their combined 14-minute high energy performance would regularly earn them millions. The surprising part is that neither Shakira nor Lopez received any money for appearing at the biggest concert of 2020. 
Super Bowl 2020 had an iconic halftime performance
Known worldwide, the international superstars saluted their Latin heritage while paying homage to their successful careers.
Shakira had everyone at the Hard Rock Stadium in Miami on their feet as she opened the show with her top hit, "She Wolf." Fireworks exploded as she belted out an electric guitar solo to her 2014 anthem, "Empire." Shakira shook her way across the stage, collaborating with rapper Bad Bunny, before bursting into fan-favorite, "Hips Don't Lie."
At the end of her dynamic set, Lopez took the stage, much to the delight of the crowd, opening with her smash hit, "Jenny From The Block." She performed a medley of her top songs, one hit after the other, wearing Vegas-style costuming and even bringing out her Hustlers stripper pole.
Her daughter, Emme, joined her on stage for a rousing rendition of "Let's Get Loud." This was the first time two women shared the stage for the Super Bowl Halftime Show, and it was the first all Latin musical performance. Fans in Miami loved every minute of it.
Why the NFL doesn't pay half-time performers
The NFL has a long-standing policy of not paying a performance fee to artists that appear during halftime of the Super Bowl. They do, however, cover all performance-related production expenses.
According to the Wall Street Journal, previous half-time shows have cost the NFL more than $10 million for a show that lasts less than 15 minutes. This includes elaborate lighting, stage setup, costume changes, pyrotechnics, production crew, union dues, and travel.
The NFL has considered charging acts for the opportunity to perform, but as of yet, that has not come to fruition.
Why performers agree to not getting paid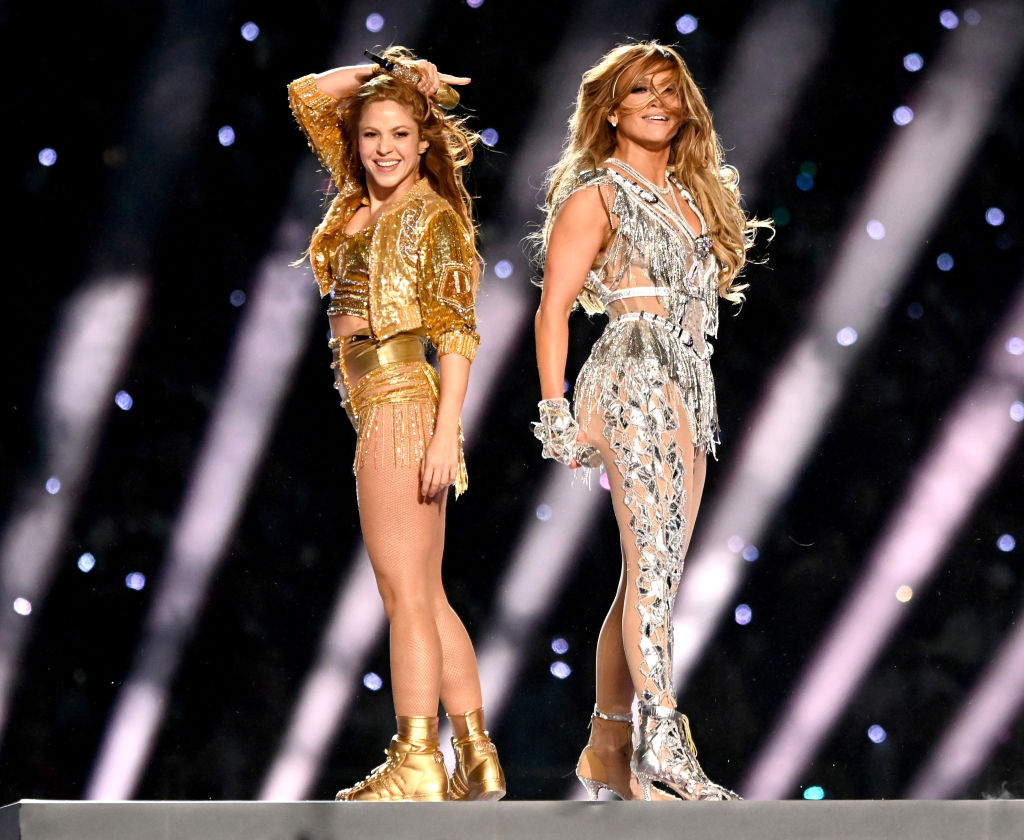 Performers put in extensive rehearsing for the opportunity to appear at the Super Bowl. Forbes reported that the halftime show "is the single biggest promotional vehicle for a music star on the planet."
Artists forgo payment in exchange for the publicity. The Super Bowl has a televised audience of over 100 million people. There is no other outlet that can attract so many viewers, and the performers know it.
Previous halftime performers have seen huge spikes in their sales following the Super Bowl.
In 2018, Justin Timberlake saw a 214% increase in Spotify streams within one hour of the conclusion of his Super Bowl halftime performance. The previous year, Lady Gaga jumped 60 spots on the Billboard charts to No. 2, within just a week of performing at halftime. After Beyonce performed in 2013, she saw an increase in concert ticket sales and a 100% increase in online searches.
Maroon 5 and Travis Scott performed during the halftime show in 2019. Since then, Maroon 5 has increased its per-city tour income from $200,000 to $1.7 million. Scott doubled his income since performing and is now earning close to $1 million for every stop on his current tour. He tripled his 2018 income, bringing in $58 million last year.
After Katy Perry performed in 2015, her career skyrocketed with countless opportunities for movie, television, and endorsement deals.
Did Jennifer Lopez and Shakira see an increase in sales?
It looks like Lopez and Shakira made a good decision to perform at the Super Bowl. According to Nielsen Music, sales of the songs performed during the halftime performance experienced an astonishing 1,013% increase. There was a reported 16,000 digital downloads on Sunday, with Shakira receiving the biggest surge on Spotify, with more than a 2,135% jump for her hit single: "Empire."
In Lopez's case, she also jumpstarted her daughter's career by introducing her to the world on a very public platform.