Why Jimi Hendrix and Pete Townshend Clashed at the Monterey Pop Festival
In June 1967, there was no question about the potential for British bands in the U.S. By then, The Beatles had hit No. 1 on the Billboard charts over 10 times since their first single went out in '64. And the Rolling Stones already had four No. 1 hits of their own. The invasion had been a success.
But The Who, a London band with a big following in England, had yet to capture its American audience. With the band's West Coast debut at the Monterey Pop Festival looming, the biggest chart success for The Who was a No. 24 showing for "Happy Jack."
Pete Townshend, the band's primary songwriter and lead strategist, saw an opportunity at Monterey. With hippie music (The Mamas and the Papas, The Byrds) dominating the festival, his violent British act would have a chance to stand out. In Townshend's words, they could "leave a wound."
Not only would the band reduce the stage to rubble with its destructive live act; it would also introduce California to a new, supercharged version of rock. There was only one problem: Jimi Hendrix would also introduce himself to West Coast audiences that same night in Monterey.
Townshend and Hendrix argued about who would take the stage first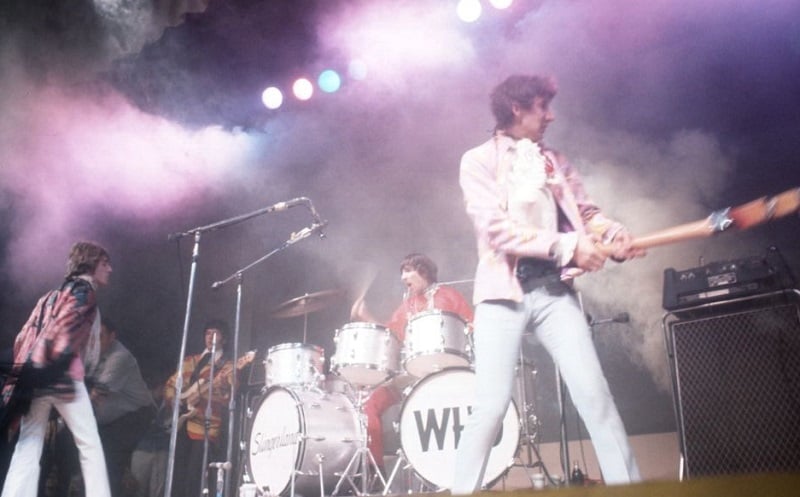 While Hendrix grew up in America, he made his reputation in London with his Experience. So Monterey was just as big a night for him and his band. When he and Townshend learned they were both playing Sunday night, they knew they had a problem.
In a 1987 interview with VH1, Townshend recalled trying to settle the issue with Hendrix. "I thought of myself as his friend and felt we could discuss who went on first," he recalled. "Simply because we were both gonna introduce guitar pyrotechnics to the California audience for the first time."
Twenty years after the fact, Townshend acknowledged there were different versions of the story. At one point, Hendrix may or may not have stood on a chair playing his guitar in Townshend's direction, as if to say "Don't f–k with me, you little sh–t."
But everyone agrees they ended up deciding who would go on first by flipping a coin. In Townshend's telling, he was nervous about following Hendrix's act because he didn't think The Who could handle it.
"I think you're a great artist," Townshend said to Hendrix. "And I think I'm not. I'm gonna have trouble with that." However, Townshend won the coin flip and The Who went on first.
Hendrix triumphed at Monterey anyway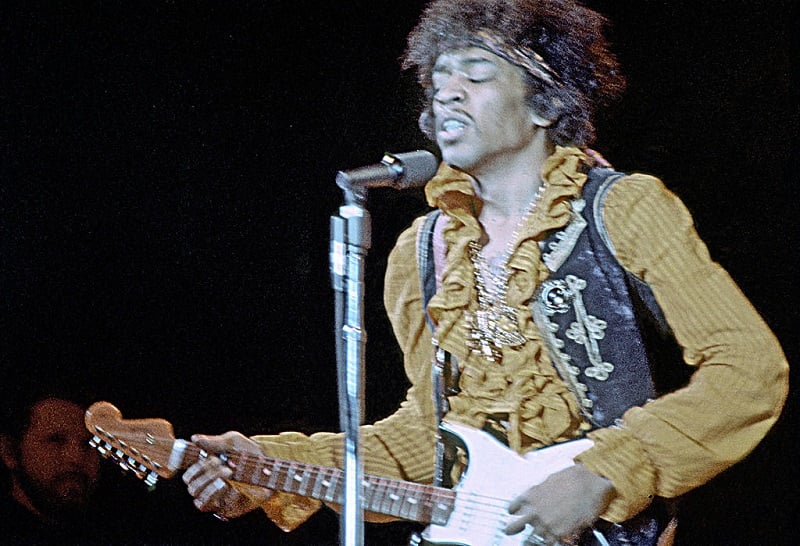 The Who delivered that night, and ended with their signature instrument-smashing after their closer, "My Generation." (Prior to playing that final track, Townshend told the crowd, "This is where it all ends.") The Monterey crowd was visibly taken aback by the spectacle; they'd left their wound.
However, Hendrix knew The Who's act well and had an idea about how to top it. On top of his superior playing, louder volume, erotic posturing, and rock-god outfit, Hendrix did The Who one better by lighting his guitar on fire in a sort of pagan ritual.
Hendrix's performance that night is still considered one of the finest in rock history. (Monterey Pop, the film D.A. Pennebaker made of the event, features these performances by The Who, Hendrix, and other acts. We highly recommend it.)
Townshend caught Hendrix's act as an audience member that night as well. He recalled Mama Cass (of The Mamas and the Papas) sitting beside him and asking, "Isn't that your act?" Townshend, amused, couldn't take all the credit. "Well," he said. "It's our act."
Also see: Why Pete Townshend Doesn't Care When People Say The Who Sold Out