Why Joe Pesci and Frank Vincent Worked So Well Together in Scorsese Movies
In 3 Scorsese films, Joe Pesci and Frank Vincent ran a clinic in gangster acting. But Pesci and Vincent had a long history together prior to 'Raging Bull.'
If you want to see an epic cinematic rivalry, check out the Martin Scorsese films that star Joe Pesci and feature Frank Vincent in a supporting role. It started in 1980, when Robert De Niro suggested Scorsese audition Pesci for the part of Jake La Motta's brother Joey in Raging Bull (1980).
For his work on that film, the then-unknown Pesci received Oscar and Golden Globe nominations while winning awards from the National Board of Review and BAFTA. Meanwhile, Vincent also got his first break as an actor, beginning a run that would continue thorough The Sopranos.
Pesci's most memorable scene in the film is probably when he pounds Vincent into submission at the Copacabana. When the fight continues outside, Pesci repeatedly slams Vincent's head with a car door. But that wouldn't be the last time the two tangled onscreen.
In 1990, after Vincent's Billy Batts tells Pesci's Tommy to "get his shinebox" in Goodfellas, Tommy murders Batts in the bar. Five years later, Scorsese got Pesci and Vincent together one more time for another gruesome cinematic moment. There was a reason the two worked so well together.
Pesci and Vincent were a comedy duo before getting into acting.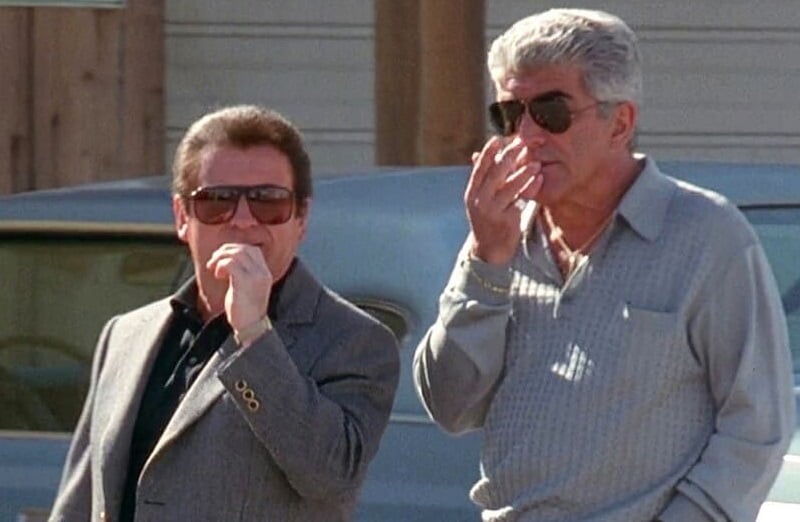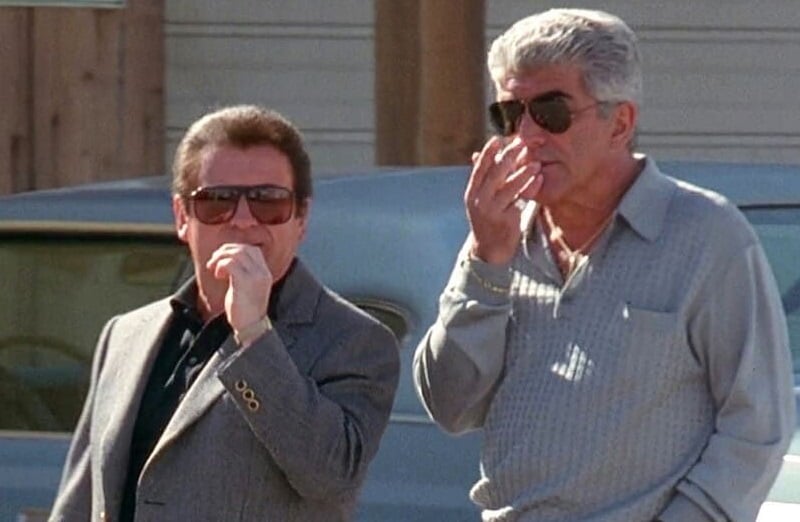 When Vincent (as Billy Batts) tells Pesci (as Tommy) to get "his f**ckin' shinebox," he delivers the line with the type of snarl you don't forget. He's taunting the smaller mobster, and he wants Tommy to know he still considers him a young punk.
In real life, Pesci and Vincent had already known each for a lifetime by the time they made Goodfellas. Back in 1969, Vincent needed a piano player for his band — The Aristocrats, which Vincent led as the drummer — and he ended up settling on Pesci, a younger guy who played guitar.
A 1996 New York Times profile of Vincent chronicled those years in detail. After music gigs became scarce, the pair of fast-talking, wise-cracking performers started a comedy act (Vincent and Pesci). Some routines featured Vincent trash-talking audience members; others featured Pesci humiliating Vincent.
In a remarkably successful run that lasted six years, Vincent said the two were like "a husband and wife and broke up many times." By 1975, the show had ended for the duo. But Scorsese clearly recognized what they'd had together.
The tensions between Pesci and Vincent in later years made cinema magic.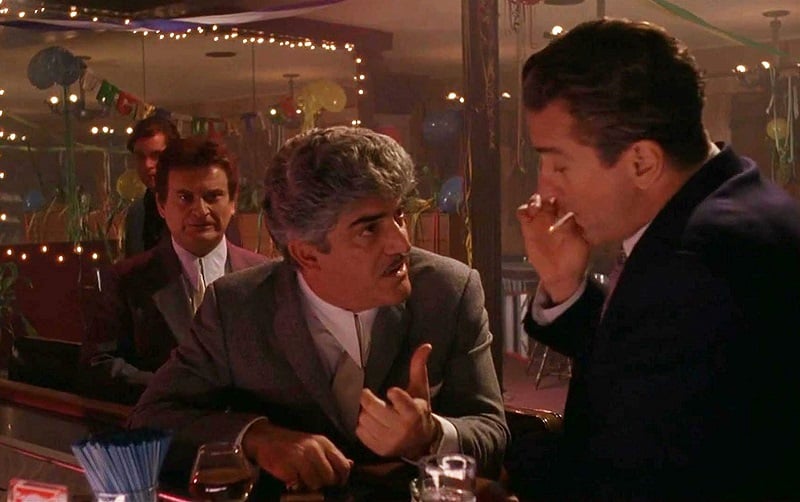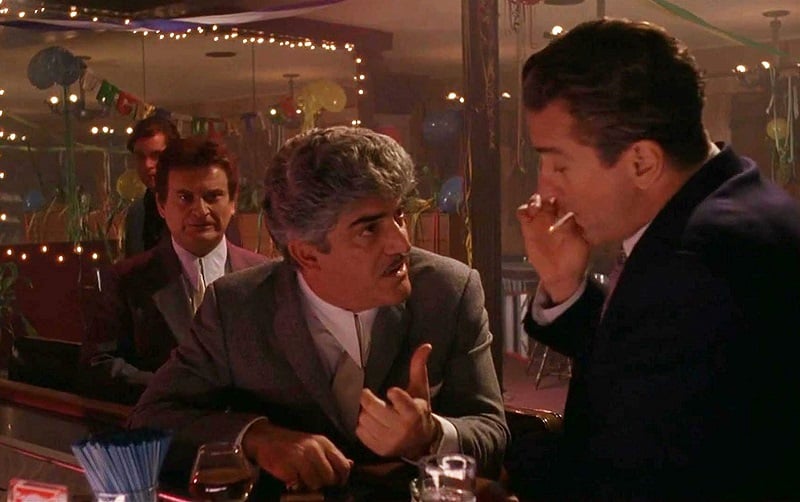 After Pesci broke through with Raging Bull, he took Hollywood by storm with his Oscar-winning performance in Goodfellas. By the early '90s, he was everywhere. He worked with Oliver Stone (JFK) and Marisa Tomei (My Cousin Vinny) and played big roles in the Lethal Weapon and Home Alone franchises.
Vincent did not enjoy the same type of success. Though Scorsese was quick to cast him again in Casino (as the man who kills Pesci's character), Vincent never got as famous as his old partner.
It wasn't until the second half of The Sopranos (in which he played Phil Leotardo) that Vincent got the meaty role he deserved. Though he passed away in 2017, Vincent's performances opposite Pesci stand out to this day. (On Raging Bull, the two seem to spit words at one another.)
The placement of the two actors together in those films is an example of movie magic. It's hard to find naturals like Pesci and Vincent. With both of them together carrying baggage from their past, Scorsese hit the jackpot — and every film fan wins.
Also see: The Hilarious Way Joe Pesci Shot Down Louis C.K.'s Offer to Act in His Show