Why Joe Rogan Shoots Himself Up With Testosterone Every Week
Celebrities are known for using the most absurd regimens to stay young. For example, Tom Cruise is known for using a Nightingale Facial Poo that costs $180 a pop.
On the other hand, athletes are known for staying in tip-top health by drinking plenty of protein shakes and staying away from certain types of treatments. For comedian and UFC commentator Joe Rogan, testosterone is his answer to 'cheating' death. Read on to find out why Rogan believes in hormone replacement therapy.
Joe Rogan had a phobia for losing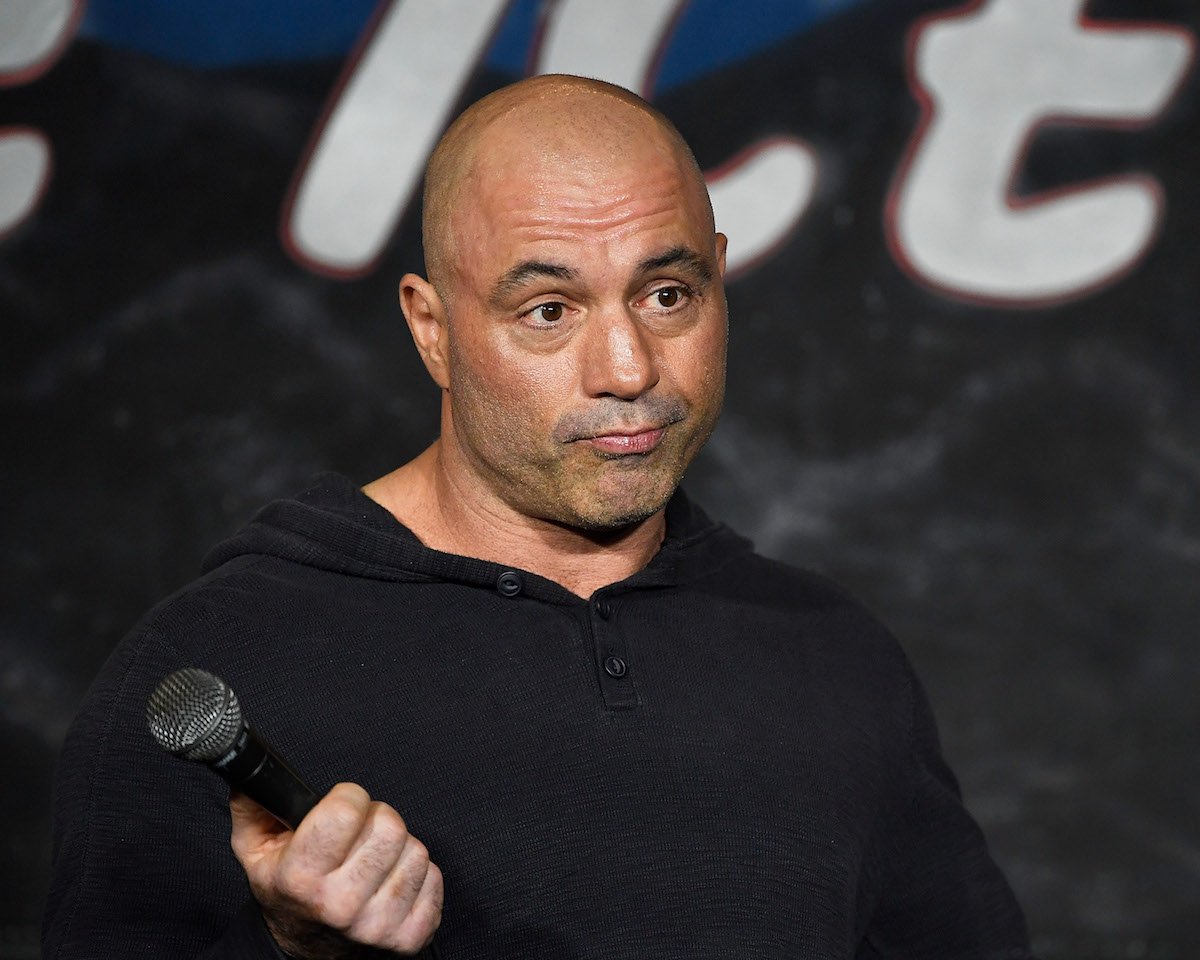 Rogan was born in New Jersey on August 11, 1967, as Joseph James Rogan. His father is a former police officer who Rogan doesn't recall as having been gentle. The comedian remembers his father in what he describes as "brief but violent flashes of domestic violence."
The UFC commentator participated in Little League Baseball, but his interest lay in martial arts. Rogan recalled having a phobia for losing when he was younger and said that martial arts gave him the confidence he needed. He also added that it gave him a different perspective of himself and what he could do.
In his teenage years, Rogan took up karate and Taekwondo. He attended Newton South High School, where he graduated in 1985. Rogan later went to the University of Massachusetts but dropped out early. He lived in Boston until he was 24 and then relocated to New York.
Rogan wears many hats
When Rogan was still contemplating what career was beat for him, he hadn't thought of giving comedy a chance.  He thought of becoming a kickboxer and knew that he didn't want a typical 9-5 job. However, he was a big fan of comedy, and when his parents took him to see the film Live on The Sunset Strip, Rogan claimed that it profoundly impacted him.
Rogan's friends from his Taekwondo class and gym encouraged him to take up stand-up comedy since he was so good at making jokes and doing impersonations. When he was 21, he decided to make some material for his stand-up act. He eventually landed a gig at Stitches comedy club in Boston.
In 1994, Rogan moved to Los Angeles for his first national tv spot. MTV offered to pay Rogan $500 to appear in a "dopey game show," but he declined. In 1994, Rogan landed the role of Frank Valente in the Fox sitcom Hardball. In 1995, he landed the part of Joe Garrelli in NewsRadio, which aired on NBC.
In 1997, Rogan got a gig as the post-fight interviewer for UFC. The comedian eventually quit due to the financial constraints of traveling for the matches. In 2001, he became friends with the new UFC president, Dana White, who offered him a job. After working for free for 13 gigs, Rogan eventually decided to take payment for the job. In 2001, he also accepted the hosting position for the NBC show Fear Factor.
At first, Rogan was hesitant to host the show due to its content. However, he agreed to take up the role but only to find fodder for his stand-up shows. He hosted the show for six seasons until its cancellation in 2007. Today Rogan is mostly known for his podcast, The Joe Rogan Experience.
Rogan has a weird way of staying young
Aside from his anecdotes and dark humor, Rogan is also known for staying fit and encouraging his fans to adopt a healthy lifestyle. Rogan's regime and diet to stay healthy and young, however, will surprise his fans.
In a 2016 Rolling Stone interview, the comedian discussed his everyday routine of 'cheating' death. He shared he takes testosterone weekly: "It's what fighters get in trouble for, but, obviously, I'm not competing. I just like the idea that I'm cheating old age and death, although, you know, you can't cheat it forever."
He also prepares a concoction consisting of kales, spinach, a Nuvigil, four cloves of garlic coconut oil, celery, ginger that's almost the size of a child's thumb, and an apple. According to the UFC commentator, the concoction "tastes like crud," but he swears it makes him energized.