Why John Lennon Gave Paul McCartney Writing Credit on 'Give Peace a Chance'
If you were at Paul McCartney's 1969 marriage to Linda Eastman, you'd have noticed someone conspicuously missing — John Lennon. Actually, considering none of Paul's Beatles bandmates attended, maybe John's absence wasn't so surprising.
About a week later, it was John's turn to tie the knot with Yoko Ono. (They did so in Gibraltar.) Because of the runaway nature of John and Yoko's nuptials, you didn't find Paul (or anyone else) in attendance there, either.
After John and Yoko had their marriage certificate, they headed to the Amsterdam Hilton to stage their first "bed-in for peace." If you've heard "The Ballad of John and Yoko," you know most of this story.
With that "wedding song" recorded (thanks to a big assist from Paul), the newlyweds headed to Montreal for a second bed-in. During that stay, John and Yoko recorded their anthem, "Give Peace a Chance." And, curiously enough, John gave Paul his usual half of the Lennon-McCartney credit.
John said he put Paul's name on it because he 'kind of felt guilty'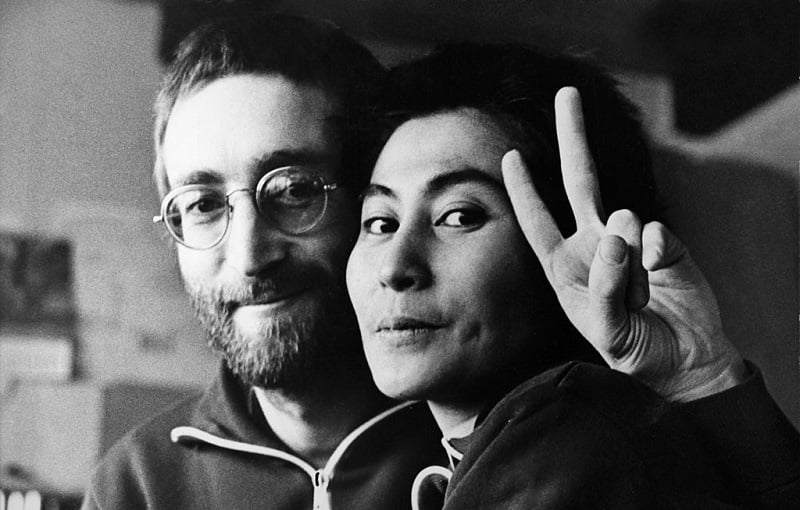 On the first day of June '69, John and Yoko led the dozens of people in their room in a recording of "Give Peace a Chance." One of the Smothers Brothers played guitar along with John while Yoko, Timmy Leary, Allen Ginsberg, and others in attendance chanted the chorus.
The recording was about as informal as they come — basically the diametric opposite of the painstaking Beatles sessions of the previous years. A month later, the track went out as a single by the Plastic Ono Band. In effect, it was John's first true break from the Fab Four.
But you wouldn't have known that from looking at the song credits. On the label, buyers found the eternal Lennon-McCartney stamp in its usual place. Looking back, John said he could hardly remember why he'd given Paul credit for something that had nothing to do with him.
"It's there because I kind of felt guilty because I'd made the separate single — the first — and I was really breaking away from the Beatles," he told Playboy in 1980. "We always had that thing that our names would go on songs even if we didn't write them," he added. "It was a silly thing to do, actually. It should have been Lennon-Ono."
Some believe the credit was John's thank-you for Paul's 'Ballad' work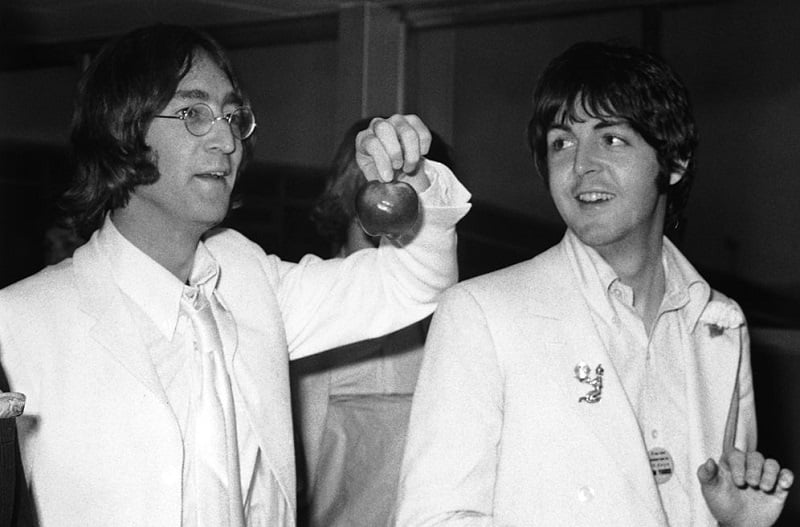 While John's explanation (it was a habit) makes enough sense, some point to Paul's work on "The Ballad of John and Yoko" as the prime motivator. In Revolution in the Head, Ian MacDonald wrote that John credited Paul on "Give Peace a Chance" as payback for "his partner's help" on "Ballad."
That reasoning also follows a clear logic. In April '69, just after the Amsterdam bed-in, John had returned to London yearning to record his new song idea. However, with George Harrison and Ringo out of town, John needed more help than usual to get the track on record.
After helping John put the finishing touches on "The Ballad of John and Yoko," Paul dutifully headed to the studio with him and played bass, drums, and piano on the record. (He of course sang backing vocals as well.) At a point in time when the two were no longer best friends, it was a grand gesture.
"Paul knew that people were being nasty to John, and he just wanted to make it well for him," Yoko told Rolling Stone later. "Paul has a very brotherly side to him."
Also see: Who Paul McCartney Was Paying Tribute To on the Beatles Classic 'I'm Down'