Why 'Justice for Johnny Depp' is Trending Right Now and People Want Amber Heard 'To Pay'
Saturday evening marked the launch of a new internet campaign on behalf of actor Johnny Depp due to some information circulating about his ex-wife, Amber Heard. The pair have been embroiled in a legal battle since they filed for divorce in 2016, with Depp suing Heard for defamation after she wrote an op-ed indirectly accusing him of physical abuse.
A recently released audio recording of Heard went viral on Saturday and now fans want "JusticeforJohnnyDepp."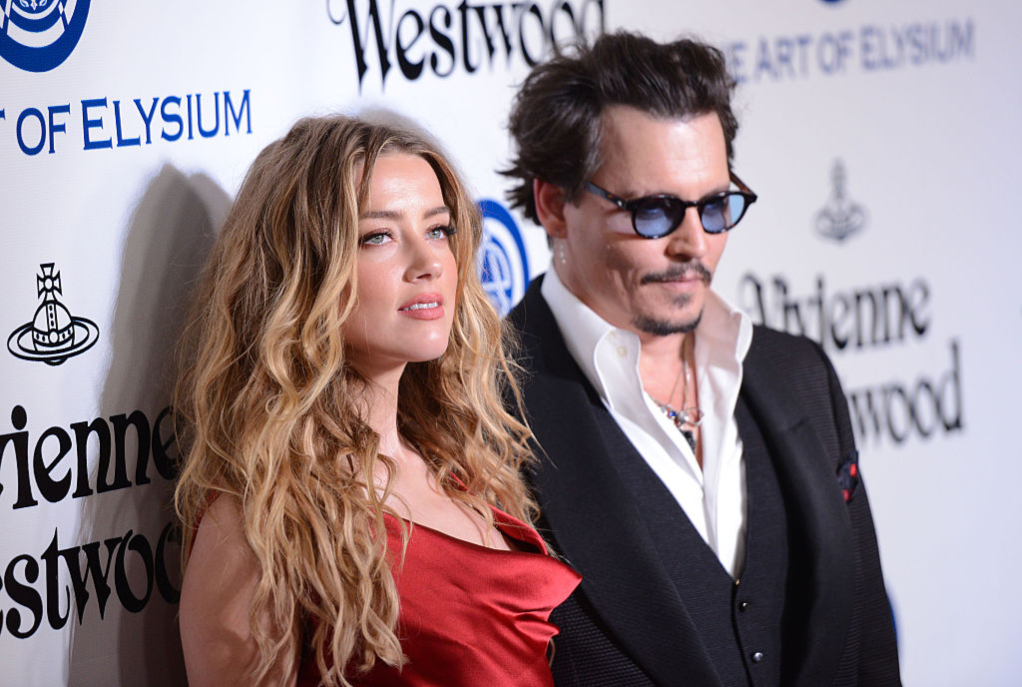 The background on Johnny Depp versus Amber Heard
In April 2019, Depp filed a defamation lawsuit against Heard for $50 million over an opinion piece she wrote for The Washington Post about domestic abuse and sexual violence. She didn't mention Depp by name, but he and his attorneys assert that the allegations were clearly leveled against him. In her article, she claimed that she lost out on work opportunities because she spoke publicly about abuse.
According to The Associated Press, in 2016, Heard appeared in court with a picture of herself with facial bruising, resulting in a judge granting a restraining order against Depp. Depp has vehemently denied physically abusing Heard and his lawsuit states that she is the abuser and her claims "were part of an elaborate hoax to generate positive publicity for Ms. Heard and advance her career."
Because of Heard's accusations, Depp says was fired from his role as Captain Jack Sparrow in Pirates of the Caribbean and his reputation has taken a hit. The lawsuit was filed in Fairfax County, Virginia since that is the headquarters for The Washington Post.
What's on the recording?
The case has been pushed back multiple times and is now set to go to court in August 2020. The Daily Mail obtained a bombshell recording of Amber Heard admitting to hitting Depp, mocking him, and calling him a baby. She also says she's thrown pots, pans, and vases at him.
The pair are heard going back and forth, and she says things like, "I don't know what the motion of my actual hand was, but you're fine. I did not hurt you. I did not punch you. I hit you." This is one of more than six dozen recordings Depp and his attorneys say are evidence that Heard was the perpetrator of domestic abuse.
The full conversation is available here but the viral content starts around the 26-minute mark. Warning: It contains profanity.
Why fans are demanding justice for Johnny Depp
After listening to the audio exchange, fans are appalled by what they heard and want Amber Heard to be punished. Hundreds of thousands of Twitter users have spoken out against Heard, and some point out that she's an ambassador for one of the United Nations human rights initiatives that advocate for the protection of women and children while she's been abusive.
One commenter wrote, " When you see #JusticeForJohnnyDepp trending, and you're one of the few people that never believed her" and another said, "Can you imagine abusing someone and then purposely ruining their reputation by saying they abused you? Can you imagine getting them in legal trouble? Can you imagine being Amber Heard?"
Many are citing the incident of Depp's severed finger where he said he injured himself while filming Pirates of the Caribbean in 2015. He later accused Heard of doing it during their divorce proceedings, while she said he cut it off himself. When the initial claims of abuse came out, people took sides.
Some demanded Depp be canceled, and others wanted Heard fired from Aquaman. There were also a group of fans who mentioned Heard was arrested in 2009 for hitting then-girlfriend Tasya Van Ree.
The hashtag "#JusticeforJohnnyDepp" has been trending since Saturday calling for Heard to face justice for admitted abuse and the impact it's had on Depp's career. Along with protests against Heard, there were campaigns against Depp to have him removed from the Fantastic Beasts franchise. As it stands, the lawsuit will play out in civil court.