Why Kate Middleton Chose The Cartier Halo Tiara When She Married Prince William
Kate Middleton rocked a stunning tiara when she tied the knot with Prince William in 2011. There was never any doubt that Middleton was going to look stunning on her big day, but her decision to wear the Cartier Halo as a headpiece really completed her look. Fashion aside, there was another reason why she went with the Cartier Halo over every other tiara in the royal family's collection.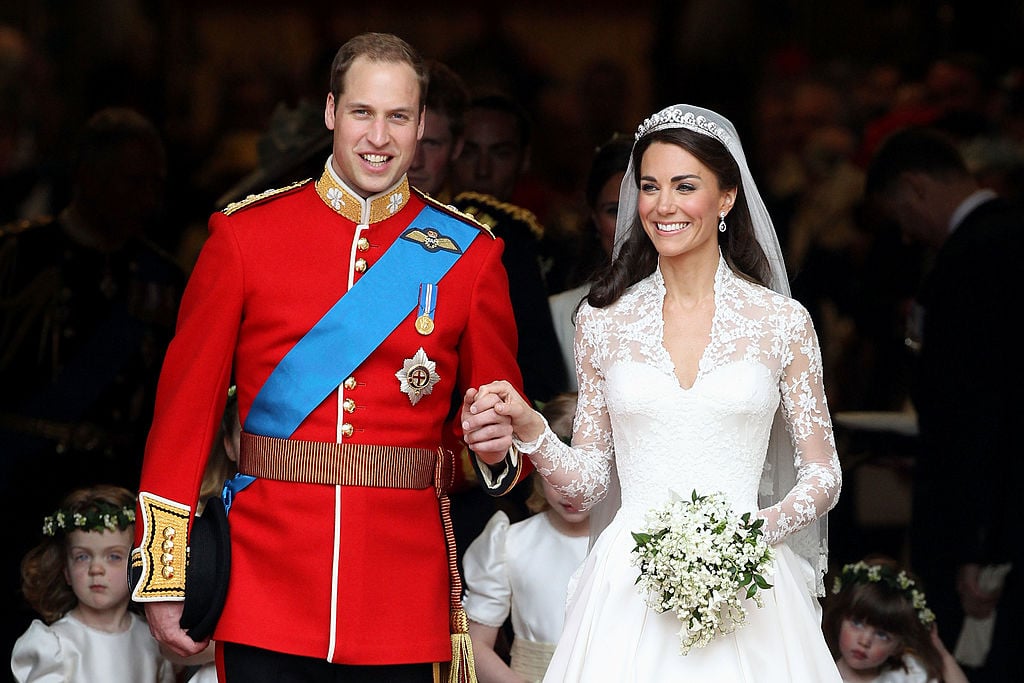 Why did Kate Middleton wear the Cartier Halo?
The history of the Cartier Halo goes back to its creation in 1936. In his book, William and Catherine, author Andrew Morton noted that the famed tiara was given to the Duke of York's bride shortly before he took the throne.
As far as Kate Middleton is concerned, she chose that specific headpiece because she reportedly wanted the world to know that she would always support William, no matter what obstacles came their way.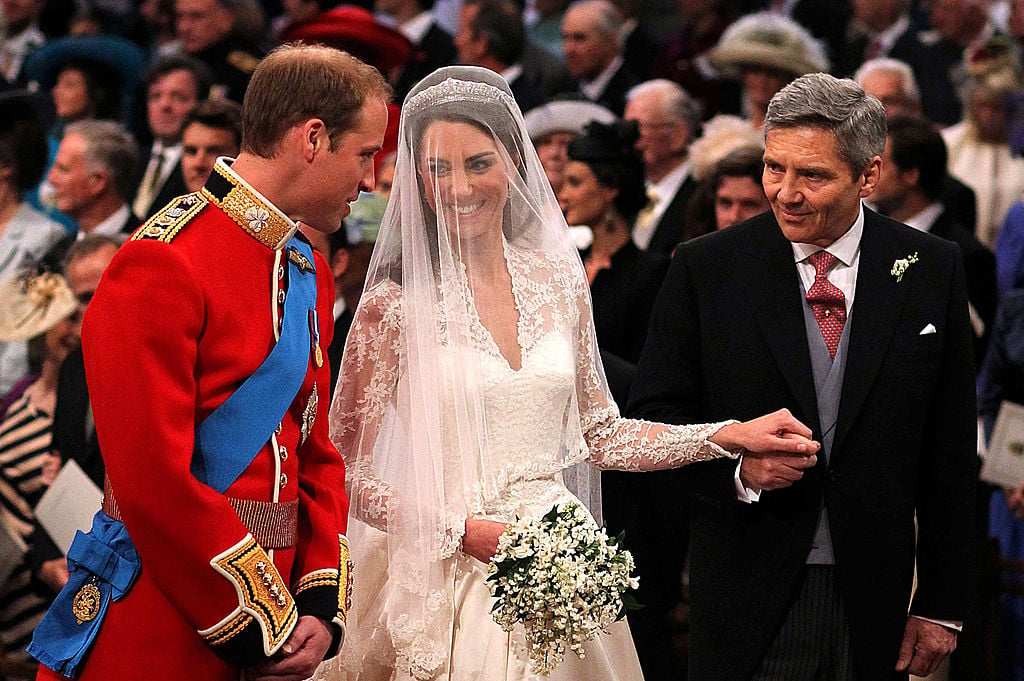 She also donned oak-leaf earrings that were set in diamonds for the wedding. The jewelry reflected Middleton's new coat of arms as the Duchess of Cambridge and showed how much her new family meant to her.
As far as the Tiara is concerned, other members of the royal family have worn it during royal engagements. This includes the likes of Queen Mother, Princess Anne, and Princess Margaret.
What happened to Middleton's tiara?
According to International Business Times, the Cartier Halo was placed on display at Australia's National Gallery in Canberra shortly after Middleton's wedding. The tiara was kept on exhibit until last summer, when it was returned to the royal family.
It is unknown where the Cartier Halo is currently located, though it is a safe bet that it is being kept under lock and key inside Queen Elizabeth's vault.
Although she had access to the tiara, Meghan Markle did not wear the Cartier Halo on her wedding day last year. Instead, the former Suits star opted for a smaller headpiece, as is a tradition among the women in the royal family.
It is interesting to note that Markle has not worn another tiara since her wedding day. Markle reportedly does not see herself as a person who wears tiaras on the regular and it will probably be a long time before she wears one again.
Prince William and Kate Middleton break royal tradition
Although Middleton tends to follow most royal protocols, she did break a few rules during her wedding day. The 2012 documentary, Prince William at Thirty, revealed the Duke and Duchess of Cambridge showed a lot of affection when they exchanged vows and even kissed in front of the cameras when they greeted the public on a Buckingham Palace balcony. Members of the royal family are normally encouraged to avoid affection during public engagements, though the smooch was completely understandable given it was their wedding.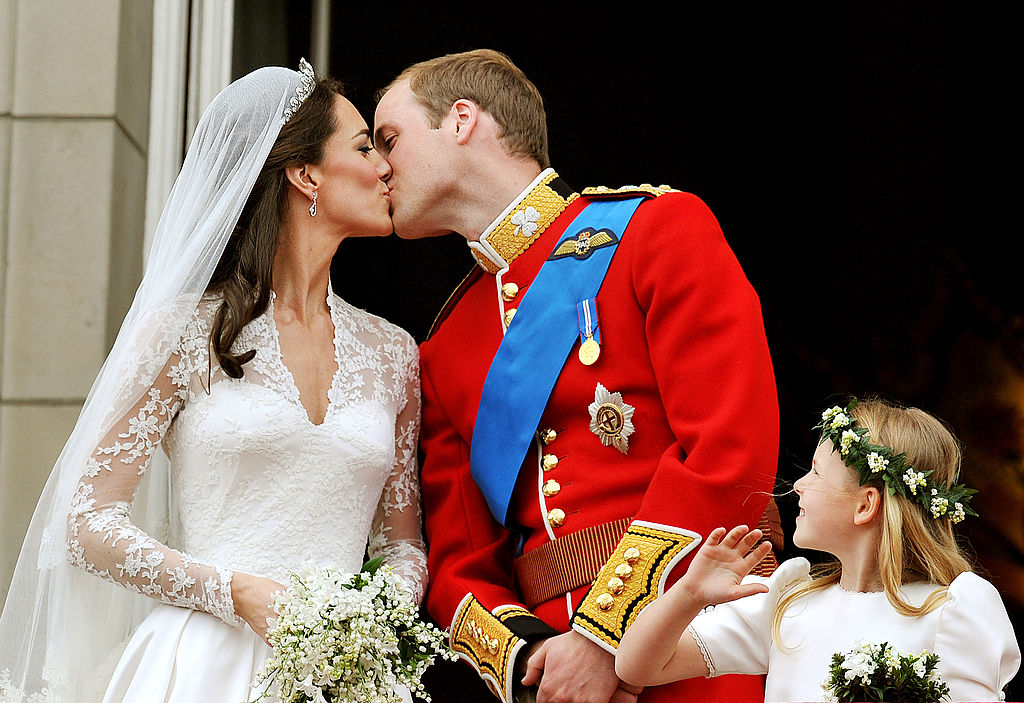 The steamy kiss was not the only way Prince William and Kate Middleton broke royal protocol on their big day. The couple also strayed from tradition when it came to their official guest list. Inside sources claim that the royal family originally planned to invite several hundred people to the wedding, all of whom were heads of state, royalty from other nations, or celebrities.
But once they took a look at the list, William and Middleton decided to go a completely different route. Instead, they ripped up the list and invited over 1,900 of their closest friends and family members. They included some VIPs in the guest list as well, but the majority were friends of the bride and groom.
William and Middleton announce upcoming tour
A year after welcoming their third child, William and Middleton recently announced their plans for a fall tour. The couple will be flying to Pakistan this fall to meet with leaders in the country. The royal family has not revealed any details about the trip, which marks the first visit to Pakistan since Prince Charles and Camilla went there in 2006.
Queen Elizabeth also visited the country in 1997 and 1961. William's late mother, Princess Diana, also stopped by the nation in 1991.
Prince William and Kate Middleton have not commented on the reports surrounding the Cartier Halo.