Why Katie Holmes and Jamie Foxx Were Bound to Break Up
Many of us dream of relationships like the one Katie Holmes and Jamie Foxx seemed to share. While they never confirmed their romance, the two were sometimes seen with their hands on each other, enjoying sweet date nights, and gazing intimately into each other's eyes.
But, unfortunately, the actors have broken up, with multiple sources recently confirming their split. Reports have also offered new details on the six-year romance that suggest it wasn't what it appeared to be. In fact, it even sounds like the relationship was doomed from the very beginning. Here's why.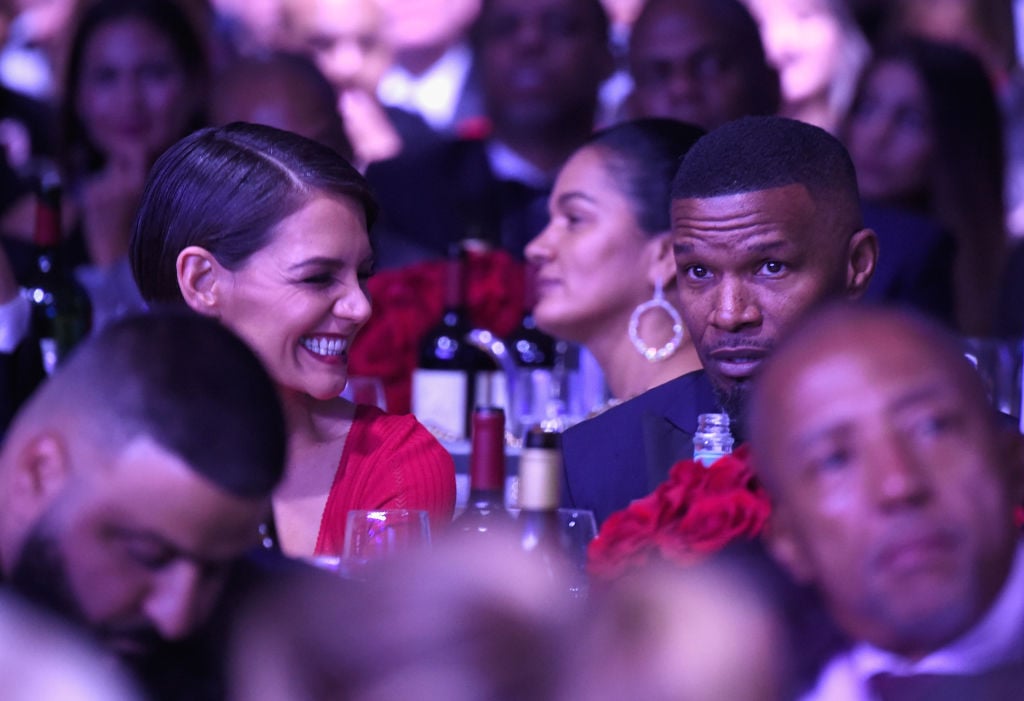 Holmes and Foxx reportedly did not spend much time together
When it comes to relationships, quality time is a major factor in making things work. It's like the more you snuggle and Netflix and chill, the better your chances. But, apparently, that wasn't a priority for Holmes and Foxx.
"They have always been incredibly independent and their lives didn't revolve around each other," a source told Entertainment Tonight on Aug. 19. "They lived separately and in different cities and saw each other occasionally."
The source also claimed that neither star really prioritized the other. So, when their schedules became busier, neither actor "wanted to uproot or totally merge their lives." In the end, they reportedly decided to split up.
"They are just both caught up with their own families, careers and obligations that their relationship had to take a back seat," the insider continued. 
A source previously opened up to People magazine about their hectic schedules, saying in April that they had been trying to make as much time for each other as possible.
"When they can spend time together, they do," the source explained. "When they're busy and they can't, they don't. They are two adults who enjoy each other's company and have for a long time."
But it looks like the schedules finally got the best of them.
Could Holmes and Foxx reconcile?
Yes, it seems like there's a chance that these two could find their way back to each other once their schedules become less busy — at least, that's what the source said.
But, for now, they're focusing on their families and careers. Holmes is busy booking gigs and being a mom to her daughter, Suri, whom she shares with ex-husband, Tom Cruise. And Foxx, who has two daughters from previous relationships, is back dabbling into the music industry.
There's also a possibility that Foxx has moved on
On the other hand, it seems that these two might not get back together, largely because Foxx has been seen out with several women amid the breakup.
Us Weekly reports that the Django Unchained actor recently went out with a "blonde mystery woman." According to the publication, the two enjoyed a night out on Aug. 15 at a restaurant and lounge. As of writing, it's unclear who the woman is or what her relationship to Foxx is.
Days later, he reportedly attended a club with brunette. They were seen leaving the venue hand-in-hand before driving away in Foxx's car. Multiple outlets later identified the woman as Sela Vave, a singer, songwriter, and model. But reports say she isn't his new love interest.
"She's just a girl he's helping out, a young singer," a source told People magazine on Aug. 17.
According to E! News, they only went to the club in celebration of rapper Lil Pump's 19th birthday.
Of course, anything can happen. So you never know — maybe they will reunite, or perhaps they won't.