Why Kelly Clarkson Doesn't Trust Blake Shelton When It Comes to Drunk Texting
Kelly Clarkson and Blake Shelton are good friends. Find out why she still doesn't trust him with drunk texting and more.
Fans of The Voice know Kelly Clarkson and Blake Shelton love teasing each other. They're friends who keep in touch when they're not working too. But there is one reason she doesn't completely trust the country singer. Find out the reason and more about their friendship.
Blake Shelton and Kelly Clarkson were friends before 'The Voice'
The singers were friends before they worked together as coaches on The Voice. That's because Clarkson's husband, Brandon Blackstock is his manager. They have talked about their friendship and being competitive on the show.
"Make no mistake, Kelly is my friend," Shelton told People. "But when she's on this show, she is my enemy."
Clarkson talked about how her husband handles them working against each other on the reality show. "He's like Switzerland," she said. "I always do say though that at least I put out — so unless he's doing something I don't know about, I should win!"
Clarkson also revealed how her daughter, River Rose feels about Shelton. "My daughter loves Blake," she said. "He has this gravitational pull. I've even seen him with Gwen [Stefani]'s son Apollo and her kids, and he's like this tree that they all climb on."
Shelton doesn't want her to officiate his wedding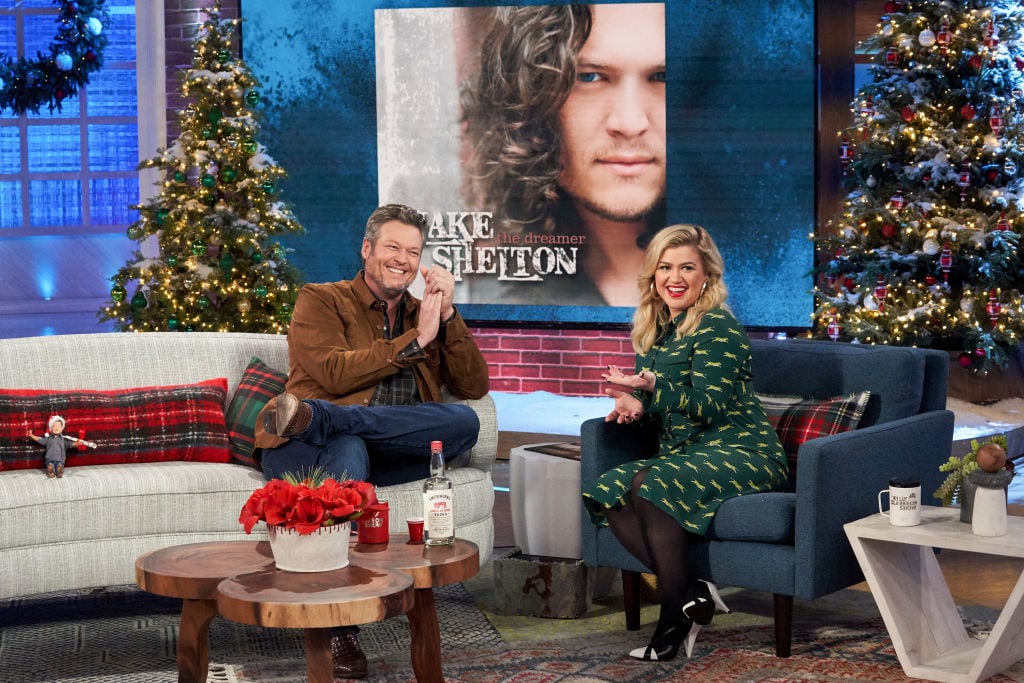 The singers are so close that Shelton almost officiated Clarkson's wedding to her husband in 2013. However, the press found out her wedding date so she eloped instead.
Many fans are wondering if Shelton and Stefani will get married. If so, will Clarkson be the one to officiate their wedding?
"I would want it to be a short ceremony, and if Kelly was doing it, she would ramble on for hours," Shelton joked with Entertainment Tonight. There have been many rumors that he's engaged or planning to get married.
Stefani also joked about the rumors. "Blake was saying some stuff about cubic zirconia, so we'll see," she said. "I have so many rings picked out — have you seen my jewelry box?"
It's obvious Clarkson and Shelton are very close if he almost officiated her wedding. However, there is one thing Clarkson wouldn't trust him with and that's embarrassing texts.
Clarkson said he can't be trusted when it comes to drunk texting
The talk show host warned Hoda Kotb on The Kelly Clarkson Show that Shelton can't be trusted. She told Kotb that he loves sharing embarrassing texts and pictures.
"Never send that to Blake Shelton," Clarkson said according to E! News. "I know you love Blake, but he will take—never trust him with something important, footage wise. No, I, I'm…just don't trust him!"
Clarkson went on to say she receives drunk texts from famous friends and also gave them advice. "No, I have a few friends in the limelight that randomly do that," she said. "The Pentatonix are one as well. And it is great. I'm like, 'Y'all, should not do that. This is blackmail.' I never do that I'm afraid people will show it."
It sounds like Clarkson would trust Shelton to handle her wedding but not have embarrassing texts from her. That's probably safe considering their friendly rivalry.