Why Khloé Kardashian's First Kiss With Tristan Thompson Was 'Uncomfortable'
Khloé Kardashian says she and Tristan Thompson's first kiss was something she didn't expect. 
The Keeping Up With the Kardashians star and the Cleveland Cavaliers player began dating in 2016. Viewers of Keeping Up With the Kardashians watched as the pair went through multiple ups and downs, including their February 2019 breakup. Thompson is also the father to Kardashian's daughter, True Thompson, 2.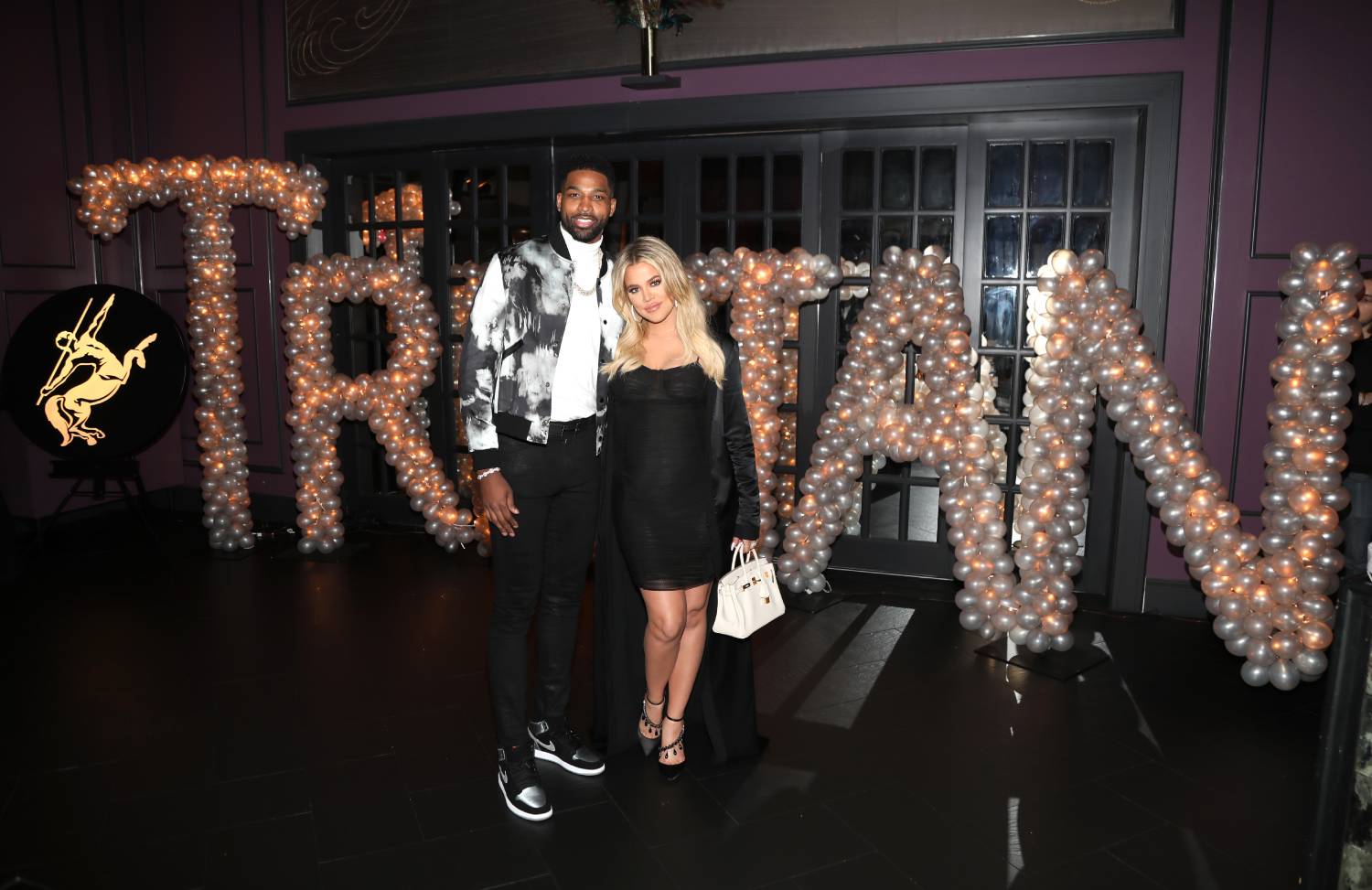 Khloé Kardashian and Tristan Thompson met through a mutual friend
Kardashian's love life has been on display since Keeping Up With the Kardashians aired in 2007. The Revenge Body star dated basketball players Rashad McCants and James Harden and rapper French Montana. Most famously, Kardashian married Odom in 2009 after 30 days of them knowing each other. The pair later divorced in 2016 after seven years of marriage.
RELATED: How Lamar Odom Reportedly Feels About Khloé Kardashian Getting Back Together With Tristan Thompson
Once she became a single woman, Kardashian admitted she had a hard time getting ready to date again. During Keeping Up With the Kardashians' 10th-anniversary special, Kardashian said NBA star Brandon Jennings was the one who connected Kardashian to Thompson. Jennings thought Kardashian and Thompson would have fun together, but Kardashian didn't want to go out with Thompson by herself for their first date. 
"I was at the Bel-Air hotel. [Tristan] came to the dinner because I didn't want to go on a blind date, so Brandon kind of ambushed the blind date," Kardashian recalled. "So, I had a bunch of people, and he brought him, and we just connected."
Khloé Kardashian says her first kiss with Tristan Thompson was public and 'uncomfortable'
After their first date, Kardashian and Thompson began taking their relationship to the next level. They started having public outings together by themselves or with friends. In February 2018, two years into their connection, Kardashian recounted her and Thompson's first kiss as part of a Love & Lust Week on her app, Khloé, with a K, per E! News. 
RELATED: How Old Was Khloé Kardashian When She Had Her First Kiss?
"Oh my goodness, I definitely remember our first kiss! I was so nervous," Kardashian said. "I liked Tristan so much. It was after a night of us hanging out, and we were with a bunch of friends at one of their houses. We were all drinking and telling stories and just enjoying each other's company. I forget what led up to that moment, but I do remember that we both started kissing in the kitchen in front of everyone."
Kardashian also said the public display of affection from her and Thompson was something none of the other party guests expected.
"I think we were really passionate, so we made everybody a little uncomfortable, LOL!" Kardashian said. "It was pretty magical! I never want to forget that moment."
Khloé Kardashian said she knew Tristan Thompson was meant for her 'very quickly'
Kardashian and Thompson's relationship fell apart in February 2019. Several months after Thompson allegedly cheated on Kardashian while pregnant with True, Thompson reportedly kissed Jordyn Woods at his party. The cheating scandal resulted in Kardashian leaving Thompson, and the pair began working on their co-parenting relationship. Recently, though, Kardashian and Thompson have reportedly been working on getting back together after more than one year apart. 
RELATED: Does Khloé Kardashian Think Tristan Thompson Has Changed Since Their Reunion?
Although she hasn't confirmed if they're back together, Kardashian has said she believes Thompson is "the one" for her. After having "in-depth conversations" with Thompson, Kardashian was hopeful that their relationship would thrive. 
"I knew Tristan was the one very quickly—I have never felt so comfortable or so safe with someone," Kardashian said.