Why Kim Kardashian and Kanye West Didn't Want Their Wedding on 'Keeping Up with the Kardashians'
Kim Kardashian and Kanye West didn't want their wedding featured on Keeping Up with the Kardashians, which may sound odd because the couple is known for being open and candid about their lives. Learn why cameras for the show weren't allowed at their wedding ahead.
Why Kim Kardashian and Kanye West didn't want their wedding on 'Keeping Up with the Kardashians'
Kardashian, 38, and West, 41, tied the knot five years ago in front of friends and family sans a reality show camera crew. Reportedly, the couple wanted no cameras at the ceremony itself. Kardashian explained why on Twitter.
"We are not filming our wedding for Keeping Up With The Kardashians. You will see everything leading up til and after!" she shared with her 60 million Twitter followers.
Kardashian added that she and West wanted privacy during the wedding ceremony. "As much as we would love to share these memories, privacy is our main priority," she said.
As expected, scenes from the ceremony itself were never featured on Keeping Up with the Kardashians but viewers of the reality show did get to see everything before and after the ceremony.
Walking down the aisle with Caitlyn Jenner, Kardashian wore a gown designed by Riccardo Tisci while Andrea Bocelli sang "Ave Maria," according to E! News.
Guests weren't allowed to use their phones
Furthering their efforts to keep their ceremony private, Kardashian and West asked their guests to refrain from using their cell phones.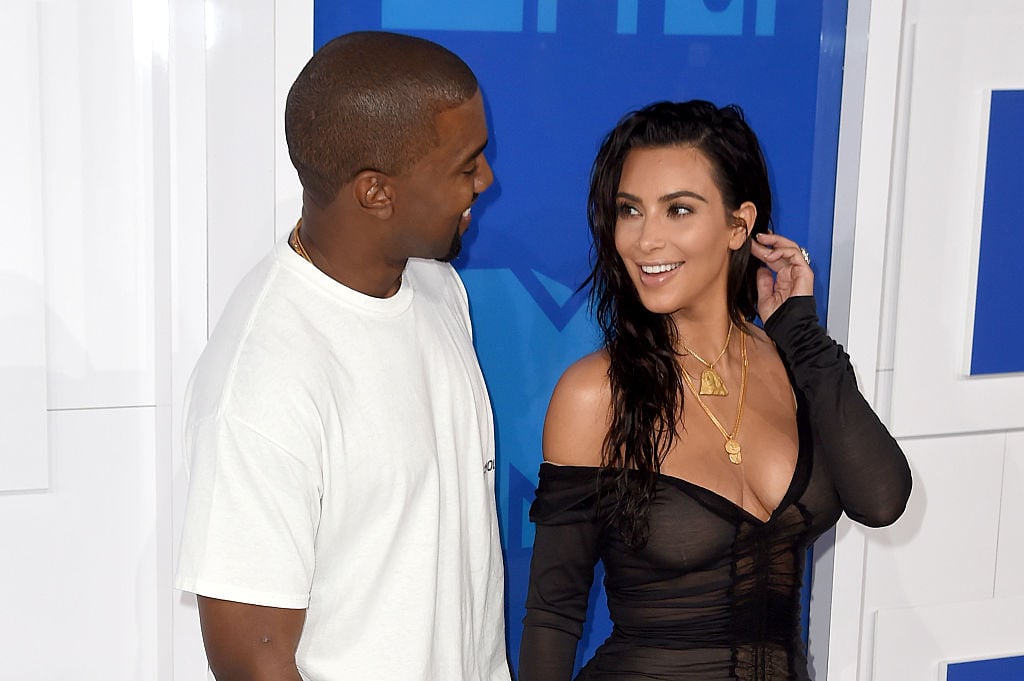 To keep details of the ceremony even more private, the couple made guests sign non-disclosure agreements.
When did Kim Kardashian and Kanye West get engaged?

On Kardashian's 33rd birthday, West proposed to her at a baseball stadium in San Francisco. An orchestra played one of Kardashian's favorite songs by Lana Del Rey while West popped the question using the stadium's jumbotron.

In all, West reportedly spent $3.3 million on the proposal. The majority of that multimillion-dollar cost went toward a 15-carat engagement ring by Lorraine Schwartz.

Wanting the ring to be perfect for his future wife, West commissioned multiple jewelers to create varying designs.

"I worked with four different jewelers, three rings were made, only one, like, actually hit the finger with Lorraine [Schwartz]. She came through," West later said.
As for the surprise proposal? Kardashian had no idea her boyfriend planned to propose. She thought they were going to the stadium to celebrate her birthday.

https://www.ellentube.com/video/kim-kardashians-amazing-proposal1.html
"I truly was surprised," Kardashian told Ellen DeGeneres on The Ellen DeGeneres Show in 2017.

Where did the couple get married?
West and Kardashian held their wedding at a 16th-century fortress in Florence, Italy, because they conceived their oldest daughter, North, there.

Wedding celebrations began in France before guests were flown to Italy for the official ceremony. The wedding ceremony itself reportedly cost an estimated $2.8 million.

Kardashian celebrated her fifth wedding anniversary by sharing pictures on her Instagram.

"This was my wedding day almost 5 years ago in Italy. We flew in from Paris and our glam was rushed as we were trying to make it on time! We barely got my veil in as I was being pushed out the door so fast to walk down the aisle because Andrea Bocelli had started singing and I couldn't miss it. I had no idea it was really him until I got to the aisle and screamed inside! So many amazing memories," she captioned the post.