Why Kourtney Kardashian Once Said She Was 'Embarrassed' to Be Kylie Jenner's Sister
The Kardashian-Jenners are one of the most famous families in entertainment. Many people try to associate with them in hopes of getting some press attention as well.
However, in one instance, Kourtney Kardashian admitted she was "embarrassed" to be related to her youngest sister, Kylie Jenner.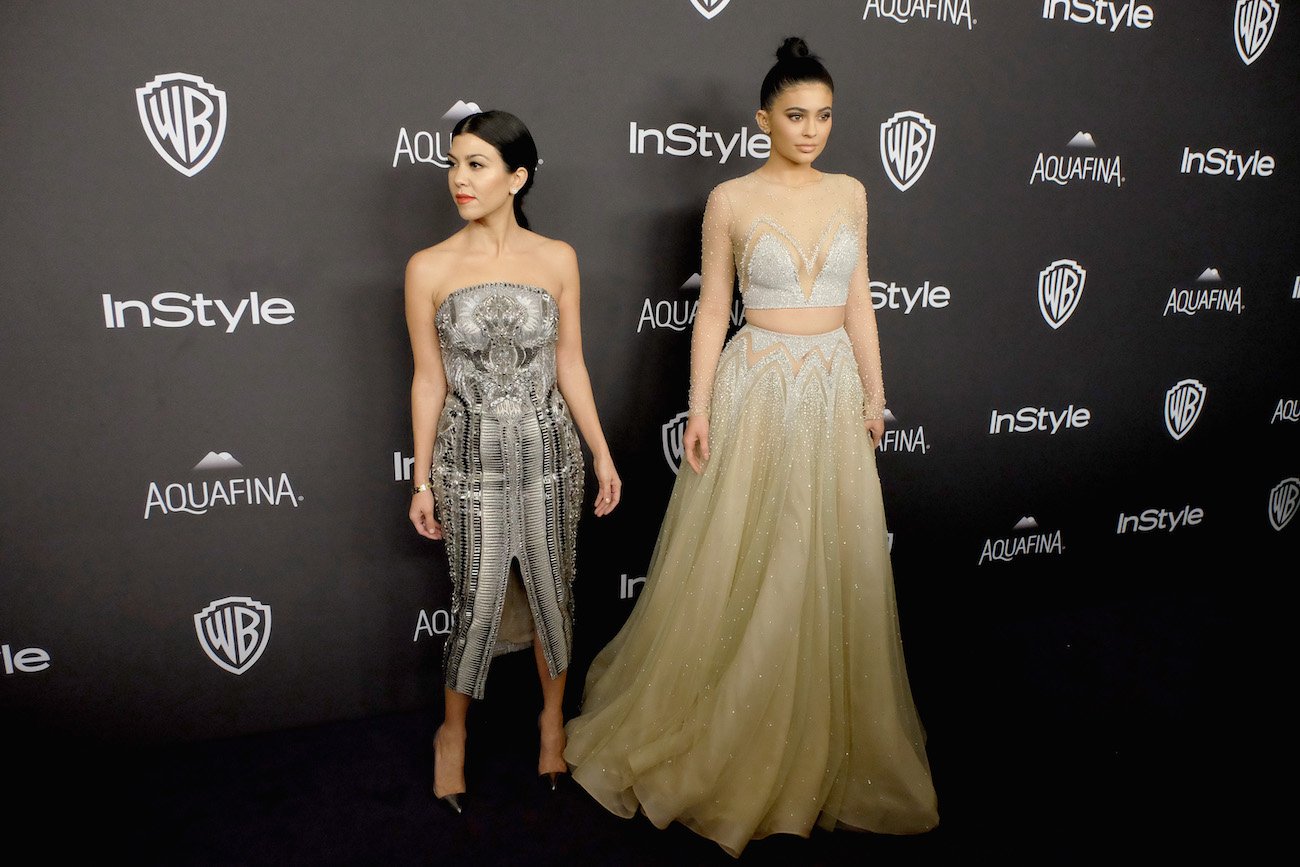 What is the age difference between Kourtney Kardashian and Kylie Jenner?
Kardashian was born on April 18, 1979. Meanwhile, Jenner was born on August 10, 1997. This means they have an age difference of 18 years.
Kardashian is the eldest child of Kris Jenner and Robert Kardashian Sr. Her parents divorced in 1991, when Kardashian was about 12. Afterward, Jenner married Caitlyn Jenner and had Jenner in 1997.
Why Kourtney Kardashian was once 'embarrassed' to be related to Kylie Jenner
RELATED: Are Kylie Jenner and Travis Scott the New Kourtney Kardashian and Scott Disick?
Having an 18-year age gap means Kardashian and Jenner do not always see things eye to eye. In fact, when Jenner was still in elementary school, Kardashian was already a working adult. As such, the two of them had moments of clashing.
In a video from February 2021 called "Get Ready With Us: Kylie and Kourtney," Kardashian shared that the family went on a trip to Disney World when Jenner 8 and Kardashian was 26. There, their mother, Kris Jenner, let Jenner get anything she wanted.
"Every store we went into, Mom would get you guys whatever you wanted," Kardashian said. "Like, you literally had everything that you wanted."
Kardashian continued, "We went into this one store, and you wanted a Tinker Bell nightgown. Mom was like, 'Kylie, no.' She just said no for whatever reason, which is rare. And you couldn't handle the answer 'no.'"
This led Jenner to throw a huge tantrum. Then, Kardashian told her, "You're the biggest brat. I'm embarrassed to be related to you.' … I was like, 'There's kids that have no food, that have no homes, that have nothing. You've gotten everything in this whole trip and you don't get a Tinker Bell nightshirt and you can't handle it?'"
However, things eventually calmed down. Kris made the two of them apologize to each other, and Kardashian shared she is not embarrassed to be Jenner's sister.
Kylie Jenner has a similar age gap with daughter Stormi
RELATED: Is Kylie Jenner a Hypocrite for Putting Stormi in the Spotlight so Young?
Jenner gave birth to her daughter, Stormi, when she was 20 years old. In the video, she shared with Kardashian that Jenner's relationship with Kardashian reminds her of her relationship with Stormi.
"I always think about you when I think about Stormi because me and her are 20 years apart," Jenner said.
Jenner also admitted that Stormi is similar to her and cannot handle being told no. "I feel like Stormi has that in her, too," Jenner said.
Kardashian advised her younger sister, "So maybe you can be understanding with her when you do say no, but also teach her the lesson."