Why Kumail Nanjiani and Hasan Minhaj Think 'Harold and Kumar' Deserves More Credit Than It Gets
Harold and Kumar Go to White Castle may not be remembered for its cinematic excellence, but the Kal Penn and John Cho comedy still had a major impact on modern culture. The film broke numerous Asian stereotypes, which is why comedians Kumail Nanjiani and Hasan Minhaj believe it deserves much more credit than it gets.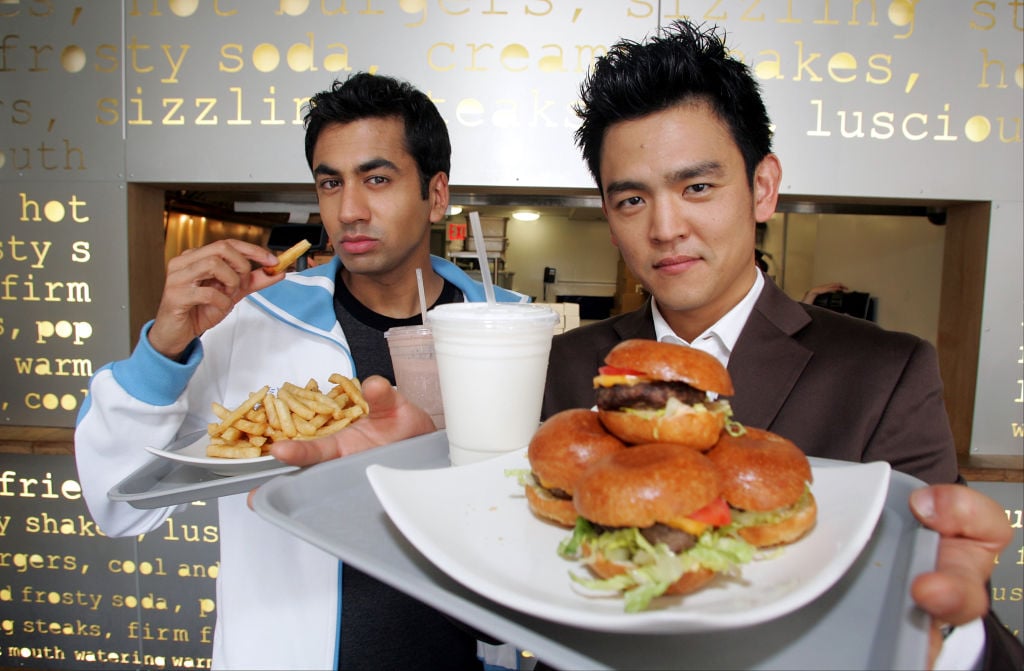 'Harold and Kumar Go to White Castle' was released in 2004
The first of three films, Harold & Kumar Go to White Castle introduced Kumar Patel (Penn) and Harold Lee (Cho) as two Asian-American best friends. The stoner roommates — one Indian-American and one Korean-American —  get the munchies one night and become fixated on getting burgers from White Castle.
As they drive around their New Jersey town looking for an open White Castle, Harold and Kumar encounter racist cops, rabid raccoons, studious Asian friends, a cheetah, and a weird version of Neil Patrick Harris (who portrays himself). 
Is a new 'Harold and Kumar' movie in the works?
The film has two sequels — Harold & Kumar Escape from Guantanamo Bay which was released in 2008 and A Very Harold & Kumar 3D Christmas which came out in 2011. Both Penn and Cho have indicated they are interested in doing another sequel, but there are currently no plans in place. 
"We would love to do a fourth movie," Penn told Variety in March 2020. "John Cho and I text about it all the time. Jon Hurwitz and Hayden Schlossberg — who created and wrote all three movies in the franchise — we all would love to do one. I think we all, thankfully, have the blessing of being really busy right now and want to find the right venue and the right timing."
Kumail Nanjiani and Hasan Minhaj talk about the impact of the film
In a video chat for Variety, reporter Audrey Yap talked to Minhaj, Najiani, Ally Maki, Lulu Wang, and Jon M. Chu about Asian representation in film. When discussing what his first impression of Asian success looked like, Minhaj detailed his experience watching Harold & Kumar Go to White Castle for the first time when he was a freshman in college in 2004. 
"I remember watching the movie, and then being like, 'Oh, they did it, it's done,'" said Minhaj. "'Like that's all the representation we're going to see…John Cho, Kal. Like Kal beat me to it, he's the funny desi guy.'"
The comedian — who's known for his Netflix series Patriot Act, as well as his roles on The Daily Show and The Spy Who Dumped Me — said that at the time, he was sure the film would be the last mainstream Asian representation he'd see on-screen. But now, 16 years later, he realizes it was actually an important starting point for Asians in cinema. 
Nanjiani — who stars in a number of popular films, including The Big Sick and the upcoming Marvel movie, The Eternals —  also talked about his first impression of  Harold & Kumar. He noted that he was surprised to see a brown Asian man being represented in such a modern way. 
"It was the first time I'd seen in mainstream American pop-cultural entertainment, a brown guy who didn't fit any of the stereotypes," said Nanjiani. "He was a pothead, I had never seen that, but I think that goofy comedy did a lot more than people give it credit for."