'Law & Order: SVU': Christopher Meloni Made Mariska Hargitay Laugh During Their First Screen-Test to 'Control the Room'
According to 'Law & Order: SVU' star Christopher Meloni, when he and Mariska Harigitay went in for their screen-test, he told her a joke to control the room.
It's hard for Law & Order: SVU fans to imagine anyone other than Christopher Meloni and Mariska Hargitay in the roles of Elliot Stabler and Olivia Benson. But according to Meloni, the actors had some competition when they first auditioned for the show. 
To set them apart, Meloni wanted to go in with confidence. So during their screen-test, he told Hargitay a joke to make it feel like they controlled the room.
Seven actors were considered for the roles of Benson and Stabler on 'Law & Order: SVU'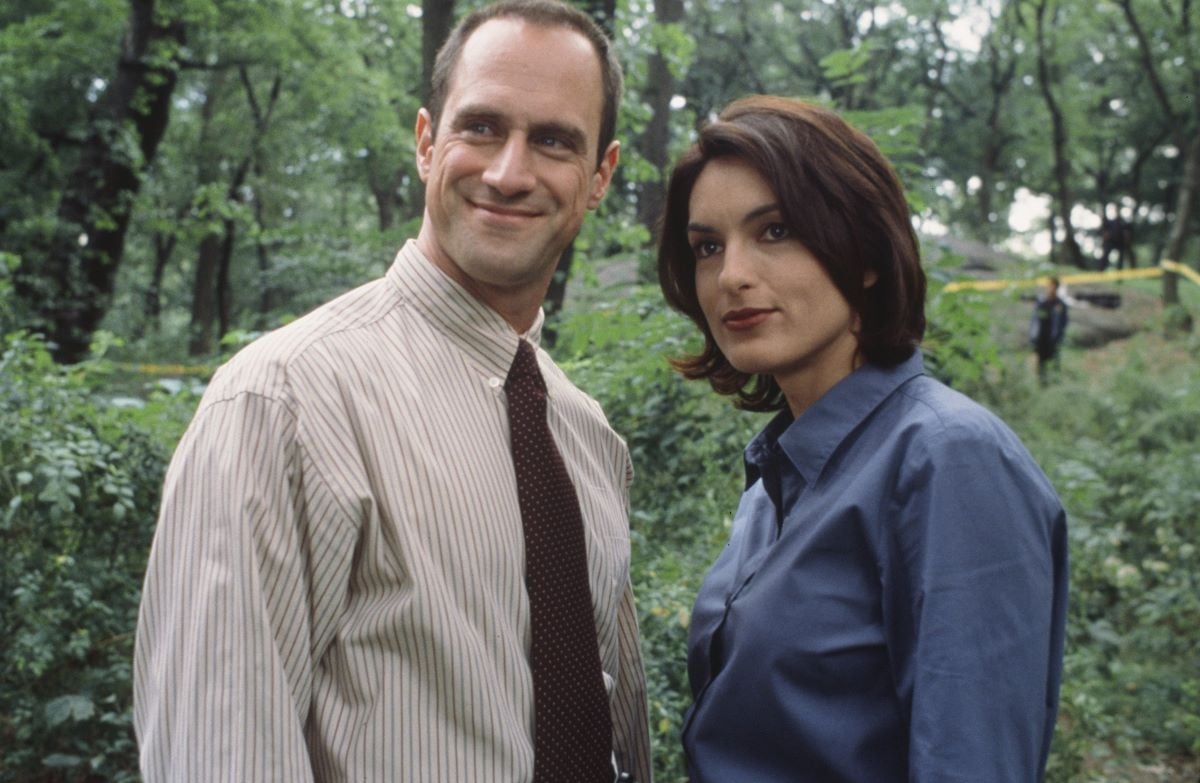 Law & Order: SVU was developed as a spinoff of the highly popular NBC series, Law & Order.  So when it came time to cast the leads for the procedural drama, showrunners wanted to make sure they had the right pair. 
As revealed by Ted Kotcheff — who served as the executive producer on Law & Order: SVU from seasons 2 to 13 — there were six actors in the running for the roles of Stabler and Benson.  
In his book, DIrector's Cut, Kotcheff noted that along with Hargitay and Meloni, actors Samantha Mathis, Reiko Aylesworth, Tim Matheson, John Slattery, and Nick Chinlund were being considered to lead the show. 
Christopher Meloni and Mariska Hargitay laughed their way into their 'Law & Order: SVU' screen test
Meloni and Hargitay started their Law & Order: SVU journey together. And they were paired to do a screen-test in front of showrunners and executives. 
In an interview with NPR, Meloni revealed that he told Hargitay a joke just as they walked in. And instead of ending it, he made the executives wait while he finished his story. 
"First of all, we were walking down the hall, and I was telling her joke, telling her a story that was a funny story," Meloni recalled.  "And we walked into the room with all the suits and, you know, all the decision-makers. And I said, 'Hold on guys; let me just finish this story.'"
"And from that — the chutzpah — I thought about it afterward," he continued. "But that was the idea. You guys will hold on 'cause we got control of the room. We're in here, and we got control of everything. We're going to control this scene and our characters — Even though I hadn't seen what the others had done — I walked out of that room going, wow, that was it."
Before landing the role on 'Law & Order: SVU,' Christopher Meloni had mastered the art of auditioning
Before landing his role as Elliot Stabler on Law & Order: SVU, Meloni appeared in several TV shows and films. He told NPR that he tried to master the art of auditioning as an up-and-coming actor. And he realized that going into an audition with confidence was the key to landing a role. 
"What an absolutely separate art it was from actual acting," Meloni explained. "And at the end of the day, it was more of a Zen practice and a psychological — you had to find psychological tricks for yourself to trick yourself into confidence and to almost manipulate the room. If you're trying to please them, it's just like any relationship, you're toast."
The actor noted that he learned to walk into his auditions with the character's persona in mind. "Once you're able to do that, all of a sudden, you go into auditions feeling more empowered," Meloni added. "And you walk out of being far more satisfied and empowered."