Why Lin-Manuel Miranda Got So Emotional Meeting a Famous Astrologer
Lin-Manuel Miranda, the award-winning composer, producer, and singer, is widely known for creating the Broadway musicals In the Heights and Hamilton. Although Miranda was born in New York City, he remains very proud of his Puerto Rican descent and spent many summers with his grandparents in Puerto Rico. He has also been an active supporter of the ongoing relief efforts for the island after the devastating Hurricane Maria.
As part of a new documentary film, Miranda got the chance to meet a Puerto Rican hero of his: an astrologer named Walter Mercado. Why was the experience so meaningful to the Broadway sensation?
Lin-Manuel Miranda had a surprise appearance in the Netflix documentary 'Mucho Mucho Amor'
RELATED: What Movies and TV Shows Has Lin-Manuel Miranda Been In?
Miranda's familiar voice may surprise viewers of the new Netflix documentary, Mucho Mucho Amor; The Legend of Walter Mercado. Miranda's voiceover actually opens the film.
"Growing up with Walter Mercado, I just remember thinking how dramatic he was, and how fabulous he was," he says in the doc. "… It was just a staple of our childhood." But as a young kid watching Mercado in Puerto Rico, Miranda never dreamed he'd get to meet the famous psychic.
Who is the TV psychic/astrologer Walter Mercado, and why is he so famous?
Millions of people regard Walter Mercado as the world's most famous astrologer. Still, many have never heard his name (mostly those not in the Latinx community). The nearly indescribable, iconic, non-gender-conforming astrologer/psychic was born in Puerto Rico in 1932. 
In the documentary Mucho Mucho Amor, he describes himself as a shy, insecure, overprotected child who was "always dreaming." Though he was born in a very poor, rural area of the island, he liked to play the piano and read books.  
"I suffered a lot," he says in the film. "I lost a lot." However, Mercado remains a burst of light and humor throughout the doc.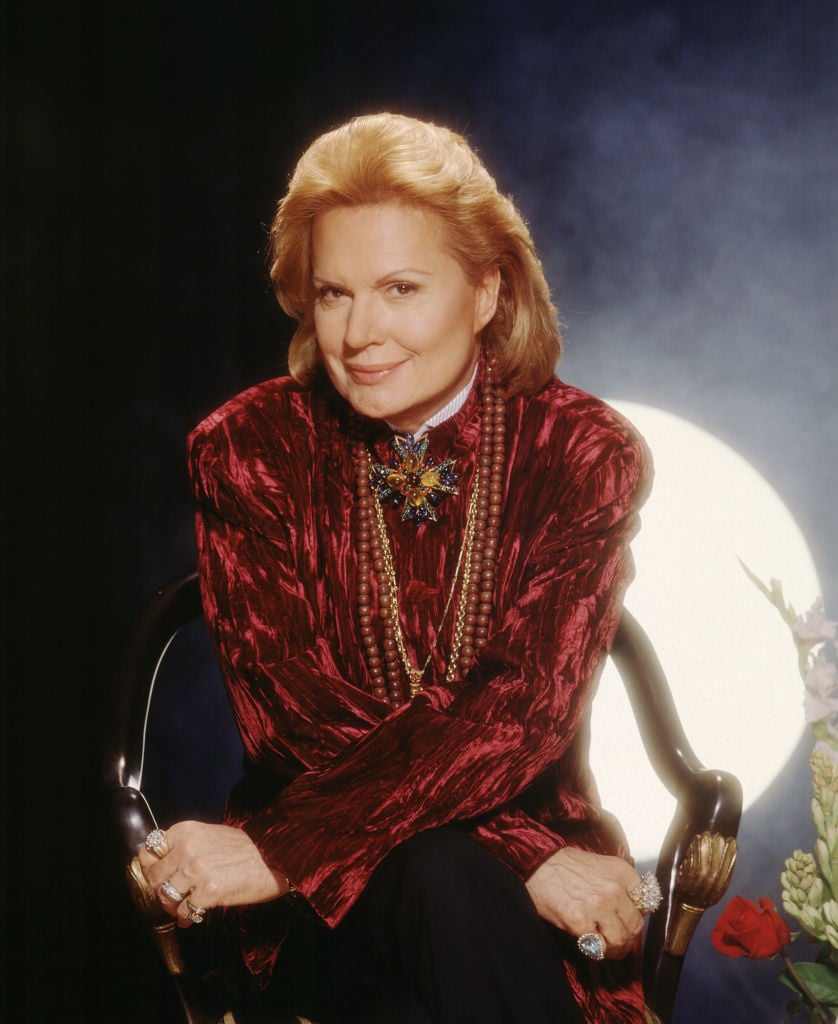 RELATED: These Are the Presidents Who Believed in Astrology (and How Donald Trump Compares)
In Mucho Mucho Amor, Mercado tells the story of how he became who he is today. As a boy, he saw an injured bird in his yard, picked it up, and prayed over it, "giving life to that bird." A neighbor observed as the bird recovered and flew away. 
"This boy has the grace of God to heal people," she concluded. Following this incident, word spread that the young Mercado possessed healing powers and people lined up at his door to touch him or ask for his blessing. 
"I turned into Walter of the Miracles," Mercado says in the documentary on Netflix.
How the psychic reached the height of his television career
Mercado attended the University of Puerto Rico where he studied dance and theater. Then, in 1969, the 37-year old was asked to perform a 15-minute astrology segment on local television. (His coworkers had noticed he was always going on about people's "signs," so they knew he'd be up to the task).
Mercado's viewership would grow rapid-fire; eventually, he went on to reach over 120 million Latinx viewers per day, reading the horoscopes on television. He was known for wearing heavily jeweled, Liberace-like, opulent capes. Mercado even had a special robe or cape for every different show. Each one, Mercado says in Mucho Mucho Amor — of the nearly 1,500 capes — has their own story.  
"I want to look beautiful," he continues. "I want to look alluring."
How did 'Hamilton' star Lin-Manuel Miranda meet Walter Mercado?
So, how does Lin-Manuel Miranda factor into Mercado's story?
One of the producers on Mucho Mucho Amor, Alex Fumero, arranged a meeting in January 2019 between Mercado and Miranda. (Miranda was performing Hamilton in Puerto Rico at the time.) Late in the documentary, Miranda is shown riding up in the elevator to meet Mercado.
"This is very weird," Miranda says. "… I don't know anything about Walter Mercado other than him telling me about my day and my life. If you talk to anyone my age, we grew up with him."
RELATED: How 'Hamilton' and Lin-Manuel Miranda Are Supporting the George Floyd Protests, and How You Can Help
However, once the two Puerto Rican men meet, it's pure joy. (Or mucho, mucho amor, as Mercado always signed off his TV program). The Hamilton creator gushes to Mercado: "I grew up watching you with my grandmother. We watched you every morning."  
Miranda's grandmother would shush him while they waited to hear their horoscopes each day. The nostalgia, as well as the lasting impact the psychic had on the Puerto Rican population, made meeting Mercado "surreal." Miranda even started to get emotional when Mercado told him, "I want you to know, you have a friend and admirer in me."
Lin-Manuel Miranda was so excited to meet Walter Mercado he put their selfie on Twitter
In a tweet after the meeting, Miranda was still starstruck.
"You guys don't understand, 'I met @waltermercadotv today and he gave me a Puerto Rican cape!" Miranda wrote. (Mercado previously wore the cape, a sparkly, fabulous robe version of the Puerto Rican flag) at a parade celebrating the island. In Mucho Mucho Amor, Miranda couldn't stop raving about the astrologer, saying:
He made me believe. I just think he's this positive force. He's literally sending positive vibes through the television at you, one astrological sign at a time. And then signing off with 'mucho, mucho amor.'
Sadly, Walter. Mercado passed away in November 2019 at the age of 87. But as the documentary Mucho Mucho Amor concludes, his spirit and message of love and positivity will never fade.