Why Little Richard Fired Jimi Hendrix From His Band
Revered as the king of rock, Little Richard deserves all the accolades and tributes pouring in upon his passing. A pioneer and musical force, he influenced everyone from The Beatles to Elvis Presley to Prince, and generations came to know him, his songs, and his flashy style.
He was already a star by the '60s, and behind the scenes, Little Richard gave many of the world's rock stars a platform to help launch their careers. Jimi Hendrix was one of them, but there was a point in their history when he hired and fired the late guitar genius.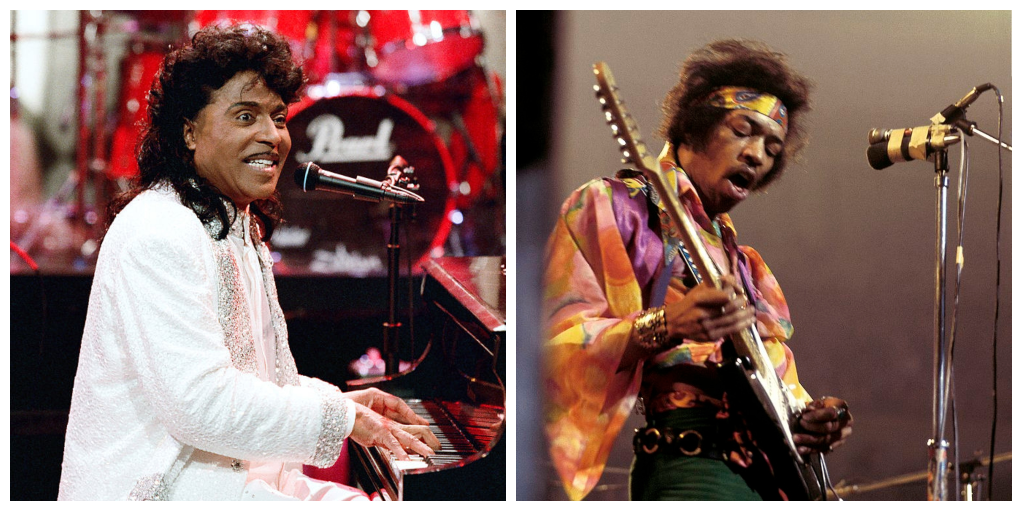 How Little Richard met Jimi Hendrix
At one point, Little Richard was the common denominator between many of music's giants. He met Jimi Hendrix on a tour stop in Atlanta, GA.
According to Charles White's The Life and Times of Little Richard: The Authorised Biography, the two crossed paths when a young Hendrix was playing for Gorgeous George, a soul singer/emcee and tailor who was known for his stylish outfits and stage presence.
Little Richard told White that Hendrix was stranded and broke. "My bus was parked on Auburn Avenue and Jimi was staying in this small hotel. And so he came by to see us. He had watched me work and just loved the way I wore these headbands around my hair and how wild I dressed."
He said Hendrix wanted to come on the road with them, and his manager "Bumps" Blackwell (who knew the Hendrix family) gave Hendrix's parents a call to get permission. The father told him, "Jimi just idolizes Richard. He would eat ten yards of s*** to join his band."
Hendrix joined Little Richard's tour as Gorgeous George's valet and wound up hitting the stage for many of the shows.
Hendrix toured with Little Richard in the '60s
Though their musical styles differed, Little Richard acknowledged Hendrix's talent and allowed him to play with his bands, The Upsetters and the Royal Company.
He got along well with everyone, and when he took the stage, would captivate audiences when he played the guitar with his teeth or behind his back.
Little Richard's brother, Marquette Penniman, told White that Hendrix picked up a lot of things from Richard during that time, including how to perform with charisma. Hendrix was described as quiet and introverted, but Little Richard helped him cultivate another side.
Hendrix also recorded a few songs with Little Richard for Vee Jay Records including the 1965 release, "I Don't Know What You Got But It's Got Me." While he loved playing his guitar with the band, Hendrix wasn't exactly a fan of tour life.
Little Richard kicked Jimi Hendrix out the band
Before he became a solo star, Hendrix was initiated into life on major national tours with Little Richard. But this led to some disagreeable moments. There were certain rules in place for the band, one of which was showing up on time for commitments and no upstaging.
Robert Penniman (Little Richard's brother) was the tour manager and noted Hendrix had a habit of being late and it's one of the things that led to his firing. He's the one who did it on his brother's behalf. He said:
I fired Hendrix, who was using the name Maurice James all the time I knew him. He was a damn good guitar player, but the guy was never on time. He was always late for the bus and flirting with the girls and stuff like that. It came to a head in New York, where we had been playing the Apollo and Hendrix missed the bus for Washington, DC. I finally got Richard to cut him loose.
Penniman stated that Hendrix called them when they hit DC and they exchanged words, and he told him his services were no longer required and why. "I was running the road for Richard and I didn't accept that kind of bull****."
Hendrix and Little Richard parted ways and each made their mark in rock, but they didn't get a chance to reconcile their relationship before Hendrix passed away. Perhaps now the two legends can rock out in the afterlife.