Why 'Masterchef's' Gordon Ramsay Is Personally Inspired To Fight Against Domestic Violence
World-renowned chef Gordon Ramsay is known for his culinary expertise and hot temper. With several Michelin-starred restaurants to his name as well as a plethora of television programs he hosts, Ramsay has built a mega-million brand behind his name that seems to keep growing.
Also a hands-on family man, Ramsay and his wife Tana share five children and just celebrated their youngest son Oscar's first birthday. Though Ramsay's on-screen outbursts and language have become legendary, the famous chef is actually an activist against domestic violence due to the fact that he witnessed the atrocity first-hand during his childhood.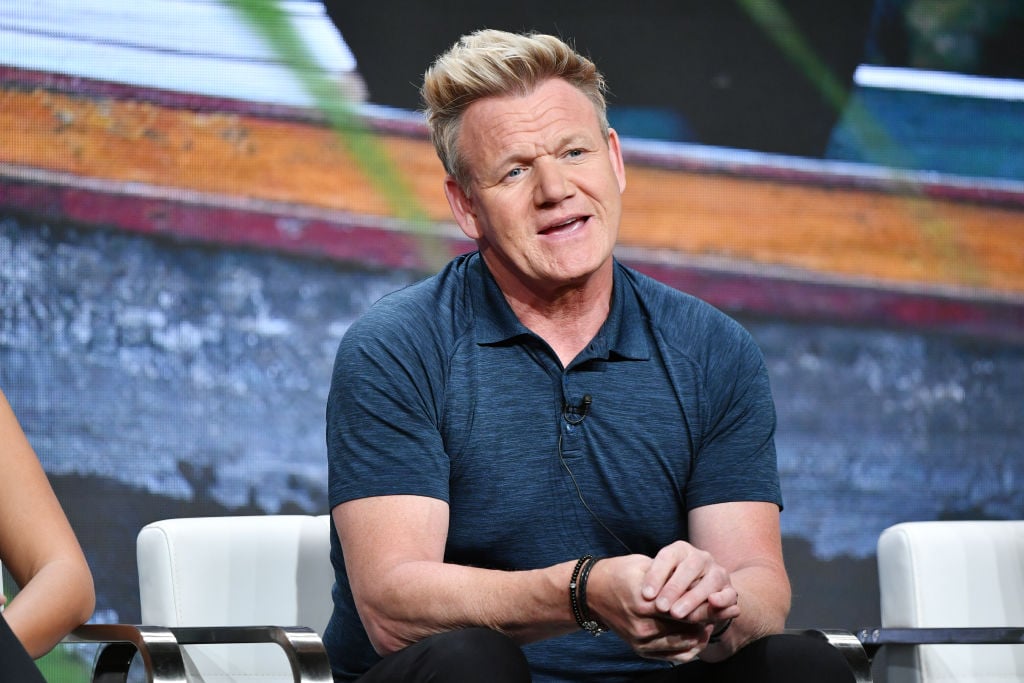 Ramsay went from rags to riches
The Masterchef was born in Glasgow, Scotland and raised in England. Growing up with a brother and two sisters, Ramsay focused on soccer and even thought of a career as a professional athlete until a knee injury cut his plan short.
After earning his degree in hotel management, Ramsay made his way through the ranks building his culinary career. Now one of today's most popular television personalities in the food space, Ramsay hosts a menu of shows including Masterchef, Hell's Kitchen, Hotel Hell, The F Word, and Kitchen Nightmares, and recently added the adventure series Uncharted on National Geographic. 
While he's achieved celebrity status and a great deal of affluence, Ramsay doesn't forget the tough times he endured living in poverty as a child. "As kids, my brother, sisters and I moved around to more homes and schools than I can remember," he wrote in an article for CNN.com in 2007. "Dad would often have a fallout with someone at work and get fired, and because our home often came with his job, we would become homeless and have to move again."
Ramsay witnessed domestic violence as a child
In his essay for CNN.com, Ramsay wrote of witnessing his father abusing his mother for years during his childhood.
"Growing up, my father was less than a perfect role model. I watched how he battled alcoholism and how he became terribly violent with my mum, to the point where she feared for her life," Ramsay shared. "Every time he got violent, any present that my brother, sisters, or I had given mum would be smashed, simply because he knew it belonged to her. There were instances when the police were called to take him away; mum was taken to the hospital while we kids were taken to a children's home."
The aftermath of having to live with such violence had a lasting impact on the famous chef, where he makes his own role as a father his top priority. 
"To this day, I will never understand why mum stayed with him," Ramsay revealed. "She deserved so much better and so much more; it still pains me to remember how badly he treated her… I could never see myself behaving the way my father did when I was a child. I want to be a role model for my children and have them look up to me."
Ramsay's other favorite 'F' word
While viewers often tune in to see some of Ramsay's famous obscenity-laden tantrums, few may know that the other 'f' word he fancies is 'fundraising.' One of the many charities that Ramsay supports is one that advocates for victims of domestic violence.
"My wife, Tana, and I are proud to be ambassadors of Women's Aid, a national charity in England working to end domestic violence against women and children," Ramsay wrote in his essay. "Women's Aid helps more than 320,000 women and children every year. It also supports more than 500 domestic and sexual violence services across England."
The issue remains close to Ramsay's heart where he continues to bring awareness to domestic violence and its effects on families. "No child should ever have to live in fear in their own home," he wrote. "A home should be a place where you feel safe and loved." 
Apparently, Ramsay has a heart of gold underneath his sometimes grouchy exterior.