Why Meghan Markle and Prince Harry Chose March 31 to Exit the Royal Family
Prince Harry and Meghan Markle took their time leaving the monarchy. The Duke and Duchess of Sussex announced their decision to step down as active members of the royal family back in January, but they did not make their exit official until the very end of March. Why did Harry and Meghan, Duchess of Sussex, choose March 31 as their exit date?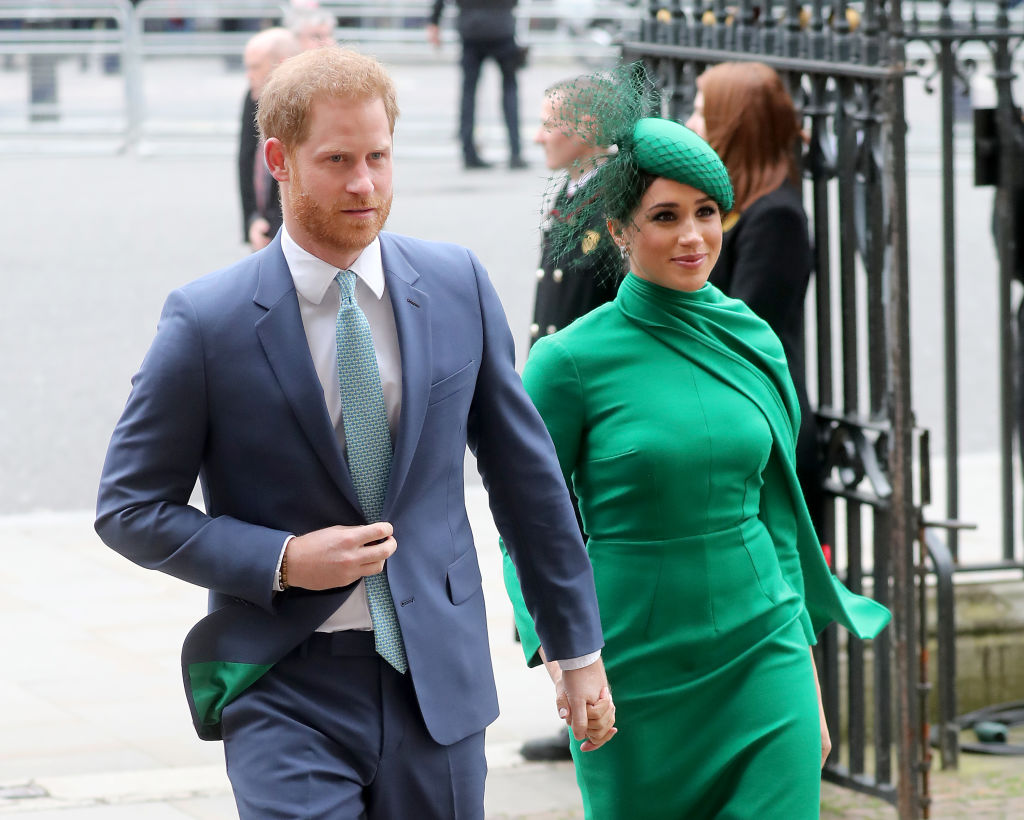 Prince Harry and Meghan Markle start their new lives in California
As part of their exit plan, Harry and Meghan will be splitting their time between the UK and North America. Until now, nobody knew where the couple would set up their second home base.
Right before the US closed its Canadian border due to the coronavirus pandemic, Harry and Meghan caught a flight to Los Angeles. Inside sources say that the couple is looking to purchase a home in Malibu, though they have yet to confirm these rumors.
With Prince Harry and Meghan Markle settling down in California, they have officially disbanded their team of staffers that were based at Buckingham Palace. The only person they still employ is James Holt, who is heading up their communications in London.
In California, the Sussexes have reportedly tapped Sunshine Sachs to be their PR agency in Hollywood. The company will be handling all of their public relations needs moving forward.
The real reason the Sussexes set their exit date for March 31
Although Harry and Meghan's exit was set in place back in January, their decision to make it official in March has puzzled some royal watchers. Turns out, the pair had a really good reason to delay their departure.
According to Hello Magazine, March 31 is the final day of the financial year for the royal family. On the following day, the monarchy starts a new fiscal year, which is why Harry and Meghan left when they did.
Now that they are no longer acting members of the royal family, Prince Harry and Meghan Markle will be paying for all of their own expenses (with a little help from his father, Prince Charles). Leaving on the last day of the fiscal year means that both parties can start with a clean slate and not have to worry about more paperwork.
"One of the reasons behind the Duke and Duchess of Sussex officially stepping back from their royal duties on this date, is because 31 March marks the end of the financial year for the royal family," royal expert Danielle Stacey explained. Harry and Meghan have expressed their wishes to work to become financially independent and as they will no longer receive funding from the Sovereign Grant, it makes sense for them to depart on this particular date."
Harry and Meghan have not revealed how they plan on becoming financially independent from the crown. While the couple was hoping to earn their own way, it looks like Charles will be giving them a substantial stipend every year.
Prince Charles is still giving Prince Harry money
Following their move to California, President Donald Trump tweeted that Harry and Meghan will be footing the bill for their security. The costs of protecting the couple could cost millions of dollars, and inside sources say that Charles will be helping out with the bill.
Charles will reportedly give Harry and Meghan money from his private estate, the Duchy of Cornwall. The insider did not mention how much Charles will be giving the Sussexes, but the amount could be millions.
Security for Prince Harry and Meghan Markle entails more than just protecting them on a daily basis. It also involves gathering intelligence about potential threats and making sure the two do not put themselves in compromising situations.
Harry and Meghan have not confirmed that Charles will be giving them money. The two will no longer receive funding from the crown and have promised to pay back the money that was used to renovate their home in the UK, Frogmore Cottage.
What's next for Prince Harry and Meghan Markle?
The coronavirus pandemic has undoubtedly complicated Harry and Meghan's future plans. The two are currently under lockdown in California and will likely remain out of the spotlight until the pandemic is under control.
Before their exit became official, the couple shared a final farewell note to their followers on their Sussex Royal Instagram account. They thanked everyone for their support over the years and encouraged everyone to stay healthy.
"Thank you to this community – for the support, the inspiration and the shared commitment to the good in the world. We look forward to reconnecting with you soon. You've been great!" the couple shared.
Moving forward, Prince Harry and Meghan Markle will no longer use their brand, Sussex Royal. The pair agreed to stop using their royal titles as part of their exit deal, which also means they will be setting up a new charitable organization in the near future.